Categories
Metal Processing, Parts & Components
Infrastructure, Construction & Civil Engineering
Other Aerospace, Defence and High Technology related companies
Werkos is a civil engineering company specialized in noise protection, geotechnical works, retaining structures, ecology and hydrotechnical works. As a licensed contractor they are approved by the Ministry of Construction and Physical Planning of the Republic of Croatia. During their 20 years of experience in civil engineering they have participated in the realization of the most vital engineering projects in both Croatia and other countries we operate in.
Werkos can supply a wide range of quality geosynthetic and wire products tested by accredited institutes together with complete technical support, in range from technical solutions to delivery of materials. Thanks to their long term experience in sales and installation of materials, they can help customers obtain the most suitable material that meets designed specification.
Beside the production and development of their own flood defense systems and military camping gear (tents, folding beds), Werkos manufactures geotechnical anchors, noise protection panels (concrete, aluminum, steel) and various types of steel constructions. They also offer a wide range of services in metal processing especially with CNC water jet cutter and CNC press brake.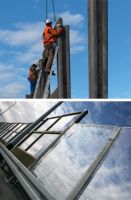 Werkos
Ulica Borova, 6, 31000, Osijek, Croatia
+38531228700
+38531228701
werkos@werkos.com