Last Update
September 14, 2018
Categories
Aircraft, Helicopter, UAV, Spacecraft & related equipment
Maintenance Repair Overhaul and Logistics Support
LR Systems has been established in 2014 in The Netherlands and is dedicated to automate the maintenance and assembly of capital goods, starting with surface treatment of aircraft. LR Systems will start providing automation in the most demanding military aviation market by selling robots for (de-)painting, followed by the civil-aviation market offering the same robots in operational lease (pay per use) including differentiating consumables, maintenance and support. As soon as resources allow, a multi-market approach will be executed.
Paint shops using robots save up to 70% in direct cost and are able to process up to twice as many aircraft in the same facilities. In addition to this, aircraft operators will benefit from shorter Turnaround Times saving capital cost of aircraft and by the reduction in fuel consumption because of lower paint weight. Adding to the business case are the more environmental friendly operations, the ability to change corporate branding almost overnight and the increase in reliability and quality of the paintjob.
LRS differentiates from competitors by offering standard products instead of one-off projects. The products include maintenance and support, availability of spare parts and are easy to use. The products offered by LRS do outperform those from competitors. The de-painting speed is 10-20 times higher and the paint robot will be offered including a direct printing feature for printing high quality livery on aircraft.
LR Systems' board of directors comprises CEO, Peter Boeijink and CFO, Pieter van Mal.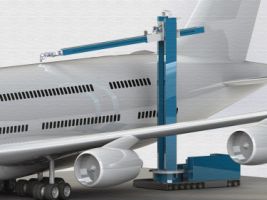 LR Systems B.V.
Beechavenue 137, 1119 RB, Schiphol-Rijk, The Netherlands
info@lrsystems.com