Last Update
September 19, 2018

Categories
Maintenance Repair Overhaul and Logistics Support
Weapons & Ammunition
Transforming weapon readiness worldwide – with the world's first smart counter
SECUBIT Ltd. is a world leader in gun monitoring technologies and platforms.
Designed under military specifications (MIL-SPEC), WeaponLogic ™ is a revolutionary weapon management system that automatically stores comprehensive weapon firing data and provides advanced analytics for optimized maintenance, improved performance and exceptional weapon readiness.
WeaponLogic combines three cutting edge products in one:
WeaponLogic ™ Smart Counter
WeaponLogic ™ Reader
WeaponLogic ™ Dashboard
Monitor Weapon and Operator
Unlimited weapon configuration and assignment profiles
Long term weapon time & energy analytics
Log and track weapon performance and its individual components independently
Real-time status reports, in the field
Operator activity monitoring
Shot Counter weights less than 20 grams, waterproof (IP68 compliant) with battery life of 10 years
Counter holds over 1 million events
Rugged MIL-STD-810G compliant mobile reader
Manage Armories
High level status snapshot AND detailed on-demand inventory, maintenance, and usage report
Log and track current weapon configuration for better inventory management
Task management for armory staff – assign task to armory personnel for better and more efficient time usage
Ammunition consumption records
Classify weapon tiers based on weapon history
Automatic supply management – know how many spare parts you hold and what needs to be ordered in advance
Simple and Comprehensive
Customizable maintenance programs and hazard alert thresholds
Simple to use and intuitive dashboards
Fully customizable and can be integrated with SAP or other platforms
Configurable user permissions and management
WeaponLogic ™ is the most widely deployed weapon readiness and maintenance system worldwide.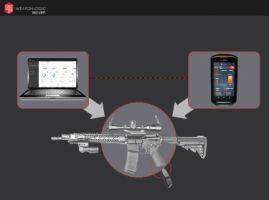 Contact info #1
8 ha - Sadnaot st. - Herzeliya - Israel
Secubit Ltd.
Medinat HaYehudim 89, Herzeliya, Israel