Jan 10, 2018
SOURCE: Thales
Thales strengthens its partnership with HNA Group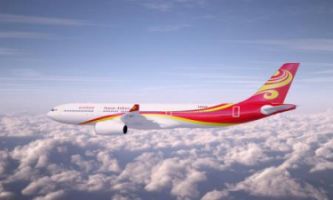 Thales will equip the subsidiary airlines of HNA Group with its latest In-Flight Entertainment (IFE) system on its fleet of 42 wide-body A330 and 17 A350 XWB aircraft. The first AVANT A330 aircraft has entered into service in late 2017 and the first AVANT A350 aircraft is expected to enter into service in the 3rd Quarter of 2018.
HNA group manages several subsidiary airlines, including Hainan airlines, Capital Airlines, Tianjin Airlines, Lucky Air and West Air. In 2017, Hainan Airlines was honored as Top 10 Airlines by SKYTRAX, a global research firm and provider of professional aviation evaluation services with a focus on airline and airport services. The subsidiary airlines of HNA group already have a combined fleet of over 50 A330 aircraft flying with Thales IFE systems. HNA Group's selection of Thales is a further demonstration of the carriers trust in Thales's commitment to making the travel experience more enjoyable for their passengers.
As part of this commitment, Thales is investing resources in the region to further enhance the integration of software and media capabilities that will enrich passenger experience and satisfy local market demands.
"We are proud of our long-term successful relationship with HNA Group. The selection of Thales AVANT IFE and connectivity solutions is a testimony to our continued investment in the region. We look forward to partnering with HNA Group to develop innovative solutions that enrich the passenger experience." Dominique Giannoni, CEO, Thales InFlyt Experience
AVANT, Thales's state-of-the-art Android IFE solution, will provide HNA Group Airlines' passengers a highly customizable experience with a robust selection of features and applications. The new fleet will be equipped with the latest AVANT full high-definition monitors, the most lightweight ever deployed, featuring the Avii Touch Passenger Media Unit. Avii provides intuitive navigation, full android smartphone look and feel, and acts as a second entertainment screen. Integration of Ka-band connectivity to the AVANT IFE system will provide a fully connected premium passenger experience.
Thales FlytCARE, the nose-to-tail- maintenance of in-flight technology ensuring the highest levels of performance, already provided on current HNA Group Airline fleet, will be expanded to these new aircraft. The dedicated Aircraft Technical Services team, will support system reliability for the enhancement of passenger experience.
Key Points
Thales selected by HNA Group to equip new 42 A330 and 17 A350 XWB fleet with the latest IFE innovations.
AVANT IFE and Ka-band connectivity will be fully integrated on the A330 and A350 to provide a premium passenger experience.
View source version on Thales :
https://www.thalesgroup.com/en/worldwide/aerospace/press-release/thales-strengthens-its-partnership-hna-group