Feb 19, 2019
SOURCE: Textron Inc.
Textron Systems and IMSAR successfully integrate and demonstrate Synthetic Aperture Radar (SAR) with the Aerosonde® small Unmanned Aircraft System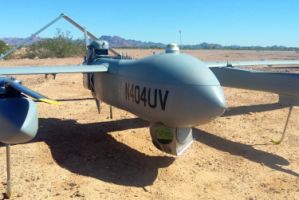 HUNT VALLEY, Md. — FEBRUARY 18, 2019 — Textron Systems, a business of Textron Inc. (NYSE: TXT), and IMSAR announced today the successful integration and demonstration of IMSAR's NSP-3 Synthetic Aperture Radar (SAR) system on Textron Systems' Aerosonde® Small Unmanned Aircraft System (SUAS). The combination of the expeditionary Aerosonde platform with the all-weather, day-and-night NSP-3 radar system enables advanced intelligence, surveillance and reconnaissance capabilities in a variety of austere locations and extreme weather conditions.
Textron Systems and IMSAR quickly and easily performed the mechanical integration of the NSP-3 radar system into the Aerosonde aircraft, with radar electronics in the fuselage payload bay and an externally mounted antenna pod. Software integration included the ability to send radar flight plans directly to the Aerosonde operator. During multiple flights, the fully integrated system demonstrated day-and-night operations, collecting high-resolution SAR, Coherent Change Detection (CCD) imagery and Moving Target Indication (MTI) detections and tracks. The demonstration included precise cross-cueing of the Aerosonde platform's full-motion video system from MTI targets that were detected and tracked by the radar system, highlighting the NSP-3 radar system as a sensor and platform multiplier.
"Textron Systems has spent the past several months conducting various Aerosonde demonstrations, as part of our commitment to continuously upgrading and advancing the system," said Textron Systems Senior Vice President & General Manager David Phillips. "This latest integration demonstrates an added SAR capability, which we are excited to offer to authorized customers, and further extend the system's flexibility and capability."
Textron Systems Aerosonde SUAS, which has accumulated more than 300,000 flight hours of operational maturity, offers proven multi-mission performance in land- and sea-based applications. The Aerosonde is equipped for real-time, full-motion video and communications relay within a single flight, day or night. The Aerosonde system features a range of 75 nautical miles, 200 watts of available payload power, more than 14 hours of endurance, distributed manned/unmanned teaming capability and is deployable in 20 minutes or less. Further, incorporating a Lycoming® EL-005 heavy fuel engine, the Aerosonde is the only system in its class with a propulsion system completely supported by a manufacturer with unmatched manned aviation expertise, including a Federal Aviation Administration (FAA) Production Certificate.
IMSAR's NSP-3 multi-mode radar system combines operationally proven NanoSAR technology with a revolutionarily small size, weight, and power form factor at a low cost. The NSP-3 can produce high-resolution SAR imagery, CCD, MTI, as well as maritime surveillance in all weather, day or night.
About IMSAR
IMSAR LLC is a privately owned research, development, and manufacturing company located in Springville, UT, that specializes in lightweight, low-power SAR devices and radar image processing. The first version of IMSAR's NanoSAR system was developed in 2008. Since then, IMSAR has continued to enhance the capability and reduce the size of its flagship radar system. For more information, visit www.imsar.com.
About Textron Systems
Textron Systems is a world leader in unmanned air, surface and land products, services and support for aerospace and defense customers. Harnessing agility and a broad base of expertise, Textron Systems' innovative businesses design, manufacture, field and support comprehensive solutions that expand customer capabilities and deliver value. For more information, visit www.textronsystems.com.
About Textron Inc.
Textron Inc. is a multi-industry company that leverages its global network of aircraft, defense, industrial and finance businesses to provide customers with innovative solutions and services. Textron is known around the world for its powerful brands such as Bell, Cessna, Beechcraft, Hawker, Jacobsen, Kautex, Lycoming, E-Z-GO, Greenlee, Arctic Cat, Textron Systems, and TRU Simulation + Training. For more information, visit: www.textron.com.
Certain statements in this press release may project revenues or describe strategies, goals, outlook or other non-historical matters; these forward-looking statements speak only as of the date on which they are made, and we undertake no obligation to update them. These statements are subject to known and unknown risks, uncertainties, and other factors that may cause our actual results to differ materially from those expressed or implied by such forward-looking statements.
View source version on Textron Inc.:
https://investor.textron.com/news/news-releases/press-release-details/2019/Textron-Systems-and-IMSAR-Successfully-Integrate-and-Demonstrate-Synthetic-Aperture-Radar-SAR-with-the-Aerosonde-Small-Unmanned-Aircraft-System/default.aspx