Jul 9, 2019
SOURCE: GE Aviation
Flexjet Selects GE Aviation for Digital Flight Operations Technology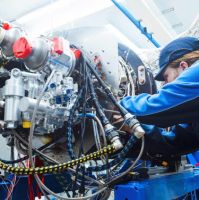 The Most Accurate Data and Analytics Promotes Culture of Safety and Efficiency Fleet modernization with wireless QAR and cellular services for instant data delivery
July 2, 2019
Austin, TX – Flexjet and GE Aviation have implemented a comprehensive safety and fleet modernization project including flight operations quality assurance (FOQA), quick access recorders (QARs) and cellular data services. The equipment will monitor Flexjet's fleet of 150 aircraft including Embraer Phenom 300 and Legacy 450, Bombardier Challenger 300, 350, Global Express and the Gulfstream G450 and G650.
"By combining GE's experience in flight safety analysis and flight analytics with wireless mini-QAR technology from our Avionica joint venture, we will help Flexjet to advance their fleet with the latest flight safety analysis techniques in the airline environment," said John Mansfield, chief digital officer for GE Aviation.
FOQA (Flight Operations Quality Assurance) is a powerful data analytic tool, based on flight data recorded during each flight. Airlines and operators that adopt FOQA are better able to identify and eliminate potential safety hazards in flight operations.
"We were able to customize the QAR firmware to include Flexjet-specific flight events by using the roughly 4.5 million data points collected per wireless transmission the equipment sends immediately after landing of every flight," said Flexjet Chief Safety Officer Todd Anguish, who has also worked as a pilot, flight instructor, and an A&P Mechanic for nearly 27 years. "The comprehensive data we can gather immediately allows us to ensure safer operation of our fleet with real-time flight data monitoring to address any potential flight safety concerns immediately."
GE Aviation's Event Measurement System (EMS) which powers their flight analytics services and FOQA systems are being used on more than 9,000 aircraft. GE's flight analytics service integrates data sources like flight information, weather, navigation, flight plans, and other operational data to provide valuable insights for airline customers around fuel use and operations.
"Flexjet has been a customer of our C-FOQA product for many years," continued Mansfield. "Since they've experienced considerable growth in their fleet, this agreement upgrades their safety solution to our eFOQA, the standard in large-operator FOQA programs worldwide."
Since its introduction in the airline industry more than 20 years ago, FOQA has been widely credited with reducing incident and accident rates at airlines where it has been adopted. In its 2017-2018 Most Wanted List of Transportation Safety Enhancements, the NTSB encourages aircraft operators to improve safety oversight of their aircraft by routinely reviewing recorded flight data in a structured program such as eFOQA.
About Flexjet
Flexjet first entered the fractional jet ownership market in 1995. Flexjet offers fractional jet ownership and leasing. Flexjet's fractional aircraft program is the first in the world to be recognized as achieving the Air Charter Safety Foundation's Industry Audit Standard, is the first and only company to be honored with 20 FAA Diamond Awards for Excellence, upholds an ARG/US Platinum Safety Rating and is IS-BAO compliant at Level 2. Flexjet's fractional program fields an exclusive array of business aircraft—some of the youngest in the fractional jet industry, with an average age of approximately six years. In 2015, Flexjet introduced Red Label by Flexjet, which features the youngest fleet in the industry, flight crews dedicated to a single aircraft and the LXi Cabin Collection of interiors. To date there are more than 25 different interior designs across its fleet, which includes the Challenger 350, the Embraer Legacy 450, Global Express, the Gulfstream G450, G500 and G650, and the Aerion AS2 supersonic business jets. In addition, the overall jet collection includes the Embraer Phenom 300 and Bombardier Challenger 300. Flexjet is a member of the Directional Aviation family of companies. For more details on innovative programs and flexible offerings, visit www.flexjet.com or follow us on Twitter @Flexjet and on Instagram @FlexjetLLC.
About GE Aviation
GE Aviation, an operating unit of GE (NYSE: GE), is a world-leading provider of commercial and military jet engines, avionics, digital solutions and electrical power systems for aircraft. GE is the world's Digital Industrial Company, transforming industry with software-defined machines and solutions that are connected, responsive and predictive. With people, services, technology and scale, GE delivers better outcomes for customers by speaking the language of industry. www.geaviation.com/digital
https://www.geaviation.com/digital
View source version on GE Aviation:
https://www.geaviation.com/press-release/digital-solutions/flexjet-selects-ge-aviation-digital-flight-operations-technology