Sep 26, 2019
SOURCE: Elbit Systems
Elbit Systems' U.S. Subsidiary Awarded $85 Million Contract by the U.S. Navy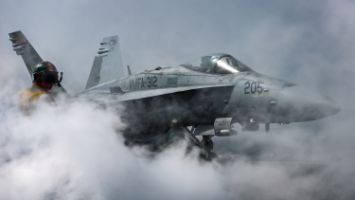 Haifa, Israel, September 26, 2019 – Elbit Systems Ltd. (NASDAQ: ESLT, TASE: ESLT) ("Elbit Systems") announced today that its subsidiary, Elbit Systems of America LLC, ("Elbit Systems of America"), was awarded a $85 million firm-fixed-priced contract, with no option periods, by the U.S. Navy for the repair of Digital Display Indicator (DDI) systems aboard F/A-18 aircraft.
The contract will be performed in Talladega, Alabama over a five-year period.
The DDI is a cockpit display that allows pilots to select, manage and customize the performance of weapons carried by the fighter, and see video images provided by those weapons.
About Elbit Systems
Elbit Systems Ltd. is an international high technology company engaged in a wide range of defense, homeland security and commercial programs throughout the world.
The Company, which includes Elbit Systems and its subsidiaries, operates in the areas of aerospace, land, and naval systems, command, control, communications, computers, intelligence surveillance and reconnaissance ("C4ISR"), unmanned aircraft systems, advanced electro-optics, electro-optic space systems, EW suites, signal intelligence systems, data links and communications systems, radios and cyber-based systems and munitions.
The Company also focuses on the upgrading of existing platforms, developing new technologies for defense, homeland security and commercial applications and providing a range of support services, including training and simulation systems.
For additional information, visit: elbitsystems.com, follow us on Twitter or visit our official Youtube Channel.
Visit our Press Relations website for background materials and information regarding Elbit Systems fields of activity.
David Vaaknin
Vice President, Head of Corporate Communications
Tel: 972-77-2946691
Cell: 972-52-8000403
E-Mail: david.vaaknin@elbitsystems.com
Dana Tal-Noyman
Manager International Corporate Communications
Tel: 972-77-294-8809
Cell: 972-54-9998809
E-Mail: dana.tal@elbitsystems.com