Feb 20, 2020
SOURCE: Collins Aerospace Systems
Increasing repair capability and worldwide reach: Collins Aerospace and Lufthansa Technik sign A320neo nacelle MRO license agreement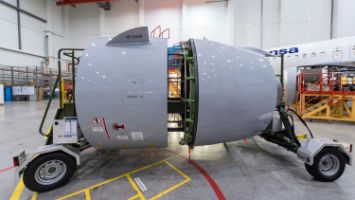 Chula Vista, Calif. February 17, 2020 – Collins Aerospace Systems, a unit of United Technologies Corp. (NYSE: UTX), and Lufthansa Technik AG today announced a licensing agreement for nacelle Maintenance Repair & Overhaul (MRO) services on A320neo aircraft. Collins Aerospace, the original equipment manufacturer for the A320neo PW1100G nacelle, has more than 1,100 nacelles in service on this aircraft platform.
The agreement, which continues the collaboration between Collins Aerospace and Lufthansa Technik, calls for Collins Aerospace to provide Lufthansa Technik with technical and repair process information, access to OEM tooling, and rotable asset pools to support a full suite of A320neo nacelle MRO services. Building upon Collins Aerospace's eight strategically located nacelle MRO facilities, the agreement now opens A320neo operators to LHT's expansive MRO network around the world. Access to this expanded MRO network together with in-region asset presence and the enhanced ability to conduct on-site repairs around the world will reduce aircraft downtime, passenger delays, and transportation costs incurred by the airline.
"As a result of this agreement A320neo operators now have access to multiple high-quality repair center locations for nacelle MRO services," said Marc Duvall, president of Aerostructures at Collins Aerospace. "The collaborative relationship between Lufthansa Technik and Collins Aerospace, which also includes the 787 and A350XWB nacelles, ensures a high standard of quality while meeting the demands of airlines with full confidence."
Michael Kirstein, head of Aircraft Systems / ARC (airframe related components) at Lufthansa Technik, said: "In expanding Lufthansa Technik's collaboration with Collins Aerospace, we are expanding the network of support to the growing A320neo customer base of over 100 airlines. Furthermore, this agreement is another milestone for Lufthansa Technik to offer its comprehensive repair and asset provision services on all new aircraft types".
About Collins Aerospace
Collins Aerospace Systems, a unit of United Technologies Corp. (NYSE: UTX), is a leader in technologically advanced and intelligent solutions for the global aerospace and defense industry. Created in 2018 by bringing together UTC Aerospace Systems and Rockwell Collins, Collins Aerospace has the capabilities, comprehensive portfolio and expertise to solve customers' toughest challenges and to meet the demands of a rapidly evolving global market. For more information, visit CollinsAerospace.com.
About United Technologies Corporation
United Technologies Corp., based in Farmington, Connecticut, provides high-technology systems and services to the building and aerospace industries. By combining a passion for science with precision engineering, the company is creating smart, sustainable solutions the world needs. For more information about the company, visit our website at www.utc.com or follow us on Twitter: @UTC.
About Lufthansa Technik
With some 35 subsidiaries and affiliates, the Lufthansa Technik Group is one of the leading providers of technical aircraft services in the world. Certified internationally as maintenance, production and design organization, the company has a workforce of more than 25,000 employees. Lufthansa Technik's portfolio covers the entire range of services for commercial and VIP/special mission aircraft, engines, components and landing gear in the areas of digital fleet support, maintenance, repair, overhaul, modification, completion and conversion as well as the manufacture of innovative cabin products. Find more info about Lufthansa Technik here: www.lufthansa-technik.com ; Twitter: @LHTechnik; Facebook: LufthansaTechnikGroup; Instagram: LHTechnik; LinkedIn: Lufthansa Technik AG; Youtube: LufthansaTechnikGroup.
MEDIA CONTACTS
Jessica Napoli
Aerostructures and Aftermarket Services
jessica.napoli@collins.com

Wolfgang Reinert
Lufthansa Technik
Wolfgang.Reinert@lht.dlh.de
+49.40.5070.3212
View source version on Collins Aerospace Systems:
https://www.collinsaerospace.com/newsroom/News/2020/02/Collins-Lufthansa-Technik-sign-A320neo-nacelle-MRO-license-agreement