Feb 26, 2020
SOURCE: Terma
Terma North America under contract with Lockheed Martin on the C-130J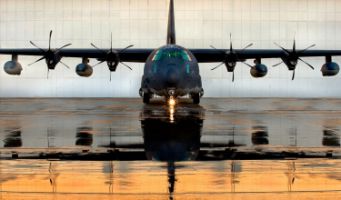 Atlanta, February 26, 2020 - Lockheed Martin has awarded a $15M firm-fixed price contract to Terma North America to provide the ALQ-213A Defensive Aids Controller (DAC) and Range-Less Electronic Warfare Training (REWT) for the USAF HC-130J.
The program allows integration of the Defensive System Suite to the HC-130J and provides the aircrew with the capability to perform realistic EW training while flying their mission. This provides a more flexible, cost-effective EW training compared to training on EW ranges.
Terma has been providing EW Embedded Training systems for various military aircraft over the past 15 years with great success. REWT is latest version of advanced realistic EW training systems from Terma.
Further the ALQ-213A based integration will provide the aircrew enhanced control of the HC-130J defensive systems and provisions that allow the addition of future systems to the Defensive Systems Suite.
Lockheed Martin will be the prime contractor and will certify the Defensive Systems Suite capability on the HC-130J.
"This program will provide the warfighters with capabilities that have long been sought after. The company leverages legacy products to ensure the safe return of pilots everywhere, so it's important that Terma deliver to the mutual mission of protecting those who use our products. It's important to focus on the overarching goal – to keep our warfighters out of harm's way, even when they fly into a potentially hostile environment," said Lars Tolstrup, Business Development Director, Terma.
Terma North America has provided the ALQ-213A DAC in the past for several international C-130J aircraft, where special defensive systems integration was required, under contracts with Lockheed Martin in Marietta. The company's primary focuses are providing advanced System Level Capabilities, hardware, integration, and sustainment to protect the warfighter. Because of the company legacy on these aircraft, Terma North America is honored to continue to provide hardware to the USAF C-130J fleet.
Terma North America, Inc.
Operating in the aeronautics, defense, and security sector, Terma North America supports customers and partners all over the world. Headquartered in Crystal City, Virginia, operating from two additional main offices in Georgia, Atlanta and Warner Robins, which hosts a production/repair facility. Terma NA also maintains remote locations, such as Crane, Indiana and Ft. Worth, Texas, where US team members work directly with customers on a regular basis.
Terma Group
Terma North America is part of the Denmark based high-tech Terma Group that develops products and systems for defense and non-defense security applications; including command and control systems, radar systems, self-protection systems for aircraft, space technology, and aerostructures for the aircraft industry.
Follow us on
www.terma.com
Instagram
Twitter
Linkedin
Youtube
Media contact:
Kasper Rasmussen
T:+45 2022 6091
E:kar@terma.com
View source version on Terma:
https://www.terma.com/press/news-2020/terma-north-america-under-contract-with-lockheed-martin-on-the-c-130j/