Mar 17, 2020
SOURCE: Bell Textron Inc.,
Bell V-280 Valor team selected to continue in future long-range assault aircraft competition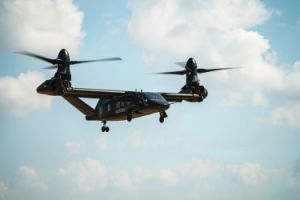 Fort Worth, Texas, March 16, 2019 – Bell Textron Inc., a Textron Inc. (NYSE: TXT) company, has been selected as a project agreement holder for the competitive demonstration and risk reduction (CD&RR) effort as part of the U.S. Army's Future Long Range Assault Aircraft (FLRAA) program.
Under the agreement Bell will deliver a refined V-280 Valor design, with supporting technical documentation, that builds on the data captured during the more than two years and 170 hours of flight testing under the Joint Multi-Role Technology Demonstration (JMR TD) program to inform the FLRAA program of record.
"Bell and Team Valor are excited to continue working on a system that has proven its ability to bring exceptional capabilities to warfighters," said Mitch Snyder, president and CEO at Bell. "The JMR TD and V-280 show that rapid maturation of new technology is possible with a solid government-industry partnership fueled by our talented and innovative workforce. We look forward to the FLRAA competition."
This contract follows the successful U.S. Army led JMR TD program. As part of that program, Bell managed collaboration with the twelve leading companies that make up Team Valor to enable rapid production, systems integration, and deliberate program schedule to validate the V-280's flight capabilities and operational relevance.
The V-280 achieved all program goals, demonstrating its speed by flying above 300 knots and demonstrating low speed agility attitude quickness per ADS-33F-PRF. These characteristics are important to inform FLRAA program requirements to ensure the program will help warfighters meet the challenges of future multi-domain fights.
"This is an important milestone in the history of Bell and Army aviation. We are honored to be part of it," said Keith Flail, vice president, Advanced Vertical Lift Systems at Bell. "The next phase is an opportunity for this team to build on the success of the last six years and continue to bring the proof that we can provide transformative capabilities to our Army in line with their stated goal of 2030."
The V-280 Valor was developed in support of the government Future Vertical Lift (FVL) program, the Army's number three modernization priority area. The FLRAA program is meant to produce a medium-lift utility rotorcraft replacement with transformational speed, power, and maneuverability, at a sustainable cost, to active duty and reserve aviation units.
To see updates on the V-280 Valor and learn more on the capabilities, please visit the Bell V-280 website, and follow us on YouTube, LinkedIn, Twitter, Facebook, and Instagram.
###
* Effort sponsored by the U.S. Government under Other Transaction number W9124P-19- 9-0001 between AMTC and the Government and related AMTC Project Agreement 19-08-006 with Bell Textron Inc. The U.S. Government is authorized to reproduce and distribute reprints for Governmental purposes notwithstanding any copyright notation thereon. The views and conclusions contained herein are those of the authors and should not be interpreted as necessarily representing the official policies or endorsements, either expressed or implied, of the U.S. Government.
About Bell
Thinking above and beyond is what we do. For more than 80 years, we've been reimagining the experience of flight – and where it can take us.
We are pioneers. We were the first to break the sound barrier and to certify a commercial helicopter. We were a part of NASA's first lunar mission and brought advanced tiltrotor systems to market. Today, we're defining the future of on-demand mobility.
Headquartered in Fort Worth, Texas – as a wholly-owned subsidiary of Textron Inc., – we have strategic locations around the globe. And with nearly one quarter of our workforce having served, helping our military achieve their missions is a passion of ours.
Above all, our breakthrough innovations deliver exceptional experiences to our customers. Efficiently. Reliably. And always, with safety at the forefront.
About Textron
Textron Inc. is a multi-industry company that leverages its global network of aircraft, defense, industrial and finance businesses to provide customers with innovative solutions and services. Textron is known around the world for its powerful brands such as Bell, Cessna, Beechcraft, Hawker, Jacobsen, Kautex, Lycoming, E-Z-GO, Arctic Cat, Textron Systems, and TRU Simulation + Training. For more information, visit: www.textron.com
View source version on Bell Textron Inc.,:
http://news.bellflight.com/en-US/187045-bell-v-280-valor-team-selected-to-continue-in-future-long-range-assault-aircraft-competition