Mar 23, 2020
SOURCE: Arianespace
Arianespace delivers 34 more constellation satellites to orbit on its latest success for OneWeb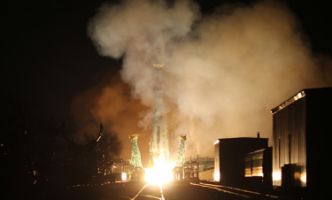 For the second time this year, Arianespace has sent 34 satellites on their way to join OneWeb's constellation with a Soyuz mission originating from Baikonur Cosmodrome in Kazakhstan.
The cluster of spacecraft – produced by the OneWeb Satellites joint venture of OneWeb and Airbus – was deployed into a circular low-Earth orbit during a flight lasting 3 hours and 45 minutes from liftoff to final payload separation. It was conducted by Arianespace and its Starsem affiliate.
After an initial powered phase of Soyuz' three lower stages, the flight – designated ST28 in Arianespace's numbering system – included two burns of the Fregat upper stage to place its passengers at their targeted deployment points. Total lift performance was estimated at 5,689 kg.
Third Arianespace mission for OneWeb
Today's success marked Arianespace's third launch for OneWeb, whose mission is to deliver global communications through a next-generation satellite constellation that will bring connectivity to everyone, everywhere.
The first Arianespace launch for OneWeb – performed with a Soyuz in February 2019 from the Spaceport in French Guiana – successfully orbited this global operator's initial six spacecraft. It was followed by last month's Soyuz mission that delivered 34 more satellites from Baikonur Cosmodrome. Including Flight ST28, a total of 74 OneWeb satellites have now been launched.
Read the press release on Arianespace/Starsem's successful Flight ST28.
High-resolution photos of the Soyuz liftoff are available in the Gallery.
View source version on Arianespace:
https://www.arianespace.com/mission-update/soyuz-st28-success/