Apr 21, 2020
SOURCE: Israel Aerospace Industries
IAI and Brook Aviation to Collaborate in Helicopter Transport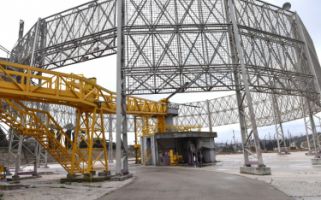 April 19, 2020 - Israel Aerospace Industries (IAI) and Brook Aviation have signed a memorandum of understanding (MoU) for collaboration in helicopter flights. The recent closure of the Sde Dov Airport in Tel Aviv has intensified the need for air transport solutions for customers from central Israel to a range of destinations in Israel for varying purposes. IAI's strategic location and extensive experience in aircraft and helicopter maintenance positions it well to support the provision of flights as well as maintenance, repair, and overhaul services (MRO). Brook Aviation will be responsible for providing and flying the helicopters. The collaboration will provide flights for high-profile passengers and the needs of the defense establishment, as well as expand the availability of flights to offshore oil and gas rigs.
Brook Aviation is an international company that provides aviation services to the private and public sectors. It leverages extensive experience in military and civilian aviation and maintains a strategic relationship with leaders in the aerospace industry. The company's commercial focus is on providing offshore helicopter flights to oil and gas rigs on the eastern side of the Mediterranean, as well as outsourcing for public sector organizations.
IAI's Aviation Group was founded in January 2019 as part of IAI's new business strategy and consolidation of three out of six groups. The merger was meant to achieve business focus, streamlining and placement of 5,000 employees. The Aviation Group operates in four export-oriented business lines, the longest-standing being MRO services to military and civilian aircraft. The Aviation Group provides a range of services to the world's largest aerospace corporations, including Lockheed Martin and Boeing, and major carriers such as Alitalia and WizzAir, and shipping companies such as Amazon and DHL.
Brook Aviation's CEO, Gil Peleg, said, "The strategic collaboration with IAI is an important milestone for Brook Aviation as part of the establishment of helicopter flight infrastructure in Israel. The agreement with IAI is the latest in a series of strategic collaborations meant to offer the highest level of service in line with international standards. Brook Aviation looks forward to tapping the potential of helicopter flights in Israel and the added value that our collaboration with IAI will provide to the Israeli market."
IAI EVP and head of IAI's Aviation Group, Yossi Melamed, said, "IAI Aviation Group welcomes the collaboration with Brook Aviation. With our excellent capabilities, including helicopter MRO, blade and transmission refurbishment, avionics suites, and helicopter upgrades according to customer specification, the collaboration with Brook will add a new level to our MRO operations. The closing down of Sde Dov airport has created a new challenge for use in flying aircrews and executives from central Israel. IAI's strategic location and extensive helicopter MRO experience are an excellent fit for Brook's capabilities to provide a comprehensive solution to the challenge on top of other business opportunities.
View source version on Israel Aerospace Industries:
https://www.iai.co.il/iai-and-brook-aviation-helicopter-transport