Apr 20, 2021
SOURCE: Elbit Systems Ltd
Elbit Systems' U.S. Subsidiary Awarded $41 Million Order as Part of the Night Vision Goggles IDIQ Contract for the U.S. Marine Corps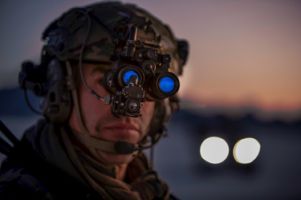 Haifa, Israel, April 20, 2021 – Elbit Systems Ltd. (NASDAQ: ESLT, TASE: ESLT) ("Elbit Systems") announced today that its U.S. subsidiary, Elbit Systems of America LLC, ("Elbit Systems of America"), was awarded a delivery order valued at approximately $41 million for the supply of night vision systems and various spare components to the U.S. Marine Corps. The order will be executed in Roanoke, Virginia and will be supplied through March 2022.
This order is part of a $249 million five-year Squad Binocular Night Vision Goggles Indefinite Delivery Indefinite Quantity (IDIQ) contract from September 6, 2019, under which the U.S. Marine Corps are supplied with Squad Binocular Night Vision Goggle ("SBNVG") systems consisting of high-performance, white phosphor image intensifier binoculars, modular uncooled thermal imaging sensors and common external power supplies – providing Marines improved mobility and situational awareness during night operations.
Raanan Horowitz, President and CEO of Elbit Systems of America, said "Marines need to quickly understand their surroundings and act to engage their targets – no matter the light conditions – and Elbit Systems of America's SBNVG provides this power in a lightweight, adjustable system that is an ideal upgrade."
About Elbit Systems
Elbit Systems Ltd. is an international high technology company engaged in a wide range of defense, homeland security and commercial programs throughout the world. The Company, which includes Elbit Systems and its subsidiaries, operates in the areas of aerospace, land and naval systems, command, control, communications, computers, intelligence surveillance and reconnaissance ("C4ISR"), unmanned aircraft systems, advanced electro-optics, electro-optic space systems, EW suites, signal intelligence systems, data links and communications systems, radios, cyber-based systems and munitions. The Company also focuses on the upgrading of existing platforms, developing new technologies for defense, homeland security and commercial applications and providing a range of support services, including training and simulation systems.
For additional information, visit: https://elbitsystems.com/ follow us on Twitter or visit our official Facebook, Youtube and LinkedIn Channels.
Contacts:
Company Contact:
Joseph Gaspar, Executive VP & CFO
Tel: +972-4-8316663
j.gaspar@elbitsystems.com
Rami Myerson, Director, Investor Relations
Tel: +972-77-2946403
rami.myerson@elbitsystems.com
David Vaaknin, VP, Brand & Communications
Tel: +972-77-2946691
david.vaaknin@elbitsystems.com
IR Contact:
Ehud Helft
Gavriel Frohwein
GK Investor Relations
Tel: 1-646-688-3559
elbitsystems@gkir.com
View source version on Elbit Systems Ltd:
https://elbitsystems.com/pr-new/elbit-systems-u-s-subsidiary-awarded-41-million-order-as-part-of-the-night-vision-goggles-idiq-contract-for-the-u-s-marine-corps/