Jun 25, 2021
SOURCE: Northrop Grumman
Northrop Grumman Completes Successful First Flight of Japan's Second RQ-4B Global Hawk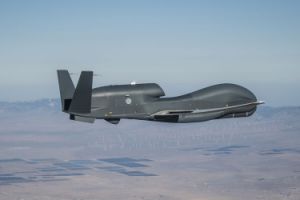 San Diego – June 24, 2021 – (PHOTO RELEASE) On the heels of the successful first flight of Japan's RQ-4B Global Hawk in early April, Northrop Grumman Corporation (NYSE: NOC) recently completed additional successful flights for the second unmanned air vehicle (UAV) for Japan.
Global Hawk is the only high-altitude, long-endurance UAV to deliver near real-time on demand data around the clock.
For more information about Global Hawk, please click here.
Media Contact
Geri MacDonald
Global Media Relations
Aerospace Systems
(858) 618-3723
geri.macdonald@ngc.com
View source version on Northrop Grumman:
https://news.northropgrumman.com/news/releases/northrop-grumman-completes-successful-first-flight-of-japans-second-rq-4b-global-hawk