Nov 23, 2021
SOURCE: Terma
Terma officially opens office in Surabaya, Indonesia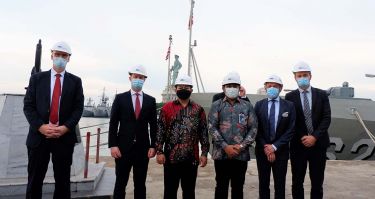 Surabaya, Indonesia, November 23, 2021 – On Sunday November 21, Terma hosted a ribbon cutting ceremony to officially mark the opening of their office in Surabaya, Indonesia.
The opening marks a continued effort for Terma to be close to their customers. Surabaya is Terma's second office in Indonesia after the opening in Jakarta in 2020. The Asia Pacific region now counts four offices: Singapore (regional headquarter), New Delhi, India, and Jakarta and Surabaya in Indonesia.
The event took place as part of the official program for Denmark's Minister of Foreign Affairs of Denmark, H.E. Jeppe Kofod, who is on an official visit to Indonesia where he will be meeting with several Indonesian Ministers and the Secretary General of Association of Southeast Asian Nations (ASEAN). Joining him on the trip is a high-level delegation consisting of Danish authorities, business leaders, and media representatives.
"We decided to open the Surabaya office, because we want to make sure we have a dedicated local presence to support execution of the programs we win, in a timely manner and with unique customer focus" says Steen M. Lynenskjold, Executive Vice President and Chief Commercial Officer, Terma A/S.
Terma's high-tech solutions are operated on all theaters of operations (air, land, and sea) by Indonesian customers, including the Coast Guard (BAKAMLA), the Sea and Coast Guard (KPLP), the Directorate General of Sea Transportation (DGST), the Indonesian Navy (TNI-AL), the Indonesian Air Force (TNI-AU), and Jakarta International Airport.
In 2019, Terma was awarded a contract for the supply of complete C-Flex command and control system suites for four 60-meter fast attack craft (KCR-60). Most recently, the SCANTER radars have been selected to equip non-combatant vessels such as the Hospital Assistance Ships (BRS).
The KCR-60 ships are being built by the Indonesian shipyard PT PAL, which was among the sites visited by the Danish Minister of Foreign Affairs.
Over the years, Terma has developed a strong partnership with PT PAL and has delivered naval radars as well as command and control systems for ships being built by PT PAL.
There are many similarities in the maritime surveillance needs of Indonesia and Denmark with technical requirements often being comparable. Both countries have vast territorial waters to control, and with more than 50,000 km, the coastline of the Kingdom of Denmark (incl. Greenland) is almost the same as that of Indonesia.
"Through strong partnerships with local companies and ambitious Transfer-of-Technology plans, Terma aims at further addressing the local market while developing local skills and empowering Indonesian companies with value-added activities," says Muhammad Arif, General Manager, PT Terma Technologies Indonesia.
PT Terma Technologies Indonesia employs local workforce in an effort to develop sustainable presence and transfer value-adding skills.
TERMA INDONESIA
PT Terma Technologies Indonesia was established in 2020. The company is established through two entities: a Business Development Office in Jakarta to nurture the relations with our key stakeholders; and a Program & Service Office in Surabaya to provide project management, technical, and service support to our customers located in the Indonesian territory.
View source version on Terma:
https://www.terma.com/news-events/news/latest-news/terma-officially-opens-office-in-surabaya-indonesia/