Feb 21, 2022
SOURCE: SMART SHOOTER
Dutch Military orders Smart Shooters SMASH solution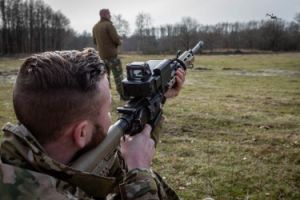 February 21, 2022 - SMART SHOOTER, a world-class designer, developer, and manufacturer of innovative fire control systems that significantly increase the accuracy and lethality of small arms, has received an order from the Dutch military and will provide them with its SMASH AD solution for operational use.
The Dutch military has tested the system during the recent year, and decided to purchase it and use the systems immediately, mainly for C-UAS purposes.
SMASH is a combat-proven Fire Control solution for small arms that ensures each round finds its target. Bringing precision-missile targeting algorithms and advanced electro-optical processing capabilities into standard assault rifles, Smart Shooter's SMASH Fire Control Systems works automatically but not autonomously, and allows the operator to quickly and effectively neutralize their target. It is a cost-effective solution that can be integrated into any type of assault rifle and combined with other C-UAS systems to provide an effective multi-layer defense solution suitable for the modern battlefield.
Specifically designed to provide kinetic elimination of small, low-flying drones, SMASH AD incorporates a laser rangefinder and enables precision targeting of drones around the clock, with clear day and night vision capabilities. Capable of receiving and displaying target information from an external sensor or detection system, SMASH AD promises precise, swift, safe and simple hard-kill elimination of drones up to 250 m (Day Mode).
Smart Shooter's local representative in Holland, Technische Bureau H.A. Muller (TBM BV), will take care of the logistics and direct support.
Michal Mor, SMART SHOOTER CEO: "We at Smart Shooter are proud to provide our leading SMASH solutions to another friendly force. We have developed these solutions in order to revolutionize the world of small arms, and I am confident that our SMASH technology will allow the Dutch military to better protect their soldiers, camps and strategic infrastructures against the growing threat of drones".
Smart Shooter will present its SMASH family of fire control solutions, including handheld operated as well as remotely controlled systems, at the Enforce Tac exhibition in Nuremberg, Germany – Hall 12 Booth #12-580.
About SMART SHOOTER
SMART SHOOTER is a world-class designer, developer, and manufacturer of innovative fire control systems that significantly increase the accuracy and lethality of small arms. With a rich record in designing unique solutions for the warfighter, SMART SHOOTER technology enhances mission effectiveness through the ability to accurately engage and eliminate ground, aerial, static or moving targets during both day and night operations.
Designed to help military and law enforcement professionals swiftly and accurately neutralize their targets, the company's combat-proven SMASH Family of Fire Control Systems increase assault rifle lethality while keeping friendly forces safe and reducing collateral damage. With a unique technology that makes it possible for every battlefield element to be connected with every other battlefield element, SMASH creates a micro-tactical network that dramatically enhances real-time situational awareness and ensures that the entire platoon shares a common operational picture.
The company's experienced team of engineers combine electro-optics, computer vision technologies, real-time embedded software, ergonomics, and system engineering to provide cost-effective and easy-to-use solutions for modern conflicts.
Fielded and operational, Smart Shooter SMASH family of solutions provides end-users with a "One Shot – One Hit" capability across multiple mission areas, creating a significant advantage for the infantry soldier and ultimately revolutionizing the world of small arms and optics.
SMART SHOOTER's headquarters are based in Yagur, Israel. Its American subsidiary, Smart Shooter Inc., is located in Virginia, and its European subsidiary is located in Düsseldorf, Germany. The company also has an office in Canberra, Australia.
For further information, please visit www.SMART-SHOOTER.com