SAMI accelerates vision to become top 25 defense and security company by 2030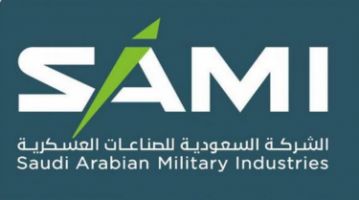 Riyadh, March 5, 2022: As the global defense industry prepares to meet at the inaugural edition of the World Defense Show (WDS) in Riyadh, the event organized by the General Authority for Military Industries (GAMI), SAMI, the strategic partner of the event and Saudi Arabia's national champion for the defense industries sector, has set its sights on accelerating its transformation to become one of the top 25 defense and security companies in the world by 2030.
Apart from showcasing its innovative and comprehensive defense products and systems, SAMI aims to expand its partnerships with globally renowned OEMs, establish new joint ventures and subsidiaries, create more employment opportunities, and boost its exports through its participation in WDS 2022.
H.E. Ahmed Al-Khateeb, Chairman of SAMI, said: "We are grateful for the visionary leadership of the Custodian of the Two Holy Mosques King Salman bin Abdulaziz and His Royal Highness Crown Prince Mohammed bin Salman, and for the supervision and guidance of the General Authority for Military Industries (GAMI) and strategic partners in the sector for our achievements over the past five years. Among these achievements is the localization of defense and security industries, which enhance, diversify, and enrich our national economy for sustainable prosperity."
Founded by the Public Investment Fund (PIF) in 2017, under the direction of H.R.H. Crown Prince Mohammed Bin Salman, today, SAMI stands tall as a defense and security group of companies with several accomplishments that have helped the Kingdom's defense sector boost its indigenous capabilities. In line with its mandate to support the goals of Vision 2030 by contributing to localizing 50% of Saudi Arabia's defense spending by 2030, SAMI has made remarkable strides in transferring production, knowledge, and technology to the Kingdom, attracted foreign direct investments, and supported the growth of the SME sector through its affiliates. It has also been strengthening the local defense supply chain to ensure the sustainability and self-sufficiency of the Kingdom's defense ecosystem.
Eng. Walid Abu Khaled, CEO of SAMI, explained: "With our sights firmly set on our strategic vision to become one of the top 25 defense companies in the world by 2030, we have been building up our capabilities across our five business divisions of Aerospace, Land, Sea, Advanced Electronics, and Defense Systems. Simultaneously, our efforts to support localization and strategic partnerships continue to accelerate our journey towards this goal through the transfer of technology, knowledge, and production to the Kingdom."
Since its inception, SAMI has demonstrated its commitment to participate in supporting the strategic objectives of localizing the defense and security industries and building technical and human capabilities. In the past five years, SAMI partnered with five global OEMs to establish operational joint ventures focused on localizing manufacturing and technology, resulting in an exponential growth in Saudi Arabia's local defense capabilities. This has also developed the Kingdom's local talent by familiarizing them with the latest technologies and equipment in the world of defense. The group has also made strategic acquisitions and established subsidiaries to develop its capabilities across key defense segments.
Inspiring young Saudi male and female professionals to join defense and security careers is yet another achievement of SAMI. The on-the-job training (OJT) launched by its joint venture company SAMINavantia has been instrumental in attracting young Saudi engineers and technicians to the sector, providing them with key training and upskilling programs and the opportunity to contribute to the Kingdom's Vision 2030 goals and future aspirations. More than 30 Saudi engineers have completed their OJT to date.
The past year was one of significant growth for SAMI, helping the company achieve key milestones in terms of growth and expansion. The successful completion of the Al-Sarawat project involving five new Avante 2200 corvettes for the Royal Saudi Naval Forces was among the exceptional achievements of 2021. The annual revenue registered a whopping 2,407% increase to reach SAR 2.6 billion, and the contracts and backlog exceeded SAR 10 billion with a localization commitment of 57.7% approved by GAMI.
In other major developments signifying SAMI's unprecedented growth last year, it secured SAR 7 billion in debt and gained SAR 130 million in income from liquidity management, intragroup lending, and project trade finance, and grew its employee base by 633% to reach 2,500 from 341 in 2020. Eyeing further growth, SAMI acquired Advanced Electronics Company (AEC) to establish SAMI Advanced Electronics and launched SAMI Composites.
As Saudi Arabia strengthens the foundations of its defense sector, SAMI aims to further strengthen its excellence in defense and security innovation and facilitate the transfer of expertise and production to the Kingdom. It will continue to build up its capabilities, strengthen its partnerships, and train and attract young professionals. Most importantly, SAMI's role as the strategic partner of WDS 2022 once again underlines its potential to support Saudi Arabia's transformation as a global defense industry hub in line with Vision 2030.
View source version on SAMI:
https://www.sami.com.sa/en/media-center/news/sami-accelerates-vision-become-top-25-defense-and-security-company-2030