Jun 15, 2023
SOURCE: TERMA
TERMA contributes to upgrade of Norwegian Navy Skjold-class corvettes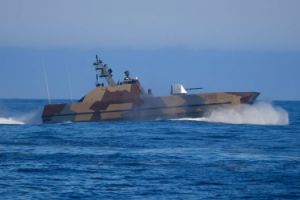 June 15, 2023 - Terma, a leading provider of advanced technology solutions for the defense and aerospace sectors, is proud to announce its significant contribution to Umoe and Kongsberg's comprehensive upgrade of the Skjold-class corvettes. The upgrade aims to extend the operational lifespan of these vessels through the implementation of state-of-the-art systems and equipment.
The centerpiece of this upgrade is the installation of a new combat management system (CMS), which will enhance the corvettes' operational capabilities. In addition to this crucial enhancement, Terma is supplying SCANTER 6000 radars - a highly important component for the update. These radars are renowned for their exceptional performance and will provide simultaneous small target detection, helicopter guidance, and large and small target detection at both close and maximum range. They have also demonstrated exceptional performance against non-cooperative targets even in harsh weather conditions.
Terma can disclose that the SCANTER 6000 radars have successfully completed a Factory Acceptance Test (FAT) of the radars last week. These tests have further validated the robustness and reliability of the radars, ensuring their seamless integration into the upgraded corvettes.
The SCANTER 6000 radar system has already been deployed on various navy ships around the world, including those of the Danish, American, French, German, and UAE navies. Its proven track record and exceptional performance make it an ideal choice for the Skjold-class corvettes, further enhancing their operational capabilities and situational awareness.
Furthermore, Terma is delighted to participate in a combined Danish and Norwegian defense seminar on security challenges and environmental challenges. The seminar will be held in Aarhus, Denmark on June 16, and will serve as a platform for discussing important defense and environmental topics. Notable participants will include Harald, king of Norway, Sonja, queen of Norway, Frederik, Crown Prince of Denmark and Mary, Crown Princess of Denmark. Also participating will be Danish Minister of Industry, Business and Financial Affairs Morten Bødskov, and Norwegian Minister of Trade and Industry Jan Christian Vestre. Terma's involvement in this seminar highlights its commitment to fostering cooperation and addressing the challenges faced by the defense industry.
Terma remains dedicated to providing cutting-edge solutions and technology to support defense and security forces worldwide. The collaboration with Umoe and Kongsberg Group in the upgrade of the Skjold-class corvettes exemplifies Terma's commitment to delivering innovative solutions that enhance operational effectiveness and extend the lifecycle of critical assets.
View source version on TERMA:
https://www.terma.com/news-events/news/latest-news/terma-contributes-to-upgrade-of-norwegian-navy-skjold-class-corvettes/?utm_content=165903305&utm_medium=social&utm_source=twitter&hss_channel=tw-516408370