Last Update
December 19, 2022
Categories
C4I, Communication Systems
Electrical, Electronics & Electro-optics
Mechanical, Electro-mechanical, Hydraulic and Pneumatic components
Radar, Sonar, Navigation, Targeting, Surveillance
Services (R&D, training, engineering, consultancy, …)
Textile, Individual Equipment, Clothing
MESIT defence, s.r.o., for more than 60 years, has been developing and producing highly reliable and durable products for voice and data communications. Since the founding of the company, has been relying on its own development department, which cooperates with leading global companies in the field, such as ROHDE & SCHWARZ.
The company's time and frequency technology is used by CERN labs in Switzerland, NASA (US) and other advanced scientific institutions worldwide.
The company is part of the MESIT group.
History
60 years of experience in radio communications
Over 20 years of specializing in tactical communications.
Until the end of 2015, we have operated on the market under the name of DICOM. Within the unification of the corporate identity of all MESIT Group companies, we changed our name to MESIT defence on January 1, 2016.
DICOM trademark appeared on military and aviation products in 1993. DICOM was established in that year. As a subsidiary of MESIT holding, it continued the successful work of its predecessor, the development department of MESIT that has developed several generations of aircraft radios and radio navigation systems.
In 1994, we launched the serial production of DICOM RF13 transceiver. Over 9,000 portable sets with accessories are still in operation.
In 1998, we finished joint development of R150 transceiver series in collaboration with Rohde&Schwarz. Its parameters rank it among the best products in its category worldwide.
We entered the era of consistent digitalization in military communications and command with the RF20 production program. This system and its accessories are used by military and police forces in 25 countries.
We are currently expanding the portfolio of elements within the DICOM RF40 system and our cooperation in manufacturing and development with ROHDE&SCHWARZ continues as well.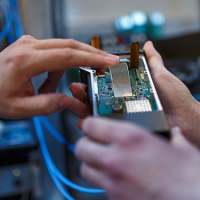 Contact info #1
Sokolovska 573, 686 01 Uherske Hradiste, Czech Republic
MESIT defence, s.r.o.
Sokolovska 573, 686 01, Uherske Hradiste, Czechia
+420 572 522 603
+420 572 522 836
defence@mesit.cz