Last Update
September 13, 2018
Categories
Electrical, Electronics & Electro-optics
IT, Computing and Software
Radar, Sonar, Navigation, Targeting, Surveillance
Services (R&D, training, engineering, consultancy, …)
ERA a.s. (a member of OMNIPOL Group) is a pioneer and leading supplier of next-generation surveillance and flight tracking solutions for the air traffic management, military, security and airport operations markets.
As one of the developers of the respected technologies of multilateration and ADS-B and thanks to the company's traditional products, ERA has more than 100 installations at a series of aerodromes, air traffic control centres and military organisations in 57 countries on all continents except Antarctica: in Europe, the Middle East, Africa, the Americas and Asia.
For more than half a century, ERA has built a proud heritage delivering multilateration based solutions such as wide area multilateration and surface surveillance to ATC controllers. Apart from systems for the civil sector, ERA has developed the unique passive radiolocation system VERA-NG - an essential part of any modern defence surveillance network and advanced border protection.
MSS by ERA
Proven multilateration and ADS-B cooperative technologies deliver high-performance, high availability surveillance solutions for surface movement, terminal area and wide area en route control applications. The cost effectiveness, flexibility, accuracy and reliability of ERA's technology are applicable to all surveillance requirements from the most complex airport surface to the most remote en route region.
MSS by ERA is based on the proven time difference of arrival (TDOA) multilateration principle to provide an accurate and reliable real-time location and identification of all aircraft, vehicles and other objects equipped with a Mode A/C/S transponder. The system also decodes ADS-B signals according to all applicable standards (such as RTCA DO-260A and B) and can be configured as a stand-alone network of redundant ADS-B ground stations, capable of independent ASTERIX output.
Besides offering complete and accurate information, MSS by ERA features trouble-free operation, with high MTBF, no rotating parts, few replaceable spares and a comprehensive control and monitoring system.
ERA's unique ability to combine distributed timing architecture (based on GPS or reference transponders) with central timing architecture (ideally suited to complex airport layouts) ensures that each system can be optimized to the unique requirements and constraints of any solution, from wide area to surface.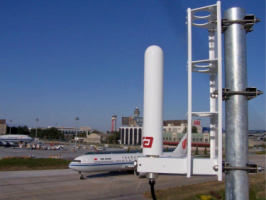 Squid by ERA
Incursion by ground vehicles into safety critical areas is a significant contributor to the number of reported incidents and is a continued risk to aviation safety, especially in low visibility conditions. ERA's squitter beacon (Squid) helps airports address this issue by providing an easily installed and standards compliant vehicle-mounted ADS-B transponder.
Squid by ERA broadcasts the position of each vehicle using exactly the same technology used by aircraft. Squid by ERA can be permanently or magnetically mounted to tugs, fire appliances, de-icing equipment and all airside vehicles. This ensures that the complete picture is available to the control tower, with each vehicle clearly and uniquely identified, providing an essential addition to any Advanced Surface Movement Guidance and Control System (A-SMGCS).
Squid by ERA is based on 1090 MHz Mode S spontaneous squitter with a unique Mode S transmission. The Mode S address has a default value, which either the user or ERA can adjust. Each unit consists of an electronics unit, an antenna assembly and a cover made out of a composite material. The cable that feeds the unit and ensures data transmission is designed with a water resistant connector, operating reliably in all weather conditions. Rigorous standards adherence means that Squid by ERA devices will work seamlessly with existing ADS-B and multilateration surveillance solutions from other vendors.
To support various ATM surveillance tasks, Squid by ERA can be installed on:
• Airport Vehicles
• Temporary Surface Obstacles
• General Aviation Aircraft
• Remote sites as a coverage tester and calibration tool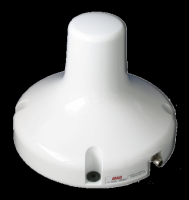 Vera-NG by ERA
ERA provides the most advanced technology for today's air defense, security and military range operations.
ERA's passive surveillance technology provides an unmatched ability to "see without being seen" and has a long heritage of innovation for leading defense and security forces around the world. Two of these important technologies are Passive Emitter Tracking (PET) and Passive Coherent Location (PCL).
ERA's PET technology, Vera-NG by ERA, is a mature technology deployed in Asia, Europe and the Americas, which tracks aircraft, vehicles, and other targets based on passive tracking of emissions, including radars, jammers, IFF transponders, DME/TACAN interrogators, Datalink and other communication, navigation and surveillance systems. Since beginning, ERA has invested heavily in the next PET technology and has participated in various demonstrations of the technology for NATO applications.
One of the most promising technologies that could alter the field of air surveillance is the Passive Coherent Location (PCL) system. For targets that do not emit signals, ERA's next PCL system shall track and classify targets using reflections of existing third-party emitters such as FM radio.
As the importance of air defense and military ATC has increased for leading military forces, the importance of effective airbase and range management for training and combat missions has likewise received increased attention. ERA solutions provide accurate surveillance for challenging terrain and extreme climates. MSS by ERA provides mobile and fixed-range management solutions for the world's leading defense organizations.
Air defense and passive surveillance are critical elements of today's military and security operations. Vera-NG by ERA addresses this by providing the most advanced and state-of-the-art Passive Surveillance System designed for detection, location, identification and tracking of air, ground and naval targets. The Vera heritage and worldwide reputation as a powerful surveillance solution extends over many decades with systems successfully deployed in Europe, Asia and the Americas.
Vera-NG by ERA is a deployable air command and control system component (DAC) and processes radars, jammers, SSR/IFF transponders, TACAN/DME interrogators, DataLinks and other onboard emitters.
The system is a proven Passive ESM Tracker (PET) that utilizes well-proven Time Difference of Arrival (TDOA) multilateration techniques to triangulate on a broad range of emissions.
Vera-NG by ERA offers a covert, electronic and physical, surveillance capability that is not vulnerable to anti-radar weapon systems. The system's design is fully mobile and can be delivered in a "roll-on/roll-off" configuration, ensuring its readiness for rapid tactical deployment.
Vera-NG by ERA uses advanced finger-printing techniques to identify targets without the need for ground-based transmissions. Vera-NG by ERA can also be configured to fulfil missions that require passive 3D radar with extremely high capacity for simultaneous target tracking.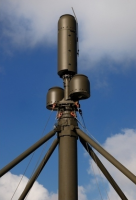 MasterCare by ERA
ERA's industry-leading MSS™ product is backed with the world-class services and benefits of the MasterCare program. MasterCare is a complete portfolio of services and comprehensive range of assurance offerings that can be customized to the unique customer, deployment site and service level requirements.
With MasterCare, customers get the benefit of ERA's unrivaled engineering excellence and surveillance expertise. MasterCare offers customers the industry's most experienced engineers and longest track record of managing operational surveillance systems, ground stations and networks to protect their MSS investment and maximize the full lifetime value of their MSS system. The world's leading air navigation service providers (ANSPs) are responsible for the safety of over 2 billion passengers each year. They place their trust in ERA's MSS system to provide surveillance that meets the highest standards for accuracy and operational availability. The MasterCare program provides customers with the services that their mission-critical surveillance systems demand.
Multilateration
Multilateration, or hyperbolic positioning, is the process of locating an object based on the Time Difference of Arrival (TDOA) of a signal emitted from that object to three or more sensors. When a signal is transmitted from an object, it will be received by two spacially separate sensors at different times.
The time difference is then used to calculate the objects position. By using three or more sensors, a complete position analysis can be attained by determining the intersection point of the three or more hyperbola formed by the TDOA from each sensor.
ADS-B
There is general agreement that Automatic Dependent Surveillance – Broadcast (ADS-B) will play a significant role at the core of future civil aviation surveillance infrastructure.
ADS-B relies on an aircraft's GPS to provide current flight information such as altitude, airspeed, position, aircraft type, identification and direction. The system transmits this information through a dedicated radio datalink to all receivers capable of decoding ADS-B signals.
ADS-B faces a number of implementation challenges which are addressed with Extended ADS (ADS-X).
All ERA sensors are equipped to decode ADS-B signals according to all applicable standards, including RTCA MOPS DO260 and DO260A and B, and support alternative ADS-B transmission infrastructure such as 1090ES, UAT and VDL4.
Sensors come standard in full environmental enclosures suitable for remote deployment and low-bandwidth connection to the central server for data fusion and/or tracking as required.
ERA can provide complete ATM display and automation solutions based on the surveillance data or can output information in a variety of standard formats including Asterix Category 21 (ADS-B) and Asterix Category 48 (monoradar).
As an option, ERA can provide ADS-B receiver/decoders in portable configurations and equipped with data logging facilities so that data can be downloaded to PC applications for analysis. This is of particular value for organizations undertaking ADS-B trials or site location studies.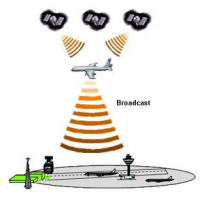 ADS-X
Extended ADS (ADS-X) refers to the integration of multilateration techniques into an ADS-B surveillance infrastructure to mitigate the equipage, validation and backup issues surrounding ADS-B and to enable a faster, more comprehensive and more cost-effective ADS-B implementation.
First, ADS-X supports full fleet coverage in advance of equipage. Because multilateration techniques process (Mode A/C/S) transponder signals, the network of ground stations is able to determine the position of aircraft without the need for new avionics. This allows ANSPs to deploy the next generation, low cost technologies without the need for a contentious early mandate for equipment retrofit, while still potentially avoiding the need to replace SSR systems.
The second ADS-B implementation challenge - the need for independent backup and validation of ADS-B self-reported position, is also addressed by the inclusion of multilateration capability in the ADS-B network, as each ADS-B position report is validated in real-time using multilateration.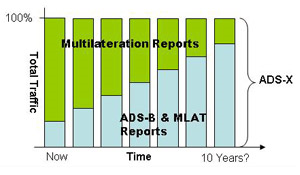 ERA a.s.
Prumyslova 387, 530 03, Pardubice, Czechia
+420 467 004 253
info@era.aero