Categories
Electrical, Electronics & Electro-optics
Metal Processing, Parts & Components
Services (R&D, training, engineering, consultancy, …)
Textile, Individual Equipment, Clothing
MEOPTA, is an enterprise with a long and rich tradition in the production of optical-mechanical equipment for consumer, commercial, industrial and military applications. Meopta is developing and manufacturing the best products in the optical-mechanical field.
Meopta currently occupies a 135 000 m2 (1,450,000 sq ft) site. This built up areas yield 77 000 m2 (830,000 sq ft) on floor space, including 26 000 m2 (280,000 sq ft) of manufacturing area which include state-of-the-art, high quality, air conditioned, dust free environments.
The Meopta team (2400 employees) that exists today is poised to utilize its extensive experience in research, design, development and production to provide superior service on many different levels from raw concept to finished goods.
Contact info #1
lenka.kocianova@meopta.com
Kabelikova 1, 75002 Prerov, Czech Republic
DAY SIGHTS
ZD 10x50
The ZD 10x50 day-time dial sight is a scope designed for observing in detail the field being explored and for precise aiming the arms in the day-light or, as the case may be, under deteriorated lighting conditions with the help of lighting sight cross.

ZD 6x50
The ZD 6 x 50 day-light dial sight is designed for precise aiming of arms, using ammunition .308 Winchester, in the day-light and also with lower lighting level. It was constructed especially for use on various types of sniper rifles.

ZD 3-12x50
Riflescope ZD 3-12x50 with illumination of reticle is specially designed scope for rifles for Special Operation Forces and sport shooting. Optical system is intended for long distance observation.

ZD 3-12x56
Riflescope ZD 3-12x56 with illumination of reticule is specially designed scope for rifles for Special Operation Forces and sport shooting. Optical system is intended for long distance observation.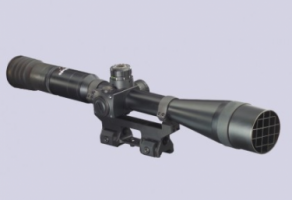 NIGHT SCOPES
Klara
Klara night vision goggles intensity ambient light of stars and moon. The device allows both a handheld and a hand-free because head-mounted observation. Klara can be used either with or without an afocal.

MonoKLARA
MonoKLARA is a universal night vision monocular. It can be used for handheld application with 1x magnification, or in connection with afocal lens (4x magnification) as a surveillance device.

Afocal lens
Afocal lens with 4x magnification can be used with monoKLARA (monocular) or KLARA (binoculars) for surveillance. It can be easily attached to a device and can be used also at higher illumination levels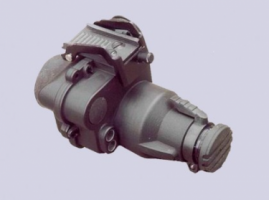 NIGHT SIGHT
ZN 6x
The ZN 6x night-time dial sight is a special monocular scope for observing in detail the field being explored and for arms under lowered visibility and at night when shooting at long distances.

Meo 50
Night vision scope MEOPTA MEO 50 is intended for aiming of small arms.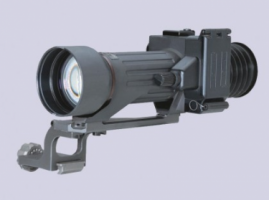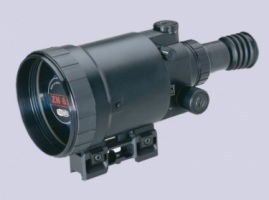 DAY/NIGHT SCOPES
DND-5
DND-5 is a combined day / night driverscope for BMP-2 and other armored vehicles.

BPK-3
BPK-3 is a combined day / night gunner sight for BVP-2 vehicle. It is modernized current BPK-2-42 and it operates in passive mode.

TKN-3BP
The TKN-3P viewing unit is a binocular periscopic telescope for tank or armoured carrier commander, designed for working at day-time as well as at night-time

CDND-1
The CDND-1 is a combined device for drivers enabling the driving of military vehicles during the day and night. The entire device, combining day and night visibility, provides the driver with high visibility and comfort without the need to change between day and night devices.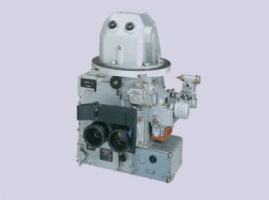 NIGHT DRIVERSCOPE
NV-3P
The passive night vision device is designed for drivers of armoured vehicles for driving at night under conditions of natural residual illumination from 1x10-3 lx without additional lighting or in full darkness with additional lighting. The periscopic stereoscopic optical system of the device with two channel image intensifiers of 2nd generation enables a very easy observation of the terrain and does not tire the eyes of the observer.
The outer optical surfaces of the prism and of eyepieces are effectively protected from dew formation and ice accretion through electronic control heating fed from board network of the object.
The NV-3P can be substituted without modifications for the device TVNE-4B used hitherto.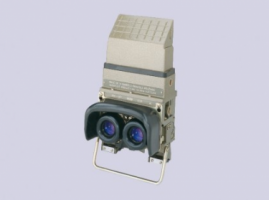 RESEARCH AND DEVELOPMENT
Meopta R&D Department has over 70 engineers specializing in various fields related to optical and mechanical products including of:
Optical systems construction
Optical measuring
Thin film coating designs
Mechanical design
Fluency with CAD/CAM and other design software
Prototype fabrication and Testing
Meopta's R&D Group has access to the facilities needed for the fabrication of prototypes of your product and the ability to test the performance of these prototypes to assure our customers that the product meets its performance specifications. Our testing laboratory includes testing of facilities for:
Image plane resolution, field curvature and distortion testing
Chromatic and spherical aberration and astigmatism
Effects of temperature and humidity conditions
Vibration, shock and drop
Force and displacement analysis
MECHANICAL PRODUCTION
Meopta uses state-of- the-art mechanical and CNC equipment for production of high precision mechanical components and products.
Our mechanical capabilities include the following:
Traditional turning - lathe-turning, milling, thread cutting, thread rolling, gear milling, carving, grinding
CNC engineering - turning and milling of precise parts
Milling - three, four and five axis on Chiron, Fehlmann, Hyundai-Kia, Matra, Haas and Bridgeport machines
Lathe-turning - on Hyundai-Kia, Weiler, Matra, Haas machines
Heat treatment
Meopta uses state-of-the-art KOPP and SOLO equipment for heat treatment of metals . The equipment is software-controlled ensuring the elasticity, the quality, short delivery terms and the repeatability of heat-treatment results. We guarantee low prices and tailor-made approach to the customer.
"KOOP Equipment" - single-chamber furnace for vacuum coating or working in controlled nitrogen atmosphere
It allows:
Stress relief annealing, annealing of soft-magnetic materials, normalizing, pressure gas hardening - tools form high-speed steels, moulds for different plastics and tempering treatment:
Setting space: 500 x 600 x 500 mm
Temperature. Max 1300°C
Weight of a batch: Max 200 kg
"SOLO" Equipment - multi-purpose transfer line with controlled mixture of gases atmosphere
It allows:
Stress relief annealing, normalizing, duralumin hardening, nitrating, carbonitriding, cementing, hardening and tempering treatment:
Setting space: 300 x 300 x 600mm
Temperature: Max 1100°C
Weight of a batch: Max 80 kg
Surface treatment
Mechanical and chemical pre-treatments
Blasting
Mechanical surface treatment to remove rust, scale and other mechanical impurities even at difficult to reach places. This method is also suitable to create the required surface structure (according to the used blasting medium and pressure used) for further surface treatments. Blasting is carried out by:
Cast-iron grit Max dimension 1000 x 500 x 280mm
Max weight 25kg
Corundum manually up to dimensions 400x400x250mm and weight of 5kg or parts on a semi-automatic machine up to 500x500x500mm
Ballotini with glass beads of f80mm manually up to part dimensions 200x150x300 or on a semi-automatic machine up to parts dimensions 500x500x500mm
Steel beads (f 300mm) manually up to 200x150x300m or parts on a semi-automatic machine up to 500x500x500mm
The maximum blasting pressure is 0.5Mpa.
Grinding
By grinding we remove rough asperities in the surface treatment - e.g. seams on castings, grooves, poruses. According to asperity level and the technology used,, grinding can be divided into rough and fine. It is done manually on discs ( max. weight of components 5 kg), tubes can be ground on grinding pipeline.
Brushing
This process tempers and unifies a ground surface and simultaneously deprives it of oxide layer which occurs during the grinding. It is done manually or on discs within 5 kg components weight.
Polishing
Mechanical process in which the stock removal and plastic defomraiton occurs ( so called asperity smear). Polishing can be done on the basic material ( before surface treatment) or on galvanic layers in order to obtain high decorative polish. It is done manually or on discs within 5 kg components weight.
Tumbling
Mechanical treatment process (de-edging, annihilation, blunting, polishing) of larger quantity of small components in rotating or vibrating machines. According to the used tumbling medium (corundum or ceramic mediums, metal or glass beads, quartz sand etc.) used, it is possible to achieve various level and treatment quality.
Degreasing in ultrasonic line
Ultrasonic waves call out in liquid vacuum i.e. overpressure centre (cavitation) which impurities to be removed from the component's surface and these are dispersed into the degreasing tank. An advantage of these ultrasonic degreasing is particularly its efficiency to treat inaccessible places (impassable apertures, edges etc). This way, degreasing can be used on all types of metal material by using suitable degreasing medium. The maximum size of the degreased component is 1000 x 500 x 250 mm.
Description of ultrasonic device:
Degreasing bath with the volume 220 - 360 l with power 2000 W and warming-up 2 x 6000 W.
Rinse bath with the volume 420 l, heating 2 x 2 800 W
Bath for rinse with volume passivation 420 l, heating 2 x 2 800 W
Bath for components hot air drying by the maximum temperature 120 °C
The device is equipped with filters and an oil separator, the equalizing tank with circulating pump has volume of 155 l.
Acid pickling - rust removing
Chemical process of removing of scale and rust of any thickness. The scale remover is inhibited, that means that during the removing of rust, the basic metal is not dissolved.. In the surface treatment process is the acid pickling without inhibitors is also used for parts surface cleaning and in special cases for dimensional correction of parts, too. Max. parts dimension is 550 x 450 x 250 mm.
INORGANIC SURFACE TREATMENTS

Zinc coating
Zinc layer electrolytic separation especially on steel, zinc based alloys and materials from copper alloys. It is used for anti-corrosive protection and for obtaining a decorative look. Electronegative zinc character against basic metal causes that at first the zinc stains in so called white rust. Its speed in outdoor environment is 0.75mm per year. Zinc coating lifetime can be markedly increased by chromating which simultaneously enables to obtain various appearance variants, e.g. blue (glossy), yellow (colored) or black.

Note 1:
The maximum dimension of surface treated components is limited by the size of electrolytic degreasing tanks which have usable working volume of baths 1200 x 700 x 1000 mm in view of centric electrode rod.
Cadmium coating
Cadmium layer electrolytic separation. This layer is analogous to zinc layer electronegative against the basic material and that is why it also has anticorrosive features. In comparison with zinc layers it is very resistant to corrosion even in seaside climatic conditions. Cadmium layers are characterized by very good solderability and sliding features. Particularly they are used in the aircraft industry and the automotive industry. With regard to carcinogenic effects, this surface treatment is limited by Act Nr. 157/ 98 Coll.

Note 1:
Maximum dimension of surface treated components is limited by the size of electrolytic degreasing tanks which have usable working volume of baths 1200 x 700 x 1000 mm in view of centric electrode rod.

Note 2:
For cadminum coating of elements restriction mentioned in the Public notice of the Department of the Environment Nr. 301 / 98 Coll. is valid.
Chromatizing of zinc and cadmium layers
Chemical way of zinc and cadmium electrolyticly eliminated layers passivation. Chromate layer is a thin film mainly formed of insoluble chromans of appropriate metallic layer. Chromate layers increase resistance to corrosion of zinc or cadmium coating, increase electrical resistance and prevent from layers solderability.

We do following chromatizing according to layer coloring:
Glossy ( blue ) - achromatic or blue translucent decorative layers

Colored ( yellow ) - evidently prismatic layers with tint yellow till yellow coloring and color interference (color chromatizing provides the most effective anti-corrosion protection.

Black - semi-mat, deep black decoration look
Nickel coating
a) eletrolytic
Electrolytic nickel coating to iron and copper alloy or Cu layers. This surface treatment meets the requirements for anticorrosive protection and guarantees high mechanic resistance and provides a decorative look . It is possible to coat matt or glossy nickel layers which also have partial buffering ability ( remove small disparities of the basic material). It is possible to do the coating in the thickness 5 - 20 mm. Nickel layers are corrosion-resistant almost in all types of environments. The disadvantage is that in long-lasting atmosphere influence the nickel coating darkens and that is why it is coated by thin chrome layer for decoration purposes.
Note 1:
Maximum dimension of surface treated components is limited by the size of electrolytic degreasing tanks which have usable working volume of baths 1200 x 700 x 1000 mm in view of a centric electrode rod.
b) Chemical (de-energized)
Chemical process of metastable alloy nickel - phosphorus ( 3-10% of phosphorus) on steel ( including stainless steel), aluminum and its alloys, cast metal, copper, brass and silver as the corrosion protection for mechanical features improvement and surface utility. The layer enables soldering. Unlike the electrolytic nickel coating, the nickel layer accurately copies the surface of basic material and keeps equable layer even in cavities and profiles. It is possible to surface chemically eliminated nickel layers further or maybe even chrome them. De-energized nickel cannot be coated on alloys containing Sn, Pb and on zinc alloys.
Chromium - plating
Electrolytic chrome coating on basic material. The surface of chrome contrary to other metals passivates slight oxide layer without gloss waste. Glossy chrome coatings keep permanent high reflective robustness ( 65% ), unlike silver or nickel. Chrome coating is characterized by high hardness ( up to 10 000 MPa ) which guarantees abrasive resistance and thermal endurance ( up to 500 °C ). It is characterized by bluish silver coloring. CR coating cannot be soldered.
Note 1:
Maximum dimension of surface treated components is limited by the size of electrolytic degreasing tanks which have usable working volume of baths 1200 x 700 x 1000 mm in view of a centric electrode rod.
Copper coating
Electrolytic elimination of copper layer which serves particularly as an interlayer before nickel coating, chromium-plating, silvering, blackening etc - with respect to its features , has very good ductility, electric conductivity and adhesion to basic material. . It is also used in steel cementing as protective coat against cementing of given surfaces, further in galvanoplastics, electrotechnics, at cog-wheels and pegs inrun. If copper coating is used as a decorative layer, it is necessary to protect it by suitable varnish.
Phosphate coating
A method of chemical anticorrosive adjustment of steel, zinc and cold galvanized surfaces when inorganic coating originates in reaction of metallic surface with phosphate preparation ( tertiary phosphate Zn and Fe) with high cohesion with the basic metal.. Phosphate coating is nonconducting, water insoluble and solvent organic. It has a high ability of adhering to some organic material.
Usage:
Surface treatment for organic coating adhesion improvement and underrusting prohibitive
Anticorrosive protection used in connection with organic preservative preparations
In connection with suitable lubricants for extrusion simplification and cold molding
Electro-insulating layer
Alkaline steel oxidation
So called steel "blackening" is a chemical treatment of carbon steel surfaces (less suitable for cast metal and high-alloy steel) creating tight adherent black and brown up to black coating of iron oxide. It is used for appearance and anti-corrosion treatment. Appearance quality ( gloss, mate, coloring even anticorrosive resistance is given by working, type and structure of oxide steel. For corrosive resistance increasing (e.g. into humid settings), oxide layer is further modified by preservatives (oils, vaseline, micro waxes) or organic coating.
Chemical oxidation of aluminum and its alloys
Chemical process of oxidation of aluminum and its alloys in alkaline bath where there occurs a layer of aluminum oxide with thickness 0.5-2 mm. The oxide layer is highly adhesive to basic material, non-conducting, mechanically few resistant with good ability to take up some organic compounds. It is used as treatment for increasing adhesion of organic coating. With regard to small thickness and porosity, the corrosion resistance of oxide layers is small.
Anodic oxidation of aluminum and its alloys
Anodizing is an electrolytic process of oxidation of aluminum and its alloys with the minimum aluminum content of 80 % where there aluminum oxide adheres onto on components surface with thickness 5-30 mm. The thickness of the oxide layer is given by the oxidation period and current density and it is influenced by chemical composition of the aluminum alloy. It is possible to color the oxide layer. Anodic oxidation serves as excellent anticorrosive and decorative surface treatment ( it is possible to achieve decorative appearance only on some aluminum alloys), it is possible to use it also as preliminary treatment which increases adhesion of organic coating, cements etc. It is possible to achieve a number of appearance options of the oxide layer (glossy, matt, satin) or accurate final options by various ways of preliminary surface treatment of basic material ( shot blasting, dulling, pickling).
Note: Commonly, natural and black anodizing is established. At bigger volumes and repeatability it is possible to color oxide layer according to a customer's wish.
Black brass oxidation
Brass blackening is a specific chemical treatment of brass ( it is not possible to black copper ) during which black coloring with good mechanical or chemical resistance and adhesion to basic metal occurs. This surface treatment is also suitable as an additional treatment of steel, alkaline blackened components soldered by brass. Brass welds are colored black additionally. It is possible to black only small components in our conditions - working volume of approximately 7 dm3.
ORGANIC SURFACE TREATMENTS
Preservation
Temporary components surface treatment which serves as corrosion prevention (e.g. at storage, transport). The option of a preservative (preservative oils, waxes, micro waxes or inhibitors) is given by the required guard delay
Preservative oil KONKOR 101 is designed for interoperable or short-term steel preservation. It creates a thin transparent oily film.
Preservative wax KRNB is designed for short-term up to long-term protection of alloys of Fe, Cu, Zn, Al, nickel and copper coating. It creates semi-solid up to solid, thin and almost transparent film.
Preservative RUST PEL 51 NAL creates dry transparent coating and is designed for preservation of long-term stored components from alloys Fe, Zn, Cu, Al.
Meopta provides a complete varnishing system involving:
Surface preliminary treatment

Priming coating

Cementation of uneven surfaces

Grinding of priming coating

Spraying finishing coat
The maximum dimension of the painted components is 1600 x 1200 x 1000 mm.
Surface preliminary treatment:
The surface of the basic system must be free of all impurities which deteriorate the quality of the whole surface treatment before the organic coating application. Inconsistencies at preliminary treatments may not show immediately after the completion of the painting system, but after some time that the active impurities needs to create energy to damage the consistence and adherence of the surface.
The surface pre-treatments are:
degreasing ( in alkaline solutions, in solvent organic , in UZ pipeline )

anodizing

phosphate coating

blacking

nickel plating
Basic color spreading
The basic coat increases adhesion of the top coat and whole anticorrosive resistance of the varnishing system. Basic colors are produced for various purposes ( e.g. for metal surfaces - steel, zinc, aluminum and its alloys, plastic surfaces).
Cementing
Cementing is used for covering surface disparities, poruses, scratches etc. according to the size of defect appropriate cement is used.
Grinding
Grinding is a surface treatment of the basic coat or email interlayer preceding the top coat. It is possible to smooth out the surface after cementing or increase interlayer adhesion before further layer spreading. Grinding is done manually by abrasive - coated paper of various roughness according to the requirements for the final quality of the painted surface.
Aplication of the top layer of the painting substances
The top coat spreading is the last operation of the varnishing system (according to the type of the used email it can be even several layers spread in sequence). Final appearance of varnished surface is dependent on the type of email:
glossy, semi-mat, mat

smooth or structured
Emails are used one-component, double-barelled, baking or air-drying, synthetic, alkyd, acrylic, polyurethane, epoxy, chlorinated rubber etc.
Screening
Monochromatic or chromatic printing of flat surfaces with screen colors through the screen. It is possible to print on varnished surfaces, metal material, plastic, glass or self-adhesive folio. This technology enables also printing and etching of one-sided printed circuits.
The maximum size of the printed surface is 470 x 250 mm.
TOOLING
Meopta offers its customers strong capabilities in tool design and production. The company's tooling department offers experience and expertise in the technology, programming and measuring of:
Pressing tools for cutting, bending and drawing plates and sheets, combined tools, forming tool-drilling clamps
Forms for thermoplastic injection moulding
Length gauges, thread rings
Cutting tools for rotation working and surfacing
Optical measuring instruments (collimators)
Repair of workshop microscopes and profile projectors
Preparation of production of spherical and plane optics
CNC machines Fehlmann Pikomax 90, Hyundai HiT8 S, Hyundai SPT V800
3D-measurement capabilities at Browne & Sharpe DEA machine
OPTICAL PRODUCTION
Meopta's current optical products include components which are used for laser, medical, military, aerospace, and commercial applications. We manufacture a broad range of optical products, utilizing both glass and plastic substrates, including of:
Plano-Optical elements
*Filters, Wedges, Windows
-Diameter 3 – 320 mm
*Plano-parallel plates
-Parallelism to 1'', power λ/20 at diameter 100 mm
*Corner cubes
-Surface deformation 0.25λ (PV), enter and exit beam deviation 2''
*Penta-prisms
-Deviation 2''
*Roof-prisms
-Roof angle accuracy 2'', astigmatism 0.7 fringe, power λ/20
*Beamsplitter plates & cubes
-Angle accuracy 2'', deviation 10''
*Right-angled prisms
-Angle accuracy 2" , deviation 10''
*Rhombic prisms
-Deviation 10''
Spherical Optics
Lenses with diameters from 6 to 260 mm and radii from 3 mm to infinity
Single and compound lenses
Centering accuracy 30"
Center thickness tolerances +/- 0.025 mm
Special shaping contours
Irregularity up to λ/30 PV at 633nm
Thin film coatings processes, equipment and products
Hot and cold processes
Eelectron beam and ion-assisted processes
Balzer, Leybold Hearreus and Syrus coating chambers
Coating designs and products include
-High end A/R coated products
-Mirror coatings
-Metallic and dielectric coatings
-Narrow band filters
-Edge Filters
-Beamsplitters and beam combiners
-Night vision optical components
-Conductive coatings
-Laser application coatings
Lacquering and Painting
Enamel, epoxy and polyurethane
Screen printing
-Spray-painting of surfaces up to 260mm thickness accuracy of up to +/-0.02mm
-Roll-painting of circular components is made by roll-on devices, thickness accuracy of up to +/-0.02mm
-Stamp-printing uneven surfaces with identifications, company logos, etc.
-Silk-screen-printing: Plano surfaces, diaphragms, covers, markings
-Special lacquering of complicated parts & small quantities or prototypes can be made manually.
Measuring and Testing
Lacquer thickness
Light tightness of lacquer
Resistance to solvents
Adherence testing
Meopta Systems a.s.
Kabelikova 1, 750 02, Prerov, Czechia
+420 581 241 111
+420 581 242 222
meopta@meopta.com