Last Update
March 8, 2022
Categories
Infrastructure, Construction & Civil Engineering
Maintenance Repair Overhaul and Logistics Support
Ships, Vessels, Submarines & related equipment
Since 1959, Israel Shipyards Ltd., has been providing seaworthy solutions for the Naval and commercial marine markets.
Israel Shipyards is the preferred address for all challenges in shipbuilding:
• Ship Design, Ship Repair
• Purchase & renovation of vessels
• Project management & execution
• Customer training
• After-sales service
• Technical and logistical support
Besides shipbuilding, the plant of Israel Shipyards - covering 330,000 sq. meters with 45,000 sq. meters of under-roof facilities - offers a full range of manufacturing possibilities for ship-to-shore and land-based structures.
Expert craftsmanship is evident throughout the life of every ISL vessel or sea platform:
• Smart design & construction
• Comprehensive testing
• Strict quality assurance
• Long-term service
In addition, Israel Shipyards operates a floating dock in Haifa Bay, where our team provides a wide variety of services to both Naval and Commercial vessels. Israel Shipyards professionals draw on the experience of our company that goes back more than 50 years, building a reputation for excellence on four continents.
Ship Repair
ISL has all the facilities necessary to carry out the most complicated ship repairs and maintenance procedures:
• A 4500-ton floating dock
• Quay Cranes with 15, 40, 60 and 100 ton capacity
• Independent power supply station
• Electrical and pipe workshops
• Well-equipped machine shop
• Blasting and coating facilities
Staffed by experienced workers, Israel Shipyards facilities handle a wide range of services with efficient reliability:
• Repairs and maintenance of merchant and Naval vessels
• Damage repair in merchant ships
• Renovation and expansion of container ships
• Conversion and modification of cargo vessels
ISL has a Master Repair Agreement with the United States Navy (U.S.N.) 6th Fleet that recognizes the capability of our shipyards to fulfill the strictest Quality Control and Acceptance standards required by the U.S.N.
ISL is authorized to repair American merchant ships under a special Presidential Proclamation related to the Free Trade Agreement, whereby these commercial repairs are exempt from U.S Customs Duties.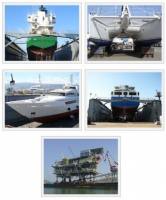 Israel Shipyards Ltd.
P.O.Box 10630 Haifa Bay, 26118, Haifa, Israel
+972 4 8460246 
+972 4 8418744 
marketing@israel-shipyards.com