Last Update
September 12, 2018

Categories
Electrical, Electronics & Electro-optics
Engines, Propulsion, Power Generation
Infrastructure, Construction & Civil Engineering
IT, Computing and Software
Metal Processing, Parts & Components
Services (R&D, training, engineering, consultancy, …)
Magnus, is a privately owned company established in 1991. The owners carry the key positions in the company. Magnus employs 50 people, over half of whom are engineers whose fields of specialization cover the entire spectrum. Incorporating under one roof all of the skills involved in design, engineering, software development, production and logistics, Magnus offers fully integrated capabilities in the fields of mechanical, electronic and software engineering as well as project management and maintenance.

Magnus can deliver a total turnkey package, taking responsibility for every stage from initial planning through hands-on training, and also undertakes projects that are more limited in scope. From computerized upgrades for existing facilities and conversions for alternative or additional engines to open facilities, hushed facilities and demountable-transportable facilities, Magnus integrates innovative engineering with high tech equipment in order to provide a variety of flexible solutions.

Magnus is an ISO 9001:2008 Quality Assured Firm, authorized by the Standards Institution of Israel and IQnet.
Design and Consulting
Magnus engineering and consulting services specialize where technical challenges require creative, cost effective high level engineering design solutions tailored to the customer needs.
These services include:
Design and consulting for test facility infrastructure

Design and consulting for subsonic wind tunnels

Design and consulting for altitude engine test facilities

Integration of subsystems in test cells / facilities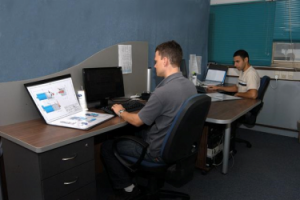 Manufacturing and Maintenance
Magnus manufacturing and maintenance plant is located in Yavneh Industrial Park Zone.
The plant provides wide range of services for advanced test equipment from ground support equipment up to aviation applications.
For more than a decade Magnus manufacturing and maintenance plant provided comprehensive mechanical and electrical equipment solutions for civil military industries both in the international and domestic marketplace.
The plant is staffed with a team of professionals and qualified field engineers, highly trained experts, which can provide complete comprehensive solutions for customers' requirements. The field engineers have a full backup from engineering departments of the company.
Magnus manufacturing and maintenance plant capabilities include:
• Manufacturing and maintenance of a wide range of testing equipment.
• Manufacturing and maintenance of special tools and equipment for maintenance operations.
• Manufacturing and maintenance of electrical equipment.
• Maintenance of various testing equipment.
• Turn Key projects.
• Technical support services.
The test equipment manufactured by Magnus provides a full range of testing solutions, from a simple GO/ON GO indication up to comprehensive and advanced tests, tailored for each customer's requirement.
The equipment manufactured by Magnus is provided with an integrated documentation, engineering data and in-depth training.
Calibration
Magnus Calibration Laboratory is accredited by ISRAC (Israel Laboratory Accreditation Authority) provides a wide spectrum of calibration services for wide range of domestic Israeli sectors.
The calibration services of Magnus are offered as a comprehensive solution which covers a wide range of customers measuring equipment according to ISO/IEC 17025.
Magnus provides fluid flow calibration services since 2001 and is a pioneer in this field in Israel.
Calibration services can be provided inhouse or at customer site.
List of the technologies that Magnus is accredited by ISO/IEC 17025:
• Flow meters (0.03 kg/min to 1300 kg/min)
• Temperature Sensors PT100 type (-30ºC to 120ºC)
• Temperature Controllers and Indicators PT100 type (-200ºC to 650ºC)
• Pressure Transducers and Indicators (-1 to 700 bar)
• Quantity Indicators, Weighing Tanks, Volume (1 to 195000 kg/min)
Services informational files
Management Services
Magnus Engineering offers a complete range of management services to support customers maintain competitive edge in their respective markets and to have the most economical project solution.
The management services that the company provides provide are:
• Cost estimating
• Budgeting
• Feasibility studies
• Technology evaluations
• Project management
Turn-Key Test Facilities
Magnus provides a wide range of solutions for Engine Test Facilities – starting from design of various systems and up to design and built turn-key based custom test facilities.

On turn key test facilities Magnus brings an interdisciplinary approach that combines the talents of software, electronic, mechanical engineering and experience of 20 years.

At all turn key projects the company's services include, program management, design, implementation, training, documentation, warranty and long term customer support.

Design disciplines cover site development, foundations, civil engineering works, acoustic treatment, fuel farms and fuel supply systems, electrical system, fire detection and extinguishing systems, compressed air and starter air systems, PLC based engine / facility control and monitoring systems, computerized data acquisition systems, software, dynamometers selection, dynamometer water cooling systems, test stands etc.
Implementation covers all the above subsystems and as mentioned above Magnus provides customers long term technical support.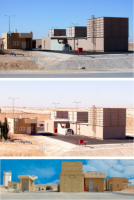 Upgrade of Existing Test Cells / Facilities
Magnus specializes in the upgrading of existing test cells / facilities.
The company offers the most advanced technologies taking into account the customer's requirements and the budget.
The solutions offered for upgrading the existing systems aim at getting the most cost effective upgrade possible in short schedule.
Magnus has the capability to upgrade all the existing subsystems in the existing test cells / facilities.
Particularly the upgrading of the existing control and data acquisition systems to specially developed for engines test cells, PLC based engine / facility control system and sophisticated real-time data acquisition and processing system.
Magnus Data Retrieval Unit – MDRU
General Description
The MDRU II is a hand held computer system designed for retrieval, analysis and display of data acquired by the airborne Engine Monitoring System (EMS) installed in modern jet engines such as F100-PW-220/229, F110-GE-110 and T700-GE-701C. The MDRU II is a generic and versatile device, readily adaptable to handle any modern jet engine.
MDRU Highlights
Engine "Go / NoGo" indication for aircraft mechanics on the flight line.

In-depth data analysis tool for engine specialists.

Increased fleet readiness by reduced turn around time required for EMS data reduction.

Real-time monitoring/recording of engine data during ground runs.

Flexible communication options to a host computer: RS232, dial-up modem, USB, Ethernet.

Report generation and printing.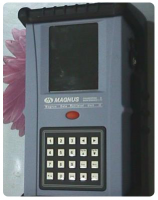 Magnus Computerized Test Cell (MCTC-2001)
Magnus Computerized Test Cell (MCTC-2001) is a powerful generic software package that provides all the data acquisition and data processing functionality required for the operation of automated engine test cells.
For some engine types, the generic software package is complemented with engine specific software code. The user interface with MCTC-2001 may also be customized to meet specific test cell needs.

System Benefits:
Improving of engine reliability

Increasing of testing efficiency

Avoiding unnecessary engine runs

Prevention of operational mistakes

Avoiding engine limit violations
Portable UAV Engine Test & Adjustment Kit
Proven Record for:
DH290 A/B

AR Series

Rotex 914

Limbach

Motoguzzi

Sachs
Design & implementation of the following subsystems:
Test Cell enclosure

Test stands

Fuel system

Electrical system

Fire extinguishing system

Control & monitoring system

Computerized data acquisition system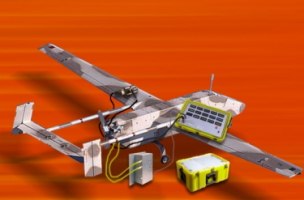 A/M37T Engine Test Stand Upgrade Kit
Magnus A/M37T Engine Test Stand Upgrade Kit is one of the ideal solutions for the test stand users to upgrade and modernize the test stands model A/M37T-20A, 20B, 20C.
The Magnus upgrade kit will extend the life of the test stand and will allow users to run engines with advances and computerized systems.
The upgrade kit include:
Fuel Trailer upgrade, installation of a new electronic fuel level transmitter for continuous fuel level measurement of the fuel in the tank , and replacement of the existing flow meter with 2 inch Corriolis mass flow meter.

Control Trailer upgrade, replacement of the existing control consol with a new configuration adapted to the new hardware.
Data Acquisition and Control System, replacement of the existing throttle system with a new electronic throttle system, replacement of the existing instrumentation and controls with a new advanced electronic instrumentation and PLC based control system, installation of a new computerized data acquisition system and software.
Command Shelters (S-250, S-280 Types)
Magnus Shelter is a mobile tactical shelter designed for transport by track. The Shelter is lightweight, high strength, insulated in all weather. The Shelter provides a mobile, environmentally controlled working, living and storage space.
Construction
The Shelter consists of six panels, four side panels, roof and floor.

The panels are of a sandwich type construction, 5 cm. thick with closed cell self extinguishing hard foam core and reinforcing members between aluminum alloy skins.

The panels contain structural aluminum members to which equipment can be mounted either inside and outside of the Shelter.

The 182 cm. by 83 cm. door at one end of the shelter comes with a 49 cm. by 49 cm. quick release vent and escape panel built into the door.

A perfect seal has been achieved by using special glues during Shelter construction. The shelter is completely water tighted.

Roof load – Snow and Ice load of 366 kg/m².

Lifting eyes, one at each corner.

Towing eyes, four, two each side.

Ventilation Openings with doors.
Environmental Conditions
The shelter is designed to operate at temperatures of (-) 40°C to (+) 55°C

Heat transfer coefficient – U Factor - 1.7 W/°C/m²/hr.

The Shelter can withstand exposure to an atmosphere with 100% humidity.
Custom Options
Custom sized, adapted to the truck model.

Antenna masts (Electrical, Pneumatic, Manual).

The Shelter can be provided with external power supply assembly which includes. Diesel Generator 220VAC and 24 VDC Batteries.

Complete Electrical System including lighting, regular and camouflage blue. The light is automatically switched from regular to camouflage when door is opened.

Lifting Sling.

Integration of customer supplied systems.

External and internal Storage Boxes.

Cable Entry Door & Hood.

Custom Paint.

Custom Furniture.
Engine Storage & Preservation Container
Magnus Airborne Engine Containers designed to support storage and preservation and transportation of bare engines at rough handling and severe / extreme environmental conditions.
The main functions that can be performed with container:
Easy and safe installation of the engine in the container.

Support Engine preservation procedures.

Safe transportation of the engine.

Easy inspection procedure during engine preservation.

Measurement and display of preservation parameters.

Support Engine de-preservation procedure.
Principal Features
Maximum internal working pressure: 28 psig (25 psig nominal + 3psig altitude).

Maximum hydrostatic test pressure: 42 psig.

Altitude and temperature: Up to 5000 feet (-) 20°C to (+) 55° C.

Non operating temperature: (-) 40°C to (+) 71°C.

Transportation, Vibration and Shocks:Transportation and Vibration per MIL-STD-810F Method 514.5 category 4, shocks per MIL-STD-810F Method516.6 procedure IV.

Material: Welded steel.

Stack height: With engine - 2 Maximum.
Without engine - 4 Maximum.

The containers are designed to be handled with either a forklift and over head crane system.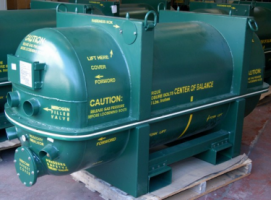 T64/T700 Engines Test Cell
Project Nature:Turn Key Project
Client: Israeli M.O.D.
Location: Israel
Project Description:
The project is Turn-Key project for design, development, construction, manufacturing, installation, calibration and acceptance tests of hardware and software of T64/T700 Engines Test Cell.
The scope of the project covered the following systems:
Site analysis Foundations and Construction

Test Cell Building

Fuel System

Starter Air System

Compressed Air System

Dynamometers Water Cooling System

Oil Preservation System

Engine / Facility Control and Monitoring System

Computerized Data Acquisition System

Electrical System

Lighting System (External, Internal, Emergency)

Septic / Sewage

CCTV

Communication System
In addition to the a/m systems the scope of work included:
Documentation

Design Reviews

Program Management

Warranty

Training
CFM56-2/3/5/7 Engines Test Cell Upgrade and Integration
Project Nature: Systems Upgrade, Consultant, Integration
Client: I.A.I. Engine Division
Location:Israel
Project Description:
Upgrade of the Engine / Facility Control and Monitoring System, supply and installation of new Computerized Data Acquisition System for CFM56-2/3/5/7 series engines.
In addition to the above, the scope of the work included the following:
Integration

Design Review

Documentation

Training

Warranty

Data Acquisition System self test station

Consultant for auxiliary systems upgarde
Command Shelters
Project Nature:Turn-Key Project
Client:I.M.I.
Location:Israel
Project Description:
The project is Turn-Key project for development, design, manufacturing, installation, integration and acceptance Tests of tactical Mobile Command Shelters.
The scope of the project covered the following sub-systems that are integrated to the Shelter and to the truck:
Electrical Power Supply System.

Complete Electrical System including lighting system day and night.

Air Conditioning and ventilation system.

External Storage Boxes.
In addition to the above, the project included development, design, manufacturing and installation of special fixtures for safely installation of the shelter on the truck.
PT6 Engines Storage & Preservation Containers
Project Nature: Turn-Key project
Client: I.A.I. Malat Division
Location: Israel
Project Description:
The project was Turn-Key project for development, design, manufacturing, and acceptance tests of PT6 Engines Storage & Preservation Containers.
In addition to the above, the scope of the project included the following:
SDRL's

Operation & Maintenance Manual

Design Review

Project Management

Training

Warranty
Magnus Engineering & Maintenance Ltd.
4 Faran st. 8122503 Yavne, Israel, Bnei Brak, Israel
972-8-6599000
972-8-9420858
info@magnus-eng.com