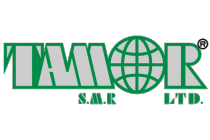 Categories
Composites, Plastics & Rubber
Mechanical, Electro-mechanical, Hydraulic and Pneumatic components
Metal Processing, Parts & Components
Military, Tactical, Logistic Support Vehicles & related equipment
Tamor S.M.R Ltd., specializes in the production of Metalwork and Rubber Vulcanized Kits, Assemblies and Components for heavy vehicle applications for Defense and Industry. The company's manufacturing floor supports rubber vulcanization by bonding rubber to metal or rubber molding. Metal fabricating technologies include cold deep drawing, forming, cutting, bending, welding, 5-Axis CNC machining and milling, painting and preservation – all under one roof - all per customers' specifications and requirements.
HISTORY
Tamor S.M.R Ltd was founded on June 15, 1988. It started as a producer of rubber bonded to metal and rubber parts for heavy vehicles; primarily for military applications. Tamor mainly manufactured track shoe assemblies and components and solid rubber wheels.
In 1996, Tamor S.M.R expanded its product line to supply the heavy vehicle and industrial sectors with manufactured metal products. The company expanded its line to products such as fuel tanks, water storage tanks, electric battery case covers, made of armored aluminum for on-board of the Merkava tank, as well as a new range of steel and non-ferrous metal items. To enable less dependency on subcontractors, Tamor developed its capacities to include the production of the steel and aluminum wheels required for its solid rubber wheels and track steel components.
Today, the maturity of Tamor's manufacturing capabilities, its knowledge and experience in fabricating metal and rubber and the implementation of adapted technologies have resulted in the company's ability to produce logistically complicated kits, subassemblies and innovative products for Defense and Industrial applications worldwide.
QUALITY
At Tamor, implementing and maintaining rigorous Quality Control and Quality Assurance standards are core factors for developing, manufacturing and delivering reliable, top grade products.
Tamor S.M.R Ltd., ISO 9001:2008 certified, has been long qualified as a designer and manufacturer of rubber, rubber bonded to metal and metal components and assemblies for tracked and wheeled vehicles.
As a Defense contractor, Tamor has received AQAP-2110 approval, as required by NATO, to serve European customers. The U.S.A. Tank-Automotive and Armaments Command (TACOM) has long recognized Tamor as a Qualified Supplier placing us on the QSL 01, QSL 03 and QSL 04 TACOM lists. The QSLs (Qualified Supplier Lists) include major assemblies' suppliers and full combat vehicles suppliers to the U.S. Government.
Tamor's military products have been field tested and qualified by the Israeli Defense Forces.
5-Axis CNC Machining Center
During 2013, Tamor SMR acquisition of unique CNC equipment enabled diversification of the product line within their manufacturing facility.
Results were:
• Successful machining of large high precision items
• Specialization in machining a variety of castings and metals
Integration of 2 large CNC 5-Axis machines resulted in the successful machining of large, high precision items including:
• M1 Hatches
• Mechanical Housings
• Idlers
• Other products
Utilizing 5-Axis CNC machining, Tamor developed its specializations in machining of:
• Armor Steel Castings
• Armor Steels
• Other types of castings
• Other popular metals such as aluminum
Advantages
• Production of complex items
• Elimination of multiple set ups
• Efficient machining of angular surfaces
• RMT - Reduced Machining Time
• Better Surface Finish
• Elimination / Reduction of Manual Millwork and Handwork
• Elimination of Extra Tooling and Fixtures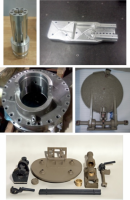 Rubber Vulcanization
At Tamor SMR Ltd, manufacturing of Rubber Bonded to Metal and Rubber Molded items is achieved through the processes of:
Injection Molding
Transfer Molding
Compression Molding
Tamor SMR takes the rubber, implements the various molding methods on its production floor and produces high quality, durable and reliable end products for industrial applications in Defense, Transportation and other Commercial sectors.

Injection Molding involves preheating the rubber compound while it's being processed through an extruder. Using high pressure, the compound is injected into the mold cavity for a certain time, pressure and temperature. Typical items include high quantity small products weighing between a few grams to several kilograms. Cycle time is relatively short and the injection presses and the molds are relatively expensive.

Transfer Molding is a technique that combines injection and compression molding technologies. Transfer molding requires building a "piston and cylinder"-like device in the mold and squirting the rubber into it through small holes. When the mold is closed and under hydraulic pressure, the rubber is forced through the small hole into the cavity where it cures. Transfer molding is usually used for heavier rubber parts or in places where it is desirous to shorten the cycle time and produce rubber with uniform properties. Transfer molds are more expensive than the ones used in compression molding.

Compression Molding is the classic rubber vulcanization method. A defined excess amount of the bulk rubber compound is placed in the cavity of the mold. Using increased pressure and temperature, the rubber compound is formed. It is the excess material in the cavity that provides the required pressure. Molds are relatively simple and help in studying shrinkage of rubber and producing first samples of various rubber compounds. This method is generally the most suitable method for low and medium sized serial production.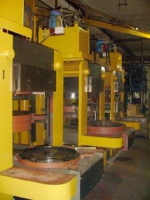 Deep Drawing Process
At Tamor, the manufacturing of wheels can require the application of up to 1400 tons of pressure as flat, shiny metal discs are inserted into the tool dies and a hydraulic press forms the steel to its appropriate thickness and depth - this can mean a deep drawn item of up to a thickness of 12.7mm and a depth of 170mm.
Deep drawing is a metal forming process that provides many challenges. The result must be a metal shape without cracks, wrinkles or breakage. As the manufacturer, we thoroughly evaluate the type of metal used, its thickness, the tool surface finish, the type of lubricant used, the size and shape of the blank (the flat metal part that will be deep drawn), the punching speed, draw radii, draw ratio, draw bead height and shape.
Welding Process
Depending on the application and the product being manufactured, Tamor factory welders are qualified for MIG welding, also known as Gas Metal Arc Welding and TIG welding, also known as Gas Tungsten Arc Welding.

TIG Welding is used to produce high quality precision welds offering low distortion and precise control of welding variables such as heat.

MIG Welding is considered to be a semiautomatic process. Long welds can be made without starts and stops. Primary shielding gases used are Argon and CO2 .

Tamor's welding stations offer flexibility and were built with the comfort of the welder in mind. As a product is being welded, the welder can turn and adjust the angles of the item enabling him better control throughout the welding process.

Throughout the manufacturing process, Tamor's Quality Assurance team ensures that testing parameters are met and upheld in accordance with the requirements of, among others:
Magnetic particle testing
Liquid penetrant testing
Non destructive testing
Leakage testing
Drop fall testing
Vibration testing
Factory welders are trained to work and qualified in accordance with European DIN standards as well as American AWS standards. Examples of Tamor's welding certifications include AWS D 1.1, AWS D 17.1 and DIN 6700 EN 15085-2 Class I (used particularly for the railroad industry).
Painting & Preservation Process
Depending on the requirements of a manufactured item, metal surfaces undergo several painting and preservation stages within the Tamor factory before emerging as corrosion free, finished end products.

In-house, Tamor offers:
Shot peening or sandblasting to remove rust and produce smooth surfaces
Chemical coating
Degreasing and rinsing
Painting with rust inhibiting primers
Painting with water based or solvent based paints
Adhesive Spraying Station
Wet spray painting
Electrostatic spray painting
Tamor SMR Ltd.
Southern Industrial Zone – P.O.B. 19 Hacharoshet 6 Street, 23100, Migdal Haemek, Israel
+972 (4) 654 6735
+972 (4) 654 6738
main@tamor.co.il