Last Update
March 8, 2023

Categories
Aircraft, Helicopter, UAV, Spacecraft & related equipment
C4I, Communication Systems
Engines, Propulsion, Power Generation
IT, Computing and Software
Metal Processing, Parts & Components
Military, Tactical, Logistic Support Vehicles & related equipment
Electrovac Hermetic Packages GmbH specializes in the production of hermetic packages and thermal management products for the defense, automotive, telecommunications and power electronics industries.
Its products include:
Amperometric Oxygen Sensors
Ekeram DBC Ceramic
Metall-Matrix-Composites (MMC)
Thermostats
DBC Substrates
Micro-Channel Coolers
Carbon Nanofibers
Battery covers
Igniter headers
ENF-MB and Compound
Applications of the products include structural composites, hybrid electronic, laser, night vision gear, peltier cooler, radar electronic, safety systems, etc.
Customers of the company include the capital goods industry, power electronics, automotive industry, and manufacturers of household appliances. Products and appliances are also manufactured for the aviation industry, medical equipment industry, telecommunications, and other high-tech industries.
References of the company include Danfoss Silicon Power GmbH, Semikron, Infineon, Jenoptik, Autoliv, Continental, and Tadiran.
Company has been quality certified to ISO 9001, QA 9000, and VDA 6.1 standards.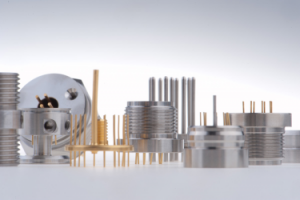 Electrovac Hermetic Packages GmbH
Aufeldgasse 37-39, 3400, Klosterneuburg, Austria
+43 2243 450 0
+43 2243 450-515
info@electrovac.com