Last Update
June 15, 2023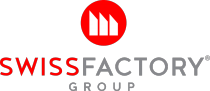 Categories
Metal Processing, Parts & Components
Stoppani Metal Systems Ltd has completely realigned the sheet metal processing operations it took over from Styner & Bienz in Bümpliz in 2011. The company, which has since moved to Neuenegg / BE, is now one of the most modern companies in sheet metal forming, surface finishing and joining technology.
With its strong focus on digitalization, the acquisition of fully automated equipment with direct connection to a fully automated sheet metal warehouse, Stoppani Metal Systems is the ideal partner for the production of larger quantities.
On 2020 the Company joined the SwissFactory Group.
Stoppani Metal Systems AG
Laupenstrasse 30, 3176, Neuenegg, Switzerland
+41 31 744 2211
+41 31 744 2210
mail@stoppani.com