Last Update
August 31, 2018
Categories
C4I, Communication Systems
Electrical, Electronics & Electro-optics
Military, Tactical, Logistic Support Vehicles & related equipment
Radar, Sonar, Navigation, Targeting, Surveillance
Services (R&D, training, engineering, consultancy, …)
Weapons & Ammunition
AVIBRAS, is a Brazilian Company founded in 1961. The Company is an engineering company focused on customer satisfaction and among its hallmarks are the safety of its products, workers and facilities, quality, strict observance of deadlines, and fair costs.
The Company is situated in an industrial complex comprised of 4 plants located at strategic and privileged sites in the Paraiba Valley, state of São Paulo.
A pioneer in the aerospace field, AVIBRAS achieved great success when the Brazilian Armed Forces and the armies of friendly nations were equipped with its advanced defense systems. AVIBRAS is currently recognized worldwide in the defense segment for its excellence in engineering and advanced technology, having produced air-to-ground and ground-to-ground defense systems, unmanned aircraft and missiles that use software and hardware that are entirely developed, designed and integrated in-house.
Mission
The Company's mission is to develop its own technology, innovative and independent, in the Aeronautics, Space, Electronics, Vehicles and Defense fields, generating value for its Clients, Shareholders, Employees and Society, in a sustainable way.
Vision
The Company's vision is to be a reference in Brazil in technological independence, singular solutions, solidity, technical boldness, competitiveness and responsibility, always guided by the Nation's main interests.
Contact info #1
purchasing@avibras.com.br
Rodovia dos Tamoios, Km 14, Jacarei - SP, 12300-000, Brazil
Artillery Saturation Rocket System - ASTROS II
The ASTROS II is today the world's most complete Artillery Saturation Rocket System, and with the hightest degree of operational employment flexibility. The ASTROS II system has been proved in combat and it has been increasingly adopted by armies in several countries. ASTROS II features also enable the system to be employed in Littoral Warface operations with extraordinary success.
The ASTROS II was developed to present a long life span through the constant introduction of new technology modules, especially on its ammunitions and even on its launcher platforms. One of such new technology modules for the ASTROS II System is the TM (Tactical Missile), with a range of up to 300 kilometers.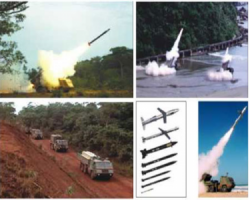 DEFENCE - Rockets & Missiles
SKYFIRE - 70
Based on its extensive experience with the SBAT 70 (Air-to-Ground Brazilian System) AVIBRAS developed and started to produce and export to its clients the most advanced 70mm rocket system, the SKYFIRE, a high performance air-to-ground rocket system for employment in any type of combat aircraft or helicopter. The SKYFIRE presents superior characteristics when compared to the conventional 70mm systems, specially due to its longer standoff range (resulting in a higher aircraft survivability rate), and better accuracy.
The SKYFIRE system has three options of rocket-motors, for different ranges, with several different types of warheads. The SKYFIRE can also be employed as area saturation artillery rockets, for ranges up to 12 kilometers, or a sub caliber ammunition for the ASTORS II SYSTEM for training purpose.
FOG MPM
In testing stage, the new generation FOG-MPM (Fiber Optics Guided Multi Purpose Missile), uses fiber optics to permit the operator, from a non line of sight of the enemy, to guide the missile to the acquisition and desctruction of the target. The use of fiber optics for guidance also makes the missile immune to enemy ECM (Electronic Counter Measures). With the present range of up to 20 kilometers, and a possibility to be further extended to over 100 kilometers, the FOG-MPM may also to be employed as an additional ammunition for the ASTROS II System. Today its employment is against tanks, helicopters and fortifications.
DEFENCE - Armored Vehicles
The AV-VBL (AVIBRAS Armoured Vehicle) is a new member in the AVIBRAS's ever-growing family of military vehicles. Based on a UNIMOG 4x4 off-road platform, the AV-VBL is a 7- to 12-ton multitask armoured vehicle. The AV-VBL shows excellent performance in cross-country, desert, sand or mud, as well as under extreme environmental conditions. Internal space is the best in its class, and its modular approach allows the vehicle to be configured to perform multiple tasks such as support, police patrol, ambulance, and C4IR (command, control, computer, intelligence and surveillance). The AV-VBL can be easily transported by C-130 cargo aircraft. TheAV-VBLis the standard platform for the support and C4I vehicles of the renowned AVIBRAS ASTROS II System.
FIGHTING INTRUDERS AT LOW ALTITUDE
State-of-the-art anti-aircraft defense fire control equipment, to detect aircrafts and missiles at low altitude, directing the fire of anti-aircraft guns and missiles.
High mobility on extreme terrain conditions,
High speed on roads,
Long range (on/off-road),
Central Tyre Inflation System - CTIS,
ABS Brake System,
Outstanding under armour internal space,
Effective mines protection,
7.62 mm AP Ballistic protection,
Weapon mount for .50 Heavy Machine Gun, 7.62mm Machine Gun or 40mm Automatic Grenade Launcher,
Low operational and maintenance costs by using the Mercedes-Benz Unimog chassis,
High reliability.
VEHICLE FAMILY CONCEPT
Command Post,
Anti-tank Vehicle,
Ground Surveillance Radar Vehicle,
Forward Observation Vehicle,
Mortar Carrier Vehicle.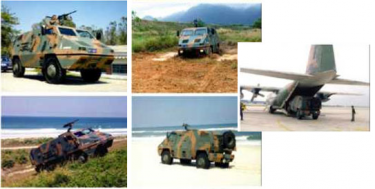 CIVIL - Paints
ECCOR
The ACRYLIC LATEX PAINT FOR WALLS (INTERNAL/EXTERNAL) is formulated from high quality acrylic resins with anti-mildew additive. If forms a film with good flexibility and high spreading power and durability. It provides resilience to weathering and salty environments. The paints are recommended for: coating, protection, decoration and re-painting of external or internal wall surfaces, plastering, amianthus shelters, dividers, acoustic lining, cast, PVA cement, acrylic cementing and acrylic sealer.
TYPE: Flat / semi-gloss.
COLORS: Available in 23 colors
The LATEX PAINT FOR FLOORS AND CEMENTS (INTERNAL / EXTERNAL) is formulated from high quality acrylic resins and special loads. If forms a films with good flexibility and high spreading power and durability, and high resistance to abrasion. It provides resilience to weathering and salty environments.
RECOMMENDED FOR: Painting, coating, protection, decoration and re-painting of floors, pavements, sports courts, parking areas, industrial and commercial areas, walls, façades, roof sand shelters in general.
TYPE: Flat.
COLORS: Availablein12 colors
The ACRYLIC RESIN (EXTERNAL / INTERNAL) is recommended for better protection, durability and beauty of surfaces where it is applied. It provides a finishing with good resistance to abrasion and weathering, and forms a perfectly tight film to hold water, dust, soot, pollution, etc, making the surface look like new, and it is easily washed. It prevents the development of fungi and the formation of mildew.
RECOMMENDED FOR: Tiles, apparent bricks, apparent concrete, flagstones, slate, soapstone, and other natural stones.
The ACRYLIC COMPLEMENT (INTERNAL AND EXTERNAL) is recommended for better performance and guarantee to the paints for finishing which are part of the ECCOR line.
The ACRYLIC FILLER can be easily applied to even, level and correct external and internal imperfections in plaster, amianthus cement, apparent concrete, bricks and walls painted with PVA or acrylic paint.
The ACRYLIC SEALER is recommended for sealing external and internal surfaces of plaster, mortars in general, concrete bricks, apparent concrete. It has high sealing and coverage power.
IMPERBRAS
The POLYURETHANE PAINT AVICOAT is formulated from high performance polyurethane resins. It provides a semi-gloss finishing with excellent resistance to abrasion. It forms a high flexibility film and provides perfect watertightness, showing very good resistance to weathering and UV rays.
RECOMMENDED FOR: Paintings of: industrial and home floors, pavements, sidewalks, parking areas and shelters in general. Protective painting for concrete. Markings on asphalt, concrete and other types of masonry. It has high resistance against abrasion, allowing for the traffic of forklifts and light vehicles with rubber tires.
COLORS: White, grey, others (upon consultation).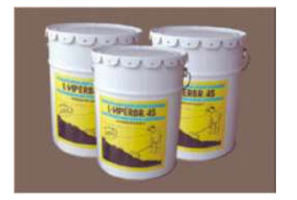 CIVIL - Explosives
BRASPEX: High performance emulsion cartridged explosive, recommended for several types of dismantling of rocks, available in three versions.
APPLICATIONS: The products are recommended for several types of dismantling of rocks, in outdoors, underground or underwater blasts for all types of rocks.
BENEFITS:
High detonation resistance,
Excellent fragmentation,
Excellent performance in all types of rocks,
Safe handling, application, storage and transportation.

PACKAGING: Cartridges in polyethylene films or semi-rigid PEAD cartridges, packaged in carton boxes with 25kg of the product. The Braspex line can be cartridged in several sizes which may vary from 7/8 to 8 inches diameter.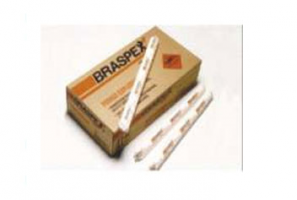 Satellite Communications
AVIBRAS has developed 10-m diameter antennas and related equipment for satellite communications since 1976. These equipments form a network that has integrated all of the Brazilian territory, reaching even the most remote areas, such as the Amazon region, in a joint operation with the Intelsat satellites, and more recently with the Brasilsat satellite.
In the early 1980's, AVIBRAS was chosen by the General Staff of the Brazilian Armed Forces to develop and supply communications antennas for the Brazilian Military Satellite Communications System.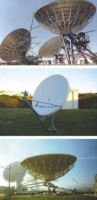 TECTRAN - Transport Engineering Technology
For more than 21 years of existence, TECTRAN has collected satisfied customers among the most demanding corporations around the globe; valued customers that helped to acquire the highest in the world technology.
As a subsidiary of AVIBRAS AEROSPACIAL, TECTRAN has as its goal the Research, Design, Development and Manufacturing of vehicles for moving, handling and transporting materials. The use of advanced technology together with revolutionary concepts, wich is TECTRAN's trademark, contributed to the international recognition of ASTROS as the best of a kind. Apart from its creativity and excellence in technology, TECTRAN has a systematic commitment to quality. This involves the application of a Quality Program in all constructive processes, materials and equipment, conferring excellent performance and reliability on its products and services.
System Integration
AVIBRAS has pioneered in the fields of engineering, space research and complex civilian and defense systems, not only in Brazil but also in the worldwide. AVIBRAS counts on human resources, research centers and the infrastructure necessary for designing, developing and manufacturing a wide range of software and hardware solutions. The Company has the expertise to create, develop and manufacture complex hardware and software systems, integrating several types of technologies. All of AVIBRAS's systems are developed with in-house technology, of which more than 80% is produced in Brazil.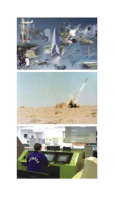 Avibras Industria Aerospacial S.A.
Rodovia dos Tamoios, Km 14, SP, 12300 000, Jacareí , Brazil
+55 12 3955 6000