Last Update
September 13, 2018
Categories
Electrical, Electronics & Electro-optics
Services (R&D, training, engineering, consultancy, …)
Quittner & Schimek s.r.o., was founded in 1991 as a distributor of electronic components for demanding applications in area of:
Aerospace

Military

Transport

Telecommunications
The product range has developed into four groups of components:
Connectors, backshells, wires, cables, tools and accessories for wire harness assembly and installation

Relays, contactors and switches

Power supplies, AC/DC and DC/DC converters

Displays, display modules, controllers and single board computers
Over the years, the company has estabished credible reputation and has become a reliable partner for most Czech and Slovak aerospace and military projects. The company offers not only delivery of components, but also large customer support and training.
Added value
The next step was to offer added value services. The UV Laser marking machine was procured in 1999 and the wire processing and kiting were introduced.
Wire harnesses
The program significantly enlarged in the upcoming years, and the company currently assembles complete wire harnesses, custom cables, electrical boxes and panels for customers from the Czech Republic, Germany, Switzerland and the U.K. The workshop occupies an area of approximately 1000sqm with 50 employees, and it is equipped with modern production and testing equipment.
Connectors assembly
Based on a long term co-operation with Amphenol, the Quittner & Schimek company became a certified assembler of circular connectors Amphenol under MIL-DTL-38999 and MIL-C-26482 specifications. The company has been listed on QPL (Qualified Products Listing) since 2001.
Fibre optics
Quittner & Schimek invested in the development of a new fibre optic program. In 1994 a sister company SQS Vláknová optika was established, focusing on fibre optic connectors and assemblies, mainly for telecommunication and MIL/AERO applications. Its capabilities and potential are very large. This company employs 150 people and uses state-of-the-art production technology and know-how. The company is ISO9001:2000 certified. More information can be found at www.sqs-fiber.cz
Contact info #1
Wire Harness & Connector Assembly
Komenskeho 304, Nova Paka, Czech Republic
OTHER SERVICES
Complete technical support for application of the above mentioned components

Extensive knowledge of military and mass-transport standards – MIL (MS), BS, VG, NAS, SAE, CECC and others

Flexible components deliveries with all relevant certificates

Large own stock of frequently demanded items

Assembly of circular MIL connectors with the advantageous option of operational deliveries at competitive prices, including various non-standard modifications.

Wide range of systems permanently marking wires, cables, heat-shrinkable tubes, sleeves, labels, etc. based on customers' requests. All marking and labeling systems in-house

UV laser wire marking and cutting according to customer specification using either own extensive stock of wires or customers' wires and cables

Precise tools – deliveries, lending, adjustments, calibration and repairs

Production of complete wire harnesses and electronical sets. Thorough testing of wire harnesses and sets with the option of performing the tests at customer's own premises
SALES & CONSULTING
Connectors & Accessories

Cables & Wires

Wire Harness Accessories

Tools

Labelling Systems

Chip Card Readers

Electronic & Reed Relays

MIL Relays

Switching Power Supplies

DC/DC Converters

Displays

Embedded Computers
The Quittner & Schimek company is one of the leading suppliers of first-rate components for wire harnesses and electronical units assembly and for supporting various defense, aerospace, telecommunication and mass transport applications.
The company supports its customers during all stages of new products development, i.e. during initial design activities, selection of suitable components (also with a view of prospective tooling to be required), during production of prototypes as well as during serial production, including subsequent support. The company aims to provide its customers with a wide range of support services, so that to simplify logistics and stock operations by fully applying the "one-stop-shop" principle. This is managed by a wide own stock of components, by own connector assembly activities and by own assembly of complete customers' cabling, wire harnesses and similar sets.
The company prides itself on having long-term application experience with leading components fulfilling the most demanding criteria of internationally recognized standards MIL, BS, VG, NAS, SAE, CECC and others, and cooperates with approved manufacturers of such components.
Quittner & Schimek supplies also many essential supplementary components and accessories: Metallic shielding braids, plastic braids or convoluted tubing for cable protection, silicon sealing tapes, binding ribbons, clamps, cable eyelets, wire couplings, shielding terminations etc. For all of the noted components, precise mounting tooling is available; the tooling may also be delivered in sets as per customers' specific requirements.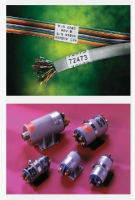 PRODUCTION EQUIPMENT
The company pays special attention to the equipment for production and testing. Beside state-of-the-art equipment, we use many standard and necessary hand tools. The listing of the tools and equipment consists of only well known and qualified producers. All the tools are properly maintained and calibrated.


Spectrum Technologies CAPRIS 50
UV Laser marking and processing system
a non contact, high speed marking for wires AWG 26-6

a clearly and permanently marks single core wires as well as multicore

jacketed cables or twisted pairs

a only acceptable methods for modern composite taped wires and cables

a for white and coloured insulation including PTFE (Teflon), ETFE (Tefzel), XLETFE and FEP

a control by PC allows virtually any text and spacing
WEE Electrotest Engineering W627-3
Electroemulation and interconnection automatic tester
a 2048 test points expandable up to 8192 points

a insulation testing up to 1500VDC, Hi-Pot up to 1050VAC

a testing of twisted pair and shielded cables

a component test and measurement

a emulation test to check switching sequences and states, timing intervals, voltage/current values etc.

a emulation test software, co-operation with external instruments
KOMAX KAPPA 230
Strip & Crimp Machine - for higher volume termination up to AWG 14 with some special crimping tools - interchangeable heads
AMP ELT
Automatic cutting and stripping machine for wires and cables AWG24 - 5

DMC
WA22 - Pneumatic crimp tools
WA23 - Large gage crimp tool crimp contacts from AWG8 up to AWG 4/0
Crimp hand tools, open frame crimp tools, installing and removal tools
Backshell accessory tools (M22520, M81969)
Inspection gages, Contact retention test tools
Wire crimp pull tester MPT-200A

AMP, Pressmaster
Hydraulic and hand crimp tools
IDEAL
Hand and pneumatic stripping tools
Meisei
Hot knifes and hot tweezers - precise stripping tools for all type of insulation
Schleuniger UniStrip 2500
Pneumatic stripping machines
Band-It, HellermannTyton
Tie-Dex metal ties for screened assemblies
Cable tie tools
W.H. Brady
BP-2461 -Thermal transfer printer, high quality desktop printer
TLS2200 - Hand held thermal transfer label printer system
ID PAL - Service hand thermal transfer printers
ASSEMBLY OF CIRCULAR CONNECTORS UNDER MIL STANDARDS
The assortment of connectors, the number of variants and styles is very large. For that reason it is not possible to have all of them ready in stock. To serve customers with the shortest delivery time, Quittner & Schimek established on its own site a connector assembly line. This is very important regards quick deliveries for prototyping, small series, as well as for series production with short time production cycles or with just-in-time delivery requests.
ASSEMBLY OF WIRE HARNESSES & ELECTRICAL UNITS
The Quittner & Schimek company offers complete in-house assembly of wire harnesses, custom cables and other electronical units, such as relay exchange boards and control panels. In cooperation with its partners the company extensively supports its customers during design and prototyping efforts as well as during actual lot production. The support extends not only to components and materials supply, but also to selection and optimization of all required parts, technological treatment, production of supplementary documentation, change procedure control support, documentation of the actual manufacturing process and testing procedures.
Production of wire harnesses and electronical units for defense, aerospace, mass transport, telecommunication and other special applications.

Usage of single wires or multicore cables.

Harness protection by using of tapes, plastic or metallic braids, heat-shrinkable tubes or other requested techniques.

Various versions of EMI-shielded harnesses as per customers' specifications

Coaxial and data interconnections with defined impedance, for example design and manufacturing of complete data cable bus sets as per MIL-STD-1553, including harness testing on a dedicated tester.

Own assembly of couplers as per MIL-STD-1553 in cooperation with Amphenol Ltd.

Full length UV laser wire marking. Marking of cables and harnesses using state-of-the-art Brady labeling systems.

Calibrated assembly tools. Qualified repairs of DMC, Glenair, Ideal and Hellermann tooling.

Pull testing of all used kinds of crimped connections.

Testing of interconnections on a WEE electro-emulation tester with the option of VN isolation test up to either 1500VDC or 1000VAC.

Active emulation of relay exchange boards with verification of all individual contacts in both closed and open states.

Production procedure protocols and test results
CUSTOMERS & PROJECTS
EADS Military Aircraft - Eurofighter - TYPHOON
- Assembly of electrical boxes and wire harnesses

AERO Vodochody - L159A, L159B ALCA
- Supply of parts and components for wire harnesses
- Service and production tool sets

AERO Vodochody - Ae 270 IBIS
- Supply of parts and components, UV Laser wire marking for prototypes
- Complete wire harness assemblies for series production

AERO Vodochody - S-76C
- Installation tools
- UV Laser wire marking

Wolfsberg Aircraft - Raven 257
- UV Laser wire marking, components
- complete wire harness assemblies

PBS Velka Bites - Safir 5K/G
- Supply of parts and components
- Complete wire harness for APU
Components and tools for different companies involved in aerospace programs, maintenance, upgrades and avionics:


- CSA - Czech Airlines a Mikrotechna Praha
- CLS - Ceska letecka servisni a Mesit - Letecke pristroje
- LD Aviation Prague a Walter
- Evektor / Aerotechnik a Letecke opravny Trencin
- Aviation Service a Letecké opravny Banska Bystrica

Components, tools and assemblies for military RDST, communication equipment, radars and similar applications:

- DICOM a RAMET
- VTUE Praha a RETIA
- Tesla a T.E.S.L.A. CZ
- TTC Tesla komunikace

Components and tools for companies involved in production and service of armoured vehicles and ground technology :

- VTUVM Slavicin a Konstrukta Defence Trencin
- VOP 025 Novy Jicin a ZTS Dubnica nad Vahom

Components, tools and assemblies for transport technology:
- Skoda Dopravni Technika a Unicontrols Praha
- Spolecnost kolejovych vozidel (Siemens)

- Foreign Customers - subcontracting assemblies for high speed trains, locomotives, underground stations and trains
Quittner & Schimek s.r.o.
Komenskeho 304, 509 01, Nova Paka, Czechia
+420 493 766 111
+420 493 721 107
qs@qscomp.cz