Last Update
March 15, 2023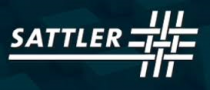 Categories
Textile, Individual Equipment, Clothing
The SATTLER Group, is a family-owned firm, headquartered in Austria, that operates worldwide. We are the world´s leading manufacturer of highTEX products, especially for outdoor use, and SATTLER is also leading in the planning and implementation of membrane constructions.
In addition to our headquarters in Gössendorf, AT, there are three more production plants: one in Rudersdorf, AT in the province of Burgenland, AT, in Greven in the province of North Rhine-Westphalia, DE, and in Hudson, North Carolina, USA.
Our value chain ranges from the weaving, finishing or coating process to manufacturing and assembling membrane structures More than 20 million m² of fabric are produced for the global market per year and further 2 million sqm membrane are processed. Research and development in every respect contribute to our worldwide success.
SATTLER's business unit SUN-TEX has developed to become one of the global leaders in the field. With our state-of-the-art machinery we produce, among others, shading fabrics, sunscreen fabrics for residential buildings and commercial constructions, boat cover fabrics and weather-resistant fabrics for garden furniture.
SATTLER'S business unit PRO-TEX is one of the quality leaders in Europe in the manufacture of coated technical textiles: our wide range extends from truck tarpaulins to tents and fabrics for biogas storage tanks and textile architecture.
In the business unit MEMBRANE SOLUTIONS the Sattler-Group covers two different areas in the membrane construction field:
In the ENVIRONMENTAL TECHNOLOGY field, we offer tailor-made solutions for biogas holders and for energy recovery from organic waste. As inventors of textile storage systems, we can point to international agricultural and industrial biogas and sewage treatment plants.
In the area of TEXTILE ARCHITECTURE, our subsidiary company CENO Membrane Technology GmbH is one of the pioneers in textile construction. We have broadened our expertise into ETFE-Membrane construction and can already point to impressive references. Further fields of expertise are textile interior architecture and textile special solutions e.g. flood protection and noise barriers.

Sattler AG
Sattlerstrasse 45, A-8077 Gössendorf, Austria
+43 (0)316 4104 0
+43 (0)316 4104 351
mail@sattler.com