Last Update
October 19, 2016
Categories
Electrical, Electronics & Electro-optics
Radar, Sonar, Navigation, Targeting, Surveillance
Training & Simulation
RVTT Reshef Technology Ltd. was established in the year 2000 by David Reshef (LTC. Ret.). The technological applications were patent pending in Israel, Europe, South & North America & the Far East. The Company has an export license from the Israeli MOD to 30 different countries.
RVTT uniqueness is in the "Visual Reality" concept that backups the applications and is an asset of itself in education field.
RVTT deals with visual products used for day & night forces training and based on technologic platform which includes targets & identification & marking products for the fighting forces.
RVTT Targets: An advanced model of targets based on "Visual Reality" concept that takes care of realistic training field as close as possible to the modern battlefield which means:
Simulation products that seem realistic to the observer on day & night
Constructing the simulated training field in the natural conditions of the real scenario (battlefield, friendly/foe identification, staging an enemy etc.)
The observer uses the real weapon sight equipment in combat as well as in training
All above 3 issues are an integral part of the realistic spirit required in training forces to the modern battlefield.
RVTT products allow commanders a dynamic training of objects identification and location as well as of live fire training.
RVTT identification & marking equipments are from the highest level there is. Now it's known that the US Army implemented identification marks for MBT as well as for infantry during Iraq war. These products are very similar to RVTT's.
RVTT products are unique in its day & night thermal abilities without power source.
Targets
RESHEF TARGET SERIES RVTT
Multi Spectral Combat Representation Device
RESHEF TARGETS SERIES RVTT provide a visual training medium specifically for combat forces designed for both day and night use in many different scenarios.
Day and Night Training
RESHEF TARGETS SERIES RVTT Designed as a training aid both day and night under live fire (wet training). Visual targets by day and thermal by night allowing various types of combat:
• Small arms
• Surface to surface (STS), e.g. RPG, AT etc.
• Tank/Cannon fire
• Helicopter fire (ATG)
• Aerial assaults (ATG)
Improving Night Combat Skills
RESHEF TARGETS SERIES RVTT allow commanders and soldiers the ability to attain a much higher standard and level of professionalism, while faced with the obstacle of poor night vision.
Likewise, the target identification markers provide a strong platform for more in every element regarding night assaults. This includes, "recce" locating, identifying and destroying enemy targets.
"INTEL" Gathering Training
Enables forces the ability to gather, "Intel" and undertake reconnaissance in their segment of the battle. Intelligence may be gathered by many different means by day or night.

• Forward observation posts (FO)
• Aerial observation (AO)
• Other means of aerial intelligence gathering. E.g. air photo or unmanned remote controlled planes (URCP)
Battlefield Construction - Staging an Enemy
RESHEF TARGETS SERIES RVTT - Provides an excellent solution for every element in constructing a battlefield or staging an enemy both day and night. This is made possible due to the special construction of "RESHEF" targets.
Field commanders are enabled the ability to assemble targets in a short time and can re-locate the chosen point of battle from one place to another. The unique and "switched-on" structure of the targets allows fast assembly and disassembly to small parts inexpensively.

• RVTT Shooting targets: Infantry, MBT, Snipers' targets, Silhouette, Realistic thermal picture & Realistic photo
• RVTT Reconnaissance targets: 2D & 3D, Realistic photo & silhouette, front & flank, Portable
• All multi spectral devices enable passive multi spectral signature: night vision, thermal, laser & radar during the whole day (day & night)
Product informational files
Recognition Systems
RESHEF RECOGNITION SYSTEMS, SERIES RVTT
Products for Day and Night Recognition
Reshef recognition products for day and night use are provided for the fighting forces allowing fast and reliable recognition of combat forces on the battlefield.
Utilizing High technology, RESHEF provides a unique solution for every element of (recce) location, recognition and marking of Land Forces on the battlefield and on the training ground, both day and night.
These results are accomplished by the use of visual and thermal technology.
• Land force recognition - Friend/Foe
• Aerial recognition - Friend/Foe
• Identifies and allow differentiation between Units in order to provide safety on trainings
The tactical panels provided by RVTT, allows land forces the ability of fast recognition, (friend/foe) of vehicles on the battlefield both day and night.
The RVTT series also provides thermal markers. The products utilize advanced passive thermal technology for recognition of potential targets Friend/Foe.
Functioning continuously, the marker is independent of a power source and acts as a key aid to recce trainings. It also provides a higher level of safety.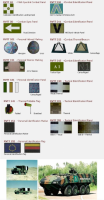 Product informational files
RVTT - Reshef Visual Thermal Technology
Multi Spectral Passive Signature
RVTT was initially established to improve training capabilities of the simulated battlefield employing RVTT's developed "Visual Reality™" solutions for day and night scenarios utilizing Multi Spectral Passive Signature. The "Visual Reality™" technology not only provided an improved operational training system but also yielded a cost effective day/night Combat Identification capability that reduces fratricide on the battlefield. This technology includes the representation device product line which is used for dry/live fire shooting targets and staging battlefield training scenarios and the identification and marking product line.
RVTT's Multi Spectral representation devices are in use by the Israel Defense Force (IDF) for several years already. They were also tested by NATO forces & Allies countries where its efficiency and simplicity have been proved giving a solution that was not previously available.
RVTT technology is based on multi spectral passive reflective signature without any power source.
The technological platform enables visual identification and IR identification in the 0.8-12 micron range:

• Night vision systems - near IR - 0.8-0.9 micron
• Thermal systems - mid IR - 3-5 micron
• Thermal systems - far IR - 8-12 micron
In addition the technology covers all needed reflections for advanced weapon systems that are required to identify and locate targets and different objects at the battlefield or during training:

• Optical systems
• Electro optic systems
• Night vision systems
• Thermal systems
• Laser systems
• Radar systems
RVTT Multi Spectral Passive Signature (visual, night vision, thermal, laser & radar) products are aimed for live/dry fire, miles and laser systems training during the whole day (day & night).
Most of RVTT's products were developed due to battlefield needs and are aimed for a comprehensive day/night (24 hour) combat scenarios under all weather conditions.
Operating independently without the necessity of an external power source they are providing an additional tactical element for reconnaissance and situation awareness.
RVTT series of Reshef products is a technological platform which includes representation devices, friendly/foe identification markings for forces with the following capabilities:
• Ground forces training during day and night simulations
• Improvement of night warfare skills
• Training of ground counter intelligence gathering during day and night
• Constructing a battlefield scenario for ground forces
• Aggressive forces representation devices construction during ground battle simulation
• Friendly/foe identification capabilities for the ground, air and navy forces
• Safety marking of forces during training to prevent friendly fire
RVTT's products answer the operational needs of the modern battlefield and are characterized as products and not as raw materials. RVTT can provide accomplished products that last long at a low cost yielding best value for money.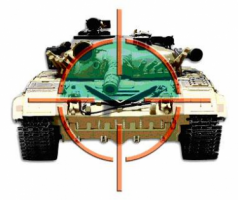 RVTT Reshef Technology Ltd.
P.O. Box 4298, 48561, Rosh Ha'ayin, Israel
+972 3 9382804, +972 52 8528811
+972 3 9383702
resh@inter.net.il