Last Update
August 20, 2019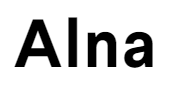 Categories
IT, Computing and Software
Services (R&D, training, engineering, consultancy, …)
A public company, headquartered in Vilnius, Lithuania, Alna is a global provider of IT services. With experience in over 20 countries on five continents, Alna delivers leading-edge IT services and solutions, backed by ISO standards and CMM certification, which fundamentally improve clients operating performance.
The firm's strategy is to be the dominant player in substantial niches by providing significant and sustainable business improvements for clients through IT.
Alna applies its three primary service lines: IT Outsourcing, Software Development and Testing, and Enterprise Application Services to five primary industries: Financial Services, Telecommunications, Utilities, Retail and Distribution, and Public Sector (Tax/Finance and Healthcare/Social Services).
Divisions / Branches:
Alnos techninis centras UAB

Alnos mokymo centras UAB

Alnos biuro sistemos UAB

Alnos infrastruktkros sprendimai UAB

Tesauras UAB

Doclogiksas UAB
Member of: ISACA, ICT Association "Infobalt", Knowledge Economy Forum, Sunrise Valley
Alna JSC
Lvovo St. 105A, LT-08104, Vilnius, Lithuania
+370 5 278 55 00
info@alna.lt