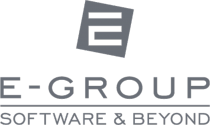 Categories
IT, Computing and Software
Services (R&D, training, engineering, consultancy, …)
E-Group today encompasses the following disciplines:
• Consulting: process and data security consulting, project and quality management
• Technology: software development, mission critical transacting platforms, mobile and e-technologies, digital signatures and data security solutions, workflow and collaboration solutions
• Managed services: 24/7 support, operation outsourcing, application hosting
• Communication: design, new media (as complementary activity)
In terms of products, E-Group focuses on:
• Financial transaction and loyalty systems
• Identity management, secure identification, digital signature applications, PKI
• Secure workflows, authenticated forms management, collaboration tools
• Documents and records management
• Support and application hosting services
Target markets are essentially financial, government, energy and utilities sectors.
The company delivers secure payment, workflow, document and transaction management solutions for large organizations. These applications generally require a high level of data and operational security, as well as extensive interfacing and real time data exchange. E?Group has an extensive track record on integrating solutions with legacy systems, as well as complying with relevant internal standards and methodologies of large corporates and government organization.
Through company innovation and access to European R&D resources, E-Group is a recognized competence center in European identification and digital signature applications, as well as related technologies. The company acts as value add specialist or outsourcing partner for industry leading software vendors and system integrators, in selected technologies. E-Group's home market is Hungary and EU countries, but actively develops in overseas markets in Asia Pacific and US, with 50% of revenues coming from foreign markets. The company has today over 50 employees, project references cover 17 countries.
E-Group Hungary plc.
11. Kacsa utca, H 1027, Budapest , Hungary
+36 (1) 371 2555 
+36 (1) 371 2556 
info@egroup.hu