Last Update
September 11, 2018
Categories
C4I, Communication Systems
Electrical, Electronics & Electro-optics
Radar, Sonar, Navigation, Targeting, Surveillance
Services (R&D, training, engineering, consultancy, …)
Defence Research and Development Organisation - DRDO, specializes in the design, development and production of state-of-the-art sensors, weapon systems, platforms, and allied equipment for defense services.
The Company's areas of core competence include:
Systems design,
Integration of complex sensors,
Weapon systems and platforms,
Development of software packages,
Development of functional materials,
Test and evaluation,
Technology transfer and absorption.
DRDO functions as Technical Development Establishment (TDEs) of the Indian Army and the Directorate of Technical Development & Production (DTDP) with the Defence Science Organization (DSO).
The Organization has a dynamic training and development policy, which is executed through the Continuing Educational Programmes (CEP) for all cadre personnel. It is engaged in developing defence technologies covering various disciplines as aeronautics, armaments, electronics, combat vehicles, engineering systems, instrumentation, missiles, advanced computing and simulation, special materials, naval systems, life sciences, training, information systems and agriculture.
DRDO organizes interactions with industrial units and with organizations such as CII, FICCI, and ASOCHAM. It has organized several DRDO-Industry events and has been actively participating in national and international expositions and exhibitions.
Aeronautics Engineering
The organization in the Aeronautics Engineering sector is working on the following activities:
Air-borne telemetry receiving system for down range applications,

Avionics,

EWSFA,

Falcon,

Ground Image Exploitation System,

Kaveri Engine,

Lakshya,

Light Combat Aircraft,

Model based Data Fusion,

Recovery Parachute System for Light Combat Aircraft.
Armament Technologies
The following are the Major Technologies developed by Armament Laboratories:
ARDE, Pune
FSAPDS technology for Lower caliber ammunition and for barrel having progressing rifling.

Barrel manufacture in Aluminium alloy material for Small Arms.

Active sensor based on induction-balanced principle for Influence Mine.

Lead magnesium niobiate-Lead titanate(PMN-PT) electroceramics for actuator and sensor applications.

Technology for nano PZT powder.

Free flight rocket launching technology.

Electronic fuzes for artillery shells, bombs and mine.

Pre-fragmented, Incendiary and shaped charge warheads.

PZT materials for defence and civilian applications.
CFEES, Delhi
Fire/Explosion Detection and Suppression System for Missile launchers/ Magazines/ Barbettes.

Fire Extinguisher for Candle Smoke Composition.

High Altitude Foam Extinguisher.

Integrated Fire and Explosion Suppression System for Armoured Fighting Vehicles.
HEMRL, Pune
Composite Propellant.

Composite Modified Double Base(CMDB)Propellants.

Fuel Rich propellants.

Cast Double Base propellants.

Protective liner for Increasing gun barrel life.

Combustible Cartridge Case.

Explosive Reactive Armour(ERA).

Case Bonded Rocket Motors.

Explosive Detection Kit.

Incendiary Composition.
TBRL, Chandigarh
Baffle Range for Small firing practices.

Electro explosive Device.

Slapper Detonator.

Bund Blasting Device

Multi Mode Grenade.
Combat Engineering
The organizations major technologies and developments in Combat Engineering:
30 mm HE Grenade for AGL,
ABHAY,
Amphibious Floating Bridge & Ferry System,
AJEYA,
Artificial Intelligence-Based Geocomputational System,
Bridge Layer Tank,
Geo-Environmental Monitoring Systems,
High Speed Low Drag Aircraft Bombs,
Impressed Current Cathodic Protection,
Charge Line Mine Clearing Equipment.
Electronics Engineering
RADAR,
Electronic Warfare,
Samyukta,
Communications.
Major Products/Technologies/Developments
Battlefield Surveillance Radar,
EOCM-Class Laser System,
3D-CAR,
Revathi,
Weapon Locating Radar,
Sangraha,
Samyukta,
Antenna Systems,
Communication Systems,
Briefcase SATCOM Terminal,
Sectel,
Sujav,
Integrated Weapon System Simulation,
Multi-Detector Temography System,
Eye Safe Lasers,
Laser Designator PRF Code Recognition Device,
Laser Warning Sensor,
Palmtop Green Microchip Laser Module,
Passive Q-Switching,
Threshold Detector.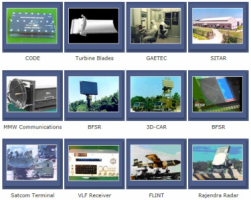 Life Sciences
Thrust Areas
Development of life support technologies to improve combat efficiency.
To enhance health and well-being of the soldiers even in extrmes of environmental and operational conditions.
Building the human capital for the Armed Forces.
Development of novel food technologies (fresh & processed) to provide appropriate military nutrition.
Strengthening man-machine interface through human factors engineering.
Enhancing the moral and motivation of troops.
Materials
Thrust Areas
Diagnostic Kits for Biological & Chemical Warfare Agents,
Agro Technology for High Altitude,
Processed & Packaged Foods,
Bio-digesters,
Water Treatment Plants,
EPA, TYPHOID KIT, COLD ARID AGRO-TECH.
Missiles
Thrust Areas
Integral Ram Rocket Engine,
Multi-target tracking capability,
Homing guidance using Seeker,
Networking of Radars.
Major Products/Technologies/Developments
Agni-I,
Agni-II,
Akash,
Brahmos,
Dhanush,
Pinaka,
Prithvi,
Random Development,
Re entry Device,
Trishul,
Warheads.
Naval Systems
Thrust Areas: Sonar
Major Technologies and Developments:
250 Kw Silver Oxide-Zinc Battery,
Airborne Pre-Setter For Alh,
Composite Propeller Shaft,
Composite Stanchion,
Guidance Wire For Torpedoes,
Helicopter Fire Control System,
Humsa,
Instrumentation System For Torpedoes,
IR Suppression System For Naval Platforms,
Mihir,
Modem For Torpedoes,
Two Stage Mounting System,
Ushus.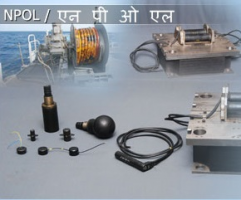 Major Defence Products & Technologies
The Company's major list of products and technologies among others are as follows:
Air-Borne Telemetry Receiving System,
All Electric Type Weapon Control System for ICV,
Antenna Systems,
Bhima,
Biomedical Devices for Internal Use (Implants),
Biomedical Devices for External Use,
Briefcase SATCOM Terminal,
Code Programme,
Diagnostic Products for Infection Imaging,
EOCM-Class Laser System,
Explosive Reactive Armour (ERA),
FSAPDS, Ammunition,
Indigenous X-Ray Industrial Tomography System,
Integrated Weapon System Simulation,
Kaveri Engine,
Lakshya,
Laser Warning Sensors,
Light Combat Aircraft,
Manipulator Arm,
MBT Arjun,
Missiles (Agni, Prithvi, Nag, Trishul, Akash),
MMIC,
Model-Based Data Fusion,
Naval Weapon Systems,
Nishant,
Palmtop Green Microchip Laser Module,
Pan/Tilt Platform for Vision Systems,
Pinaka,
Radiation Protection Products,
Rajendra Radar,
Rapid Quantification & Detection Techniques for Pesticides In Fruits & Vegetables,
Recovery Parachute System,
Sangraha,
Sanyukta,
Special Materials,
Technology for Dengue Control,
Technology for Titanium Sponge Production.
Development Projects
DRDO's projects are development of:
Missiles,
Armaments,
Light combat aircrafts,
Radars,
Electronic warfare systems etc.
Defence Research and Development Organisation - DRDO
Room No. 117, 'A' Wing, 1st Floor, DRDO Bhawan, DRDO HQs, 110 011, New Delhi , India
2341550, 2341856
07512341148
director@drde.drdo.in