Last Update
August 20, 2019
Categories
Aircraft, Helicopter, UAV, Spacecraft & related equipment
Mechanical, Electro-mechanical, Hydraulic and Pneumatic components
Metal Processing, Parts & Components
Military, Tactical, Logistic Support Vehicles & related equipment
Services (R&D, training, engineering, consultancy, …)
DEFTECH is a contractor of land based military vehicles to the Ministry of Defence. The company explores all opportunities as a major defence vehicles player to secure contracts for the supply, maintenance and refurbishment of land-based military vehicles.

To operate effectively, the company forms strategic alliances with international manufacturers to enhance DEFTECH's product range and to acquire new technologies for the assembly, system integration, repair, maintenance, overhaul service, refurbishment and upgrading of vehicles and other products. DEFTECH is maximising the synergistic use of all available facilities within the DRB-HICOM Group and the country for the assembly of vehicles and fabrication of vehicles bodies and expects to keep its order book healthy.

The order book as of mid-2009 includes 10-metre Metro City Buses for RapidPenang, sale of Handalan II trucks and a unit of the Mobile Field Kitchen to the Government of Brunei.

DEFTECH's test track, built according to NATO standards, at the plant in Pekan, is the proving ground where military vehicles are put through their paces. DEFTECH, which leads the Malaysian Defence Industry Council's Automotive Working Group, is finalising its plan to develop a family of indigenous 8x8 family of Armoured Wheeled Vehicles. The plan creates the opportunity for the company to become a partner in the customer support network manufacturing and supplying components such as electrical equipment, rubber mouldings, metal fabricated parts, heat and surface treatments, batteries and tyres. Once the plan gets off the ground, it will be second step undertaken by the government in realising its self reliance policy following the local assembly of the ADNAN Armoured Infantry Fighting Vehicle.

DEFTECH's subsidiary, Defence Services Sdn Bhd, focused on contracts for the supply of small calibre weapons to defence forces and law enforcement agencies contracts have been secured for the refurbishment of Scorpion and Stormer Armoured Vehicles for the local services and supply to back-up the delivery of the Pendekar PT91M Main Battle Tank. The refurbishment contract will be completed and delivery will begin from the third quarter of 2009, ending in September 2010. The Main Battle Tank deliveries, which first commenced in August 2008, are expected to continue in batches and the last batch is expected to be handed over in December 2009. DSSB is also expected to maintain and supply spares for the Pendekar Tank and continue to pursue new contracts for military vehicles.

Incorporated on 1996, DEFTECH is a wholly owned subsidiary of the Group.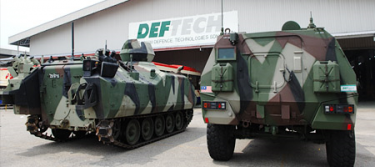 DRB Hicom Defence Technologies Sdn. Bhd. (DEFTECH)
Integrated Assembly Complex Pekan, Pahang, Malaysia
+603 5522 8888
+603 5513 3100
enquiries@deftech.com.my