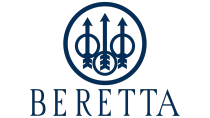 Categories
Fabbrica d'Armi Pietro Beretta S.p.A. is an Italian company born of the dream and capability of a renaissance craftsman. Thanks to the courage, vision and skills of its lineage, its name has earned international status for its high-tech content, performance and for the Italian style that distinguishes its products.
Passed down through 15 generations of the Beretta family, the company was already active in Gardone Valtrompia in the 1400s and its work has been documented since 1526.
Almost 500 years of business have enriched Beretta with enormous experience and knowledge which allowed it to develop specific and superior technology in the field of precision mechanics. Throughout time, the company eventually became larger and larger. The covered surface area of the factory rose from 10,000 m2 at the beginning of the 1900s to its current size of over 110,000 m2.
The production departments feature fully automated work centres and highly qualified craftsmen, a prerequisite for achieving the degree of precision and high quality contemplated by its design projects. The design department has advanced systems for calculating pressure by using the finite elements method. The laboratories are equipped for research in impulsive-dynamics applied to the weapon-ammunition system, for metallographic analyses and fatigue tests.
Production and Design work together with Marketing and Sales to develop new products and meet the customers' requirements. Marketing and Sales also use modern IT systems (Internet and Intranet) to provide the maximum backup for the peripheral organizations and promptly meet market demand.
Beretta's output is approximately 1,500 weapons a day and covers just about the entire range of portable weapons: over-and-under and side-by-side rifles for hunting and competition in different calibers and finish grades, semiautomatic rifles and carabines, express double rifles, semiautomatic pistols (from.22 short to.45 automatic calibers), and assault rifles. An estimated 90% of Beretta's production consists of sporting firearms, with more than 75% of its arms being exported to about one hundred countries.
In the early 1990s Beretta added to its traditional sporting guns production a complete line of hunting apparel and accessories, clay target shooting and outdoor sports items which rapidly earned it a reputation for high-tech content and understated elegance. The first Beretta Gallery was inaugurated in New York in 1995. Other galleries were opened in Dallas, Buenos Aires, Paris and Milan. In December 2005 a new Beretta Gallery in the centre of London was opened.
The Beretta Clothing & Accessories line is sold in leading gun shops in Europe and America, and also through the Shop in Shop chain, specialized outlets designed specifically to accommodate large exclusive Beretta showrooms.
Beretta has been supplying firearms to the Armed Forces and Police Corps of Italy and numerous other countries for many years.
Fabbrica d'Armi Pietro Beretta S.p.A. is controlled by Beretta Holding S.p.A., which also controls major sports weapons and optical equipment manufacturers, as well as Italian and foreign sales and distribution firms. In the 2011 financial year Beretta Holding reached a consolidated turnover of 480 million euro.

Fabbrica d'Armi P. Beretta S.p.A.
Via P. Beretta 18, Casella Postale 160, 25063, Gardone Valtrompia (Brescia), Italy
+39 030 8341 1
+39 030 8341 355
N/A