Last Update
August 31, 2018
Categories
Mechanical, Electro-mechanical, Hydraulic and Pneumatic components
Metal Processing, Parts & Components
Services (R&D, training, engineering, consultancy, …)
INDUSTRIA METALURGICA FRIULI, offers integrated solutions for the metal processing sector and its priority is to keep up with the high quality and technical standards of this area. The Company's core competence is to offer integrated solutions to assembly aerospace subgroups. With its know-how and persistent R&D the Company is striving to meet in the maximum the requirements of its customers.
The Company has a plant of 11,000 m2, which is located in Sao Jose dos Campos, in a very well facilitated region, Cone Leste Paulista, in Brazil.
Certifications
Company's commitment is the best quality, and is proved by the following certification standards:
NBR 15100:2004 (Brazilian Aerospace Standard, equivalent with the international standard SAE AS 9100B:2004),

ISO 9001:2000, and

RBQA 2120 (Brazilian Military Standard, equivalent with the international standard AQAP 2120).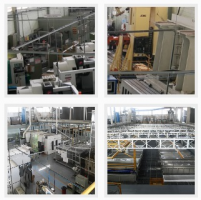 Main Services
Among other services the Company also offers:
Milling process development in conventional CNC of metallic and non-metallic materials

Painting,

Stamping in mechanical presses,

Welding processes,

Assemblies,

Penetrating liquid,

Carbon and fiberglass molding,

Thermal and surface treatments.
Main Clients
The Company's Main Clients among others are:
Embraer,
ELEB (Embraer-Liebherr),
Aernnova,
Latecoere,
Johnson & Johnson,
IAE,
CTA,
Maxion,
Mectron,
Gates do Brasil.
Industria Metalurgica Friuli
Rua Januaria 882, Chacaras Reunidas, SP, CEP 12238 500, Sao Jose dos Campos, Brazil
+55 12 3932 0888