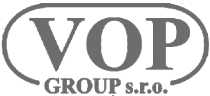 Categories
C4I, Communication Systems
Composites, Plastics & Rubber
Electrical, Electronics & Electro-optics
Infrastructure, Construction & Civil Engineering
Maintenance Repair Overhaul and Logistics Support
Mechanical, Electro-mechanical, Hydraulic and Pneumatic components
Metal Processing, Parts & Components
Services (R&D, training, engineering, consultancy, …)
VOP GROUP, has a wide range of activities based on the production and repair of military equipment for the Army of the Czech Republic such as engineering production, treatment of metals, and repair of electrical and electronic equipment. The company has subsequently expanded capacity in the area of services to motorists. This is mainly on tire service and car repair service. The company is also able to produce furniture and basic system design of furniture according to the specific demands of customers.
VOP GROUP was founded in 1997. The company military activities are based on the services provided by VOP 065, Cesky Tesin which was a state enterprise that entire property and know-how was taken over on December 12th 1997.
Contact info #1
Lipova 1128, 737 23 Cesky Tesin, Czech Republic
REPAIR SERVICES
Radio receivers
• Portable radio station
• Communication equipment
• Charger and power supplies
• Charging generator
• Connecting mobile workshops
• Phones and switchers
• Field amplifier
• Dispatching device
• Carrier telephony systems and tone telegraphy
• Construction cable sets

The company does service to the switching technology:
• Radio Receivers
• Portable radio station
• Radio station
• Tank`s telecommunication equipment
• Power supply parts for radio stations and receivers
• Command radio station
• Command workplace
• Mobile telecommunication workshops
• Telephone equipment
• Telephone switchers, field amplifier
• Dispatching equipment
• Telex machines
• Carrier telephony systems and tone telegraphy
• Equipment selective call
• Other regular technique
• Establishments
• Construction cable sets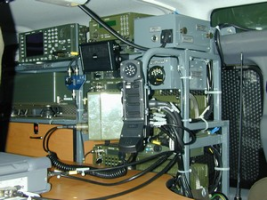 CUSTOM-MADE ENGINEERING PRODUCTS
Stock trucks
Hydrant boxes
School benches
Racks and Stands
Steel shelters
Rehabilitation device platforms
Enclosures, cabinets, control panels
Metal (aluminium, tin, stainless steel) chassis for the machines and devices
Promotional stands
Outdoor trash cans
Handles various sizes
CNC sheet metal processing

PRODUCTION POSSIBILITIES
The company's production capabilities include surface treatment, which provide customized powder coating, synthetic or epoxy paints. VOP Group provides silver, zinc and nickel plating products.
Pressed holes in the sheets on CNC press brake:
• Cut
• Drill
• Grind
• Weld flame or in a protective atmosphere by MIG and TIG
• Welded stainless steel sheets
• Welded aluminium sheets
• Spot metal welding
• Clean surface material by sand blasting
• Bend rods and tubes
• Pressed threaded inserts M4-M8
• Threaded by air threading M4-M8
The company can also provide the means of production for hardening, the manufacture of products, electric arc welding or gas welding, cutting, bending or cutting plates.
Here are following the production for:

• Press cutting in high precision up to 3 mm thick steel plates
• Laser or water jet cutting complex
• Semi-finished production of threaded ring
• Finishing (silver, nickel, zinc plating)
MACHINING
Engineering

Pressing holes in the sheets on CNC press

Max power press
maximum dimension of pressed metal sheet
maximum circle hole diameter
maximum thickness of steel

250 kN
1200 x 1000 mm
100 mm
3 mm

Charring sheets CNC

in length
press power

3000 mm
100 t

Slotting

in the average surface
surface to a height of
grooves in length

300 mm
150 mm
110 mm

Turning

swing over bed
turning length
throughput spindle

up to 350 mm
1000 mm
45 mm

Milling

milling work pieces up to size

600 x 300 x 250 mm

Drilling

in diameter

50 mm

Grinding

Area, max size cut surfaces
cylindrical
-swing
-distance between centres
-max. weight cut piece

150 x 400 mm

160 mm
320 mm
25 kg

Welding

Flame welding
Welding protect by the atmosphere by MIG and TIG
Arc welding stainless steel materials
Welding of aluminium materials

Spraying

wet coatings followed by firing
burning paint, maximum dimensions


1500 x 900 mm x1500

Spraying powdered plastics

maximum dimensions of the products

900 x 900x900 mm

Other Options

hardening
Production of
cutting material, max diameter
bending sheet metal to a maximum width
cutting plates up to the width

maximum 400 x 500 mm

200 mm
3000 mm, t = 3 mm
2500 mm, t = 3 mm

Precision Machining

In the production of mechanically machined parts, we are able to achieve the accuracy of the Rules of Procedure of hundredths of a millimetre; hand-shaped parts in the Rules of Procedure tenth of a millimetre.

Be Available Technology

Following the production, the company is able to secure:

cutting to the press in high precision up to 3 mm
laser or water jet cutting complex
for the semi-threaded ring
finishing (silver, nickel, zinc plating)
New Equipment:
press brake - AMADA HFT-100-3
Amada power machines are at the top in its field for several years. Ongoing development of these machines is never ending process. Amada press brake offers a wide variety of different forms. In addition to the standard 0.6 mm profile, also offers sections 0.2, 0.8, 1.5, 3 mm.
laser cutting machine - TRUE LASER 3030
TRULASER 3030 enables faster processing in a stronger steel, stainless steel and aluminium.

Horizontal lathe - DOOSAN LYNX
Doosan Lynx turning centre designed for long-term use in high accuracy to ensure an excellent finish. Classic production processes and ultra-solid construction combined with modern technological features that provide an exceptional value.

Blasting equipment - Vista
Painting booth - PAINTING
Comet-Mecnan is professional paint booth with bottom suction. Water-based paints are possible to use.
VOP GROUP s.r.o.
Lipova 1128, 737 23, Cesky Tesin, Czechia
+420-558-765-111
+420 558 711 163
vopgroup@vopgroup.cz