Categories
C4I, Communication Systems
Electrical, Electronics & Electro-optics
Mechanical, Electro-mechanical, Hydraulic and Pneumatic components
Metal Processing, Parts & Components
Radar, Sonar, Navigation, Targeting, Surveillance
Services (R&D, training, engineering, consultancy, …)
T-CZ a.s., is focused on production activities and provision of services in the electronics branch, namely of civilian as well as military nature. It operates in both domestic and international markets. Within the branch, it is following up with the activities of TESLA Pardubice, a state enterprise that used to prosper very much in the past.
Currently, the Company has primarily been orienting and further developing its activities in the branches of radiocommunication and radiolocation technology. In the branches mentioned above, T-CZ offers comprehensive services to its customers that are of high professional standard. It provides for research and development of new equipment and performs exacting prototype as well as type tests. It produces functional samples and prototypes, and provides for repeated single-part production and low series production as well. It undertakes complete deliveries including assembling, installation and operation start-up. At the same time, it also provides for project design and consulting activity, training of equipment operators, and for warranty and after warranty service.
Within the framework of after warranty service, T-CZ offers servicing of older type radar equipment of RP and RL series from the former Tesla Pardubice product line, including KRTP 86 equipment. We offer partial or complete upgrade of those radars as well.
For manufacturing and R&D activities, the Company is utilising its own premises provided by appropriate technical and technological base, standard for activities in the branch of radiocommunication and radiolocation technology. The Company utilises its own type-test facility. Company's facilities have been concentrated into a production plant owned by the Company and are located at the new production plant address.
Contact info #1
Na Strzi 241/28, Praha 4, Czech Republic
MACHINING
Locksmith work
Operations with Fe, Al, Cu metal sheet, stainless steel, of the thickness 0,5 ÷ 3 mm
Metal sheet cutting up to L 2000 mm and 4 mm thickness
Punching, stamping, splitting, extruding (NC cut out, Trumatik presses)
Bending on press brakes including NC presses
Nuts pressing in, drawing in
Manual work place for riveting, straightening, deburring, drilling, threading (on threading machine)
Welding
Flame welding
Arc welding - in protection atmosphere CO2 or argon (MAG, TIG, WIG)
Spot welding
Soldering with brass, silver and aluminium
Pressing
Mechanical presses and hydraulic presses from 10 to 60 t
Applied tools: bending tools, cuts, dies, snippers, perforators
Turning
Centre and turret lathes
Threads rolling
Milling
Up to maximal size 600x200x200 mm
Grinding
Surface grinding
Round grinding
Graving including filling
ENGINEERING
On the basis of very long time experience in antennas and combiners development, and solution of many technical problems, the company offers the following services:
Measuring of base antennas in band 7 to 1000 MHz
Measuring of car antennas in band 27 to 1000 MHz
Measuring of car radio antennas
Antennas for portable radio stations
Consideration of equipment and operational characteristics of mobile radio stations
Measuring of field level and signal area coverage for determined radio set network
Radio sets network interference
Measuring for design activities
Consideration of multichannel radio sets networks including operation of more radio communication sets in the common operation posts from the view of reciprocal interference
Design and realisation of untypical antenna systems
Consulting activity in antenna domain
Dipole and four-pole circuits measuring
Frequency change of duplexers and circulators
Consulting activity in coaxial connectors and cables domain
Radio communication connections in closed rooms (tunnels etc.)
Special development activities and measurements
TRAINING
Training of Personnel for Complex Equipment
Training of Service Technicians
RESEARCH AND DEVELOPMENT
Research and Development in the field of Radiolocation
Research and Development in the field of Radio-communication
Design of Electronic Systems
Design of Microwave Systems
RADAR SYSTEMS
Precision approach radar ( PAR ) RP-5GI
PAR RP-5GI is a sophisticated radar device providing complete radar information necessary to precision approach and landing of all types of aircrafts. It's modular design, simple installation and compliance with all ICAO recommendations enables its full integration into existing systems without necessity of their essential changes or civil engineering adaptations. The device offers a modern primary and secondary data processing of the radar information and their synthetic display. Also extensive diagnostic based on BITE system is built-in.


Surveillance radar system ( SRE ) RL- 64I
The radar is airfield surveillance radar operating in S-band with the range up to 120 km, designed for aircraft monitoring and control in air-port terminal maneuvering areas.
Highlights:
High performance fixed Surveillance System
Presents user friendly high information display including three levels of weather
Operates during very high wind and other adverse weather conditions
Incorporates the latest technology for high reliability and low life cycle costs
Utilizes liquid cooling for high reliability and capability of running in high temperature weather conditions


Mobile airfield radar system KOMAR-2
KOMAR 2 is compact, light, mobile, modular, open architecture (combined) radar system. It provides high performance target detection in the airspace around an airport or air base. It is designed for the air traffic navigation and control in temporary, reserve and stationary military advanced airfields.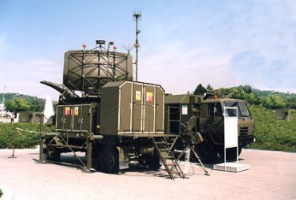 RADIO SYSTEMS
Railway Communication System DKS
Railway Communication System DKS performs the function of communication facility with relationship to interlocking means of train and to operation control of railway service. The system ensures connection between engine driver and train dispatcher, dispatcher and/or other railwaymen participant on railway service. The system DKS ensures whole volume of voice communication for complete operation needs together with possibility to integrate the radio-communication system into control and information technologies used in contemporary railway systems.


Simplex ribbon radio system SRSS
Simplex ribbon radio system is designed for creation of base side of ribbon radio system network enabling interconnection between fixed participant (dispatcher) and moving object (portable or car radiostation), moving along the determined main transport routs (railway transport, highway transport, water transport).


Railway radio communication system TRS
Railway radio communication system has been designed for the Czech Railways, respecting their specific requirements and the determination is to create the ribbon radio communication network allowing communication between mowing subject (locomotive - engine driver) and fixed post partner (dispatcher, guard).


Command radio set LESANA CZ
LESANA CZ type Command radio set is designed for wireless remote control of machines working in civil engineering industries and mainly in woods and forests industries.

The set consists of transmitter that the operator fixes on her/his clothes at belt height, and of the receiver placed on a machine to be controlled. The commands are prompted by means of pushbuttons with a momentary position or by change-over switches with a stable position.
ANTENNAS
Specialized divisions of T-CZ Company in antenna branch and VHF/UHF techniques, they have a long run tradition in design and production of antennas in frequency bands from 27 to 1000 MHz. They have a skilled background and adequate equipment of devices.
The main scope of antenna products is in the frequency bands up to 450 MHz. Our company has specially terrain workplace for antenna testing in open space with minimum reflections and industrial interference.
Main products:
Portable antennas
Mobile antennas
Base antennas
Broadband antennas for specific applications
Antenna accessories
Cavity resonators and filters
Combiners
Product informational files
MAIN CUSTOMERS
DOMESTIC
Ceske Drahy, s.o.
Ministerstvo obrany CR
SKANSKA ZS, a.s.
AZD Praha, s.r.o.
TATSUNO BENC EUROPE, a.s.
CKD Vagonka, a.s.
Ministerstvo vnitra CR
NAREX Ceska Lipa, a.s.
POCLAIN Hydraulics, s.r.o.
R.D. Engineering, s.r.o.
ATAX, s.r.o.
ERA, a.s.
FOREIGN
BAF Bangladesh
EADS Deutschland GmbH, Deutschland
Hindustan Aeronautics Limited, India
TAD Dreyspring GmbH, Deutschland
ALES, Ltd., Slovakia
Galprogress, Ukraine
ELVYS, Ltd., Slovakia
ZSR, Slovakia Republic
Fisher-Rosemount MFG GmbH Co.
Danfoss Bauer GmbH, Deutschland
T-CZ a.s.
Na Strzi 241/28, 140 00, 4, Prague, Czechia
+420 466 034 501
+420 466 034 503
info@tcz.cz