Last Update
June 24, 2020
Categories
Electrical, Electronics & Electro-optics
Other Aerospace, Defence and High Technology related companies
Services (R&D, training, engineering, consultancy, …)
Training & Simulation
ALL ROBOTICS LTDA., is a Colombian company that develops technology solutions for the electronics, robotics and communications sectors. The Company believes in technology transfer and gives great importance to academic institutions as an important factor for the country's development.
In robotics, it is common to spend more resources in platform development and implementation than in the final goal. ALL ROBOTICS LTDA. provides robotic accessories and integration platforms in order to achieve functional prototypes in a short time. This way allows students and researchers to concentrate on the actual problem achieving optimal results.
The Company is currently involved in many projects, namely:
Telepresence,

Virtual Reality,

Augmented Reality,

AS/RS.
MISSION
ALL ROBOTICS LTDA.'s goal is to provide the community with ready-for-use software and hardware tools which allow for the rapid development of research and engineering projects.
ALL ROBOTICS LTDA. aims to promote technology education, where students could interact with robotic devices, learning different concepts of mathematics, physics and programming.
Additionally, the Company develops and integrates technology solutions and research projects for several industries, such as the automation, software, communications and integrated technologies sectors.
ALL ROBOTICS LTDA. is an exclusive distributor for ROBOTIS INC, a high technology Korean company, as well as Bioloid and Dynamixel.
Contact info #1
john.nicholls@all-robotics.com
Calle 60 No 9A-31, Office 302, Bogota, 571, Colombia
Contact info #2
Calle 60, No 9A-31 Office 302, Bogota, 571, Colombia
Software Development Services
ALL ROBOTICS LTDA. offers software development services in data mining, data warehouse and software interfaces (software to software and software to hardware).
Electronic Engineering Services
The Company designs electronic solutions based on PIC and DSPIC microcontrollers.
ROBOTIC ARM R-002U
ALL ROBOTICS LTDA. has designed a six degree of freedom robotic servo arm for the handling of objects with great precision, accompanied with the appropriate documentation and software. The R-002U robotic arm can be controlled by PC via serial port.
The R-002U robotic arm is one of the best applications when it comes to robots being able to manipulate objects and perform repetitive tasks, which is why this robotic device is presented as the number one choice in a series of educational robots.
POLOLU 3PI
The 3pi robot is designed to excel in online tracking and mazes solving. It has a length of 9.5 cm and its unique system supplies the engines with a 9.25 V voltage regardless the level of the battery charge.
The 3pi robot is suitable for ambitious beginners in robotics.
Robotic Industrial Machinery
ALL ROBOTICS LTDA.'s robotic industrial machinery is a powerful educational tool for process automation, control systems programming and robotics applied in systems engineering, electronics, mechanics and mechatronics.
This product is 100% designed by ALL ROBOTICS LTDA. and involves pedagogical and technological parameters in math and process automation, among others.
DAGU ROVER 5 Tracked Chassis
The Dagu Rover 5 is a tracked chassis for autonomous robot construction. The chassis includes a battery holder and two DC motors with separate gearbox.
Robotic Kits
ALL ROBOTICS LTDA. offers robotic kits for educational purposes suitable for ambitious beginners in robotics.
Accessories
ALL ROBOTICS LTDA. offers robotic accessories for multiple uses, namely:
Geared motors,
Linear actuators,
RC servo controllers,
Dynamixel controllers,
XBEE controllers.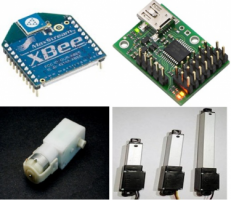 UNIVERSIDAD DE BOGOTA Jorge Tadeo Lozano
Robotic kit for Robotics laboratory
RCN TELEVISION S.A.
Scoring system for the national beauty contest
RCN TELEVISION S.A.
Telemetry system for "Formula Smiles"
All Robotics Ltda.
Calle 60 No 9A 31, Office 302, 571, Bogota, Colombia
contacto@all-robotics.com