Last Update
June 10, 2020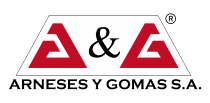 Categories
Composites, Plastics & Rubber
Electrical, Electronics & Electro-optics
Military, Tactical, Logistic Support Vehicles & related equipment
ARNESES Y GOMAS S.A., initiated operations in 1974 producing wiring harnesses for the electric appliances industry. In 1975, AYG started supplying ignition wiring harnesses to Chrysler Colmotores. Additionally, it started producing boots for spark plugs and nipples for timers. The main clients were C.C.A. (Fiat) y Sofasa (Renault).
In 1977, AYG started developing a fuel sending unit (fuel gauges) line and in 1978 it started distributing them to Chrysler Colmotores.
In the following years Sofasa (Renault) and C.C.A. (Fiat) started using the Company's ignition wiring harnesses and fuel gauges and in 1980 the Company initiated research and development to supply its products to the after-market to a wide variety of imported vehicles. AYG exports its products to Venezuela, Chile, Peru and Central America.
Currently, the Company's product portfolio includes extruded products, namely plastic and rubber hoses and profiles; fuel, water and air reinforced hoses and corrugated tubes among others.
Contact info #1
Cra 33 N 10-31, Bogota, Colombia
Contact info #2
Cra 33 N 10-31, Bogota, Colombia
Contact info #3
Cra 33 N 10-31, Bogota, Colombia
Contact info #4
Cra 33 N 10-31, Bogota, Colombia
Assembly Services
AYG has large experience in assembling products for the automotive industry. Its team is specialized in providing excellent quality assembled products with the best practices available in the industry.
Clients/Projects
GM – Colmotores
Development of refrigerator hoses for the new Chevrolet Optra so that all specifications are met at reasonable costs. AYG worked in the development of rubber compounds, the tooling and processing of the manufacture of hoses. Currently these hoses are supplied to the GM plants in Venezuela and Colombia.
Yazaki
Development of corrugated tubes for wiring harnesses for the automotive industry. The Company selected the materials so that all requirements (including flame retardancy tests) were met. The Company supplies 200.000 m. of corrugated tubes per month.
HINO motors
Development of brake hose assemblies for trucks assembled at the Hino plant in Colombia. AYG is a current supplier for Hino motors.
Arneses Y Gomas S.A.
Carrera 33 No. 10 31, Bogota, Colombia
237 4447 - 562 3400 - 562 3401
info@ayg.com.co