Last Update
September 7, 2018

Categories
C4I, Communication Systems
Electrical, Electronics & Electro-optics
IT, Computing and Software
Services (R&D, training, engineering, consultancy, …)
GEOTECH SOLUTIONS S.A., is a pioneer in the execution of engineering and technology projects specializing in Geographical Information Systems. The company develops high performance mapping servers and internet based mapping solutions, setting high standards in terms of scalability and reliability.
GEOTECH's family of products covers the full range of internet mapping needs including GPS fleet tracking. The Company integrates hardware, software and data to manage, analyze and display all forms of geographical information. Furthermore, the Company develops high performance mapping solutions and cartographic quality maps used for vehicle tracking, fleet management, personal tracking and personal security.
GEOTECH's Geographical Information System runs with an Oracle Database using Java and has the capability of managing millions of transactions each month. The Company's web page was developed using PHP and cartography is managed with Mapserver. Thanks to its high quality programming techniques, the Company has the capability of developing advanced software that exceeds customers' expectations.
MISSION
GEOTECH's mission is to offer comprehensive customized solutions, such as Geographic Information Systems (GIS) and Global Positioning Systems (GPS), developed for the management and control of vehicles, people and equipment. The Company is equipped with the most advanced technology and a team of highly qualified professionals, committed to excellence and customer satisfaction.
VISION
GEOTECH aims to be a leader in Global Positioning Systems (GPS) with a multinational presence, recognized for the high quality solutions it provides to its customers and shareholders.
Contact info #1
Cra 53 # 79-01 of 104, Barranquilla, Colombia
Geotrack Fleet Management Software
The Geotrack Fleet Management Software raises the productivity of a company reducing operating costs. The intelligent use of data helps reduce fuel, overtime, maintenance and insurance expenses. With Geotrack Fleet Management Software users can locate vehicles and immediately detect their status (moving, stopped, etc.).
Geotrack Fleet Management Software can be viewed online and then be transferred into Microsoft Excel for further analysis. Alerts can be sent via email if certain events occur, i.e. when vehicles enter or exit a specific zone, operate out of working hours, etc. Once alerts are set up, users have access to a report that shows when an alert is triggered.
The alert report contains the following information:
Vehicle name,

Date/time the alert was triggered,

Driver's name,

Type of alert,

Email the alert was sent to,

Vehicle location.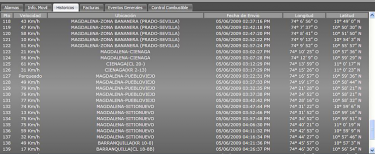 Geotrack Portable GPS Tracking Device
GEOTECH's portable GPS tracking device can be used as an emergency cell phone and is suitable for two-way voice communication. This tracking device is designed for high risk professionals such as:
Security Guards,

Law Enforcement Employees,

Workers,

Machinery Operators,

Delivery Workers,

Motor Bike Couriers,

VIP Personnel.
Features:
Tracking of Real Time Events,

Generation of Activity Reports,

Panic Alerts,

Movement Alerts,

Power Management,

Deep Sleep Mode.
Mobile Applications
GEOTECH SOLUTIONS S.A., has a wide experience in the development of mobile applications. The Company develops applications for platforms, such as Windows Mobile and J2ME for a wide variety of mobile phones.
GEOTECH SOLUTIONS S.A. is also a partner and a member of the Blackberry Alliance program and has the capability of offering personal and business applications for BlackBerry platforms.
Technology
GEOTECH's tracking systems are comprised of a GPS communication module, which is the best option for intelligent positioning systems.
The Company uses U.S.-made, Sky Patrol equipment and is the leading global provider of wireless data communications solutions using GSM/GPRS and 802.11 technologies to facilitate information processing.
GEOTECH uses GPS technology for the determination of the location of the satellite and GSM/GPRS technology for the transmission of data. This way, communication between the vehicle and the control center is facilitated.
Geotech Solutions S.A.
Carrera 55 # 100-51 Blue Gardens Business Center, Barranquilla, Colombia
+57 (5) 386-0000
servicioalcliente@geotech.com.co