Last Update
September 4, 2018
Categories
Electrical, Electronics & Electro-optics
Maintenance Repair Overhaul and Logistics Support
Military, Tactical, Logistic Support Vehicles & related equipment
Weapons & Ammunition
INDUSTRIAS HERPE LTDA., is a Colombian company founded in 1985 and dedicated to the manufacture of stamped metal parts and the supply of electrical terminals for the automotive and electrical appliance industry.
In 2002, INDUSTRIAS HERPE LTDA. entered the military industry with the manufacture of grenade parts and has the equipment and capabilities to manufacture any stamped part for the defence industry.
The Company is in the process of certification to ISO 9001 Quality Management System.
MISSION
INDUSTRIAS HERPE LTDA.'s mission is to contribute to the development of the general industry, through the production of terminal connectors and a variety of high quality die cutting parts. The Company's personnel, equipment and research and development activities constitute the appropriate means for growth and development, and the satisfaction the requirements of their clients.
VISION
INDUSTRIAS HERPE LTDA.'s goal is to be a leader in the manufacture of high quality electrical connectors and terminals and a variety of stamped parts for the general industry projecting itself at the same time in the international market.
QUALITY POLICY
The quality policy of INDUSTRIAS HERPE LTDA. is based on the continuous improvement of processes, teamwork, knowledge upgrade, the acquisition of new technologies and the fulfilment of international quality standards.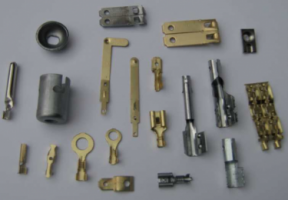 Contact info #1
Calle 24F # 102-23, Bogota, Cundinamarca, Colombia
Facilities & Equipment
INDUSTRIAS HERPE LTDA. is equipped with a 415 m2 plant with a total production capacity of 2.000.000 units per month. The Company has an advanced workshop including equipment and machinery, such as:
• Pneumatic Die Cutting Machine of 35 tons,
• Pneumatic Die Cutting Machine of 80 tons,
• Pneumatic Die Cutting Machine of 63 tons,
• Pneumatic Die Cutting Machine of 30 tons,
• Pneumatic Die Cutting Machine of 20 tons,
• Turret Milling Machine,
• CNC Parallel Lathe,
• Lathe Revolver,
• Universal Drilling Machine,
• Band Saw,
• Two Precision Surface Grinders,
• Two Pneumatic Die Cutting Machines of 2 tons,
• Industrial Gas Furnaces.
Measurement Equipment:
• Profile Projector,
• Marble Table for Measuring,
• Height Meters,
• Digital & Analogue Calibrators,
• Telescopic Rods,
• Grinding Gauges,
• Thread Gauges
• Dial Indicator,
• Angle Gauge,
• Micrometers for Interiors,
• Thickness Gauges,
• Depth Meters.
Industrias Herpe Ltda.
Calle 24F # 102 23, Cundinamarca, Bogota, Colombia
+57 1 415 1211
+57 1 415 1315
info@gomenal.com