Last Update
September 5, 2018
Categories
Composites, Plastics & Rubber
Raw Materials
SUMICOL S.A., is one of the companies of the Corona Group. It was founded in 1960 to supply industrial minerals and other products to the ceramic and other industrial sectors and to develop and manufacture products for the building industry. Today the company employs over 600 people.
SUMICOL S.A. accomplishes its mission through two business units: CORONA Industrial Products and CORONA Building Materials. The company has its own R&D division (laboratory infrastructure and human resources) which works for SM and the rest of the Corona Organization. Specific projects on product development are carried out by each one of Corona´s business units, but common interest projects are developed by a team in which participants come from the various units involved.
The Company operates 23 mines and several manufacturing and mineral processing plants located throughout the Colombian territory and these capabilities allow the company to offer a varied product portfolio and to get involved in new businesses related to mineral-based products.
Mission
To provide competitive solutions for the ceramic industry, the construction industry and other industries, through the guaranteed supply of raw materials based on non-metallic minerals, technical services and semi elaborated products, with the quality standards required by the final users.
Vision
To be the company best preferred by clients, for bringing the most reliable solutions in the supply of industrial materials and products for construction. The company is looking to develop new capabilities and activities in the Defence and specifically in the ballistic protection market.
Contact info #1
Carrera 48 No.72-Sur-01, Sabaneta, Antioquia, Colombia
Contact info #2
Carrera 48 No.72-Sur-01, Sabaneta, Antioquia,Colombia
Contact info #3
Carrera 48 No.72-Sur-01, Sabaneta, Antioquia, Colombia
CORONA INDUSTRIAL PRODUCTS
Concerning Industrial Products, SUMICOL S.A. supplies:
• Raw and processed non-metallic minerals including clays, shales, kaolins, feldspar, calcium carbonate, siliceous sands
• Ceramic bodies
• Frits and glazes
• Mineral composites
• Metallic moulds and resin-coated metallic pieces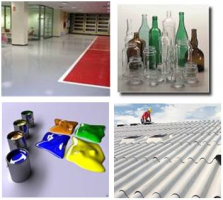 MANUFACTURING & ASSAMBLING
SUMICOL S.A. has manufacturing capabilities in different fields related to its mission:
Assembling plastic and metallic pieces
Manufacturing of ceramics and special glasses
Extrusion of plastic masses
Casting of slurries
Pressing of mineral powders
Metallic and resin-coated mould making
Mould repair and machining
Plastic injection
Resin coating, anodizing, chromium- & nickel-plating
Mineral fusion, continuous and batch kiln firing,
Mineral crushing and milling, blending, screening
RESEARCH & DEVELOPMENT
SUMICOL´s core capability in R&D is in raw materials, and ceramic processes and products.
The company has very well equipped labs, and the R&D Division works closely with the technicians from CORONA´s plants in the development of new materials, ceramic bodies and glazes.
In addition to ceramics, SUMICOL´s R&D Division is also engaged in the design and development of mineral-based products for other industrial applications.
SUMICOL´s capacity of product development is increasing through collaboration work with external innovation groups including technology development centres, research groups in selected universities, industrial partners, and suppliers, among others.
MAIN CUSTOMERS
COLCERAMICA
COLOMBIT
ETERNIT Colombia
Cementos TEQUENDAMA
Cementos ARGOS
Cia Global de Pinturas PINTUCO
FIBERGLASS Saint Gobain
Owens-Illinois
Sumicol S.A. - Suministros de Colombia
Carrera 48 No.72 Sur 01, Antioquia, Sabaneta, Colombia
(57 4) 378 78 00 ext 63750
areacomercial@sumicol.com