Last Update
September 20, 2018
Categories
IT, Computing and Software
Services (R&D, training, engineering, consultancy, …)
AXESNET S.A.S., is a company specialized in web application development, focused on providing a high level of personalized services with great emphasis on graphic design and software interface usability.
For the past 11 years, AXESNET S.A.S. has been specializing in web development services, providing solutions that improve companies' business effectiveness through the use of internet technologies. AXESNET S.A.S. is the first Internet solutions company in Colombia currently counting with more than 350 customers.
The Company's activities focus mainly on the design of Internet and Intranet portals and custom made software and applications. Additionally, AXESNET S.A.S. has built its own software solution, HABITAT®, a community based portal management application, currently in the hands of more than 100 customers.
MISSION & VISION
AXESNET S.A.S. mission is to "facilitate the daily lives of people and organizations through the use of Internet". The Company aims to be a leader in Latin America in the provision of content and document management solutions, ensuring lasting client-company relationships through innovation and quality.
Key Features:
Graphic and user interface design: The Company gives great importance to aesthetics and usability, providing easy-to-use technology solutions.

Knowledge & experience: With more than 11 years of experience in collaborating with recognized enterprises, the Company has developed the required skills, expertise and "Know How" to make web applications successful.

AXESNET S.A.S.'s personnel have not only the appropriate knowledge and experience, but also the necessary attitude in order to execute technology projects.

Technology: Τhe Company's solutions use the latest technology available in order to provide optimal quality technology solutions.
Contact info #1
leonardo.rojas@aldeamo.com
Cra. 17A No. 106-30, Bogota, Colombia
Contact info #2
Cra. 17A No. 106-30, Bogota, Colombia
Contact info #3
andres.uribe@celumania.com
Cra. 17A No. 106-30, Bogota, Colombia
Contact info #4
Financial Administrative Assistant
claudia.colmenare@aldeamo.com
Cra. 17A No. 106-30, Bogota, Colombia
HABITAT® - PORTAL MANAGEMENT
HABITAT® is a community based portal management application with a multi-portal capacity and the flexibility to adapt to the needs of business organizations.
HABITAT® is designed to support strategies and global solutions that improve the efficiency of business organizations allowing them to share and administrate information, anywhere at any time.
HABITAT® offers the website flexibility that business organizations are aiming for, thanks to creative experts that develop unique and personalized interfaces in order to accomplish clients' needs.
HABITAT® is based on five service columns:
Portal management,
Collaboration,
Search,
Business processes,
E-commerce.
Portal Management:
HABITAT® facilitates the management process of web based portals, namely as far as portal pages, embedded documents, links, e-mails, RSS feeds, events and banners, among others. The content can be organized in many ways and can be grouped hierarchically or be part of a special content zone.
Collaboration:
HABITAT® has specialized modules, namely, forums, blogs, frequently asked questions, e-mails, events, surveys and evaluations. These modules can be implemented to the portal in a special section.
Search:
HABITAT® is equipped with a search tool that gives users the ability to search for the required information and a dictionary and a body of contents.
Business Processes:
"HABITAT Procesos®" is a member of the HABITAT® family and a product specialized in the management and administration of business processes, allowing flow of information (workflow) and automated operations, reducing time and costs.
E-Commerce:
HABITAT Store® is an e-commerce product that includes the functionalities of a product catalogue, payment methods, order control tools and all the necessary features of an efficient and robust online store.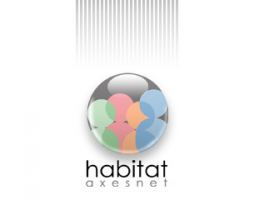 E-MAIL & DOCUMENT MANAGEMENT
AXESNET S.A.S.'s email and document management tool allows customers to enter all documents and income and outcome packages in a measurable way, generating the necessary workflow. Some of its characteristics are: automatic generation of ORNs (Only Reference Numbers) for the identification and tracking of any type of document and a digital storage system for presenting documents on screen.
HABITAT QUALITY® 8.1
This solution allows to document the quality processes of the client's organization, covering all the aspects of the definition of the quality management system, such as quality objectives, strategies for the fulfillment of the objectives, the quality manual, the mapping of processes and sub processes, procedures, work instructions, improvement plans, risk management measures, management of the preventive and corrective actions, handling of non-conformities, internal evaluation/auditing, qualification of suppliers, and many other applications.
The system's main objective is to carry out configuration control and approval of contents to therefore give an organized job stream on those who take part in the definition of processes. It is also an excellent qualification tool for new employees and an opportune reference for any person who has doubts on the operational and quality policies of the organization.
HABITAT PROCESSES® 8.1
HABITAT PROCESSES® 8.1 allows the processing and configuration of workflow of the organization based in templates that are completely measurable and administrable by organizations themselves.
It is possible for the program to have system alerts that help users define any type of messages appearing during the process. As the process is achieved through the web interface, it allows to have total control of what's happening at any place at any time. All this information gives invaluable reports on the efficiency of operations.
Software Solutions/Applications
The Company is capable of providing software solutions/applications, with the following characteristics:
It is developed in conformance with international quality standards of the industry, such as: PMI (Project Management Institute) methodology, RUP (Rational Unified Process) and CMMI (Capability Maturity Model Integration).
It is developed in compliance with protocols, such as USSD (Unstructured Supplementary Service Data) or WAP (Wireless Application Protocol).
It is SMS (Short Message Service) or IVR (Interactive Voice Response) based.
It is designed for mobile phone platforms.
It is custom developed in accordance with the clients' needs.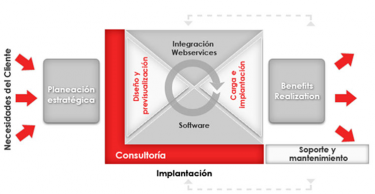 Main Clients/Projects
BP EXPLORATION COMPANY - Content Management Software for human resources and corporate BP, with intranet.
BANCOLDEX - Content Management Software that gives consumers the correct and timely information, with the best quality.
LA AGENCIA PRESIDENCIAL PARA LA ACCION SOCIAL Y LA COOPERACION INTERNACIONAL FONDO DE INVERSION PARA LA PAZ - Content Management Software for portals and intranet applications.
Axesnet S.A.S.
Cra 16A No 78 - 11, OF 502, DC 08050, co, Bogota, Colombia