Last Update
September 5, 2018
Categories
Electrical, Electronics & Electro-optics
Services (R&D, training, engineering, consultancy, …)
PROPUESTA DINAMICA, was founded in 1999 in the city of Medellin, Colombia by a group of people with experience in the design and distribution of electronic components for surface mount devices (SMD).
MISSION
Currently, the Company offers products and services related to the production, assembly and distribution of electronic boards, thus supporting the industry with added value high quality solutions.
PROPUESTA DINAMICA has an extensive experience in the importation and distribution of electronic components and has established commercial partnerships with suppliers and manufacturers around the world that allow it to offer alternative electronics products from the first to the final stage of production.
Over the years, PROPUESTA DINAMICA has been actively participating and contributing to the growth of the electronics industry conducting joint work with academic groups, research centres and other organisations, seeking to transform their knowledge in the electronics sector into applications that can impact strategic areas of different production sectors.
Contact info #1
Patricia Elena Munera Rengifo
Calle 44A # 72-41, Medellin (Antioquia), Colombia
Integration of Electronics
PROPUESTA DINAMICA offers integration services for electronic boards, including prototypes and pilot production.

Support in Project Development
Under specific conditions, PROPUESTA DINAMICA can join forces with other groups in different technology areas to support the development of projects related to the electronics industry. The Company participates in various stages of the development process, from the initial product specifications to the manufacture of the prototype.
Outsourcing Services
Based on partnerships with suppliers and manufacturers, PROPUESTA DINAMICA provides outsourcing services for electronic boards, through a management model of production capacity complying with international norms and standards.
Under conditions determined beforehand in a trade agreement, the Company is responsible for procuring the materials and performing the necessary processes to produce and deliver the assembled electronic boards to the customer. This outsourcing process allows customers to have a production capacity that guarantees quality manufacturing and timely delivery, keeping at the same time control over their design.
Electronic Components
PROPUESTA DINAMICA offers a wide range of surface mount electronic components that cover most of the requirements of electronics designers:
Resistors,

Capacitors,

Transistors,

Diodes,

Microcontrollers,

Memory cards,

Modules,

Liquid crystal displays (LCDs),

LEDs,

Thermal printing mechanisms,

Sensors,

Integrated circuits, and

Other special devices.
The support offered to clients in implementing new elements, whether for complex or custom products, reduces the time-to-market, thus improving their quality and competitive position in demanding markets.
Electronic Boards
PROPUESTA DINAMICA develops electronic boards with specific functions that can be used as components for the development of other products.

Reference Modules
The reference modules consist in product design notes from various manufacturers and suppliers of electronic parts, as a result of a joint research and development work of PROPUESTA DINAMICA and its interdisciplinary support team. The main purpose of these modules is to help students, designers and companies from different industrial sectors, learn about new technologies that can be used for development work. These reference modules, which perform specific functions, can also be used as a "generic" component in a prototype or an end product.
Team of Professionals
PROPUESTA DINAMICA is equipped with experienced personnel and has the support of a group of independent electronic designers who advise them on technical and technological issues. The Company maintains alliances with manufacturers and national and international distributors of electronic products.
At the same time, the Company has the support of multiple vendors and representatives of electronic production equipment that provide them with their expertise on technology issues.
Customers
The electronics sector is a cross sector that generates employment opportunities in various stages of the supply chain: the commercial, the production and the electronic services sector.
PROPUESTA DINAMICA's main objective is to promote the electronics industry in the region by offering products and services associated with the production of electronic boards. The Company is focused primarily on two types of customers:
Entrepreneurs in all manufacturing sectors where the Company will be responsible for the purchase of materials and the assembly processes.

Independent design centers engaged in the design and development of electronic products for third parties, where the Company will be responsible with the manufacturing processes.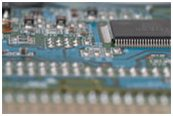 Strategic Alliances
PROPUESTA DINAMICA has strategic alliances with various entities whose human resources are trained and experienced in logistics and production activities.
Training, consulting and engineering services are provided under request, directly or in partnership with third parties, through joint activities with interdisciplinary groups. The planning and development of new products and services relies on independent electronic designers, entrepreneurs and professionals in related fields who advise on technical and technological aspects.
Propuesta Dinamica
Carrera 80A # 41-35, Medellin (Antioquia), Colombia
+57 4 412 1290
+57 4 412 1290
info@propuestadinamica.com