Last Update
August 31, 2018
Categories
Metal Processing, Parts & Components
Weapons & Ammunition
ACEROS Y ALUMINIOS CIA S.A., with over 25 years of experience, is a factory of aluminum extrusions able to offer its services to develop new designs of aluminum profiles and will work closely with customers to help economize, streamline, grow, innovate and meet the different needs.
The company also has a manufacturing division producing ammunition case cups, Bullet Jackets and Steel Tips of various calibers, as well as components for small arms and grenades.
The company offers solutions and ideas that allow customers to effectively maximize their business activities.
The company's products include:
Aluminum extruded profiles in different alloys,

Ammunition cups,

Bullet Jackets,

Steel Tips,

Components for 40 mm grenades,

Components for hand grenade,

Components for mortar grenades (60, 81 and 120mm).
Mission
The Company aims to satisfy clients' needs by manufacturing, commercializing and providing excellent high quality products in competitive prices in the field of metallurgical industry, as well as hardware products tailored to needs of the military industry, continuously improving manufacturing processes using advance technology equipment qualified and competent personnel who are dedicated to the progress and development of this company.
Contact info #1
Moris Osvaldo Vargas Rozo
gerencia@acerosyaluminios.com
Calle 10A No. 13B-02 Parque Industrial Montana, Manzana C, Bodega 6, Mosquera, Cundinamarca, Colombia
Manufacture Services on Small Arms Parts
ACEROS Y ALUMINIOS CIA S.A. has the capability to provide services related to the mechanization of metallic pieces starting from raw material of different qualities, melted or fused raw material, etc. on small arms, such as revolvers, pistols, guns, carbines and rifles.
The company complies with the highest standards of quality and has the necessary equipment to be able to satisfy customers' requirements.
Ammunition Caps
ACEROS Y ALUMINIOS CIA S.A. manufactures ammunition cups for use in the self-defence and sports sectors in calibers .32", .38", .345", .9mm, .233" among others, or for military use in calibers 5.56 mm., 7.62mm, 0.50mm.
ACEROS Y ALUMINIOS CIA S.A. complies with all of the international norms for this type of products including military standards.
The Company's raw material includes copper in different alloys and qualities that comply with the strictest international norms of quality for ammunition production.
ACEROS Y ALUMINIOS CIA S.A. has the capability to produce ammunition cups according to clients' needs.
Grenade Parts
ACEROS Y ALUMINIOS CIA S.A. has the capability to manufacture parts for any type of grenades.
Currently the following components are manufactured:
40mm Grenades HE
40mm cups
Body
Pre-fragmented grenades
Detonator Carriers
High-pressure Chamber
40mm Practice Grenades
Hand Grenades HE
Fragmentation Spiral
Half Metallic Bodies for different products
60.81 and 120mm Mortar Grenades
Stabilizer Tails
Several Pieces Fuses V9 and V19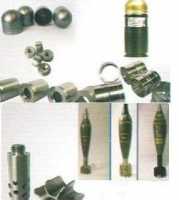 Aceros Y Aluminios Cia S.A.
Fabrica y oficinas: Calle 10A No. 13B-02 Parque Industrial Montana – Manzana C – 6, Bogota, Colombia
57 1 - 8931100
info@aluica.com