Categories
Electrical, Electronics & Electro-optics
Engines, Propulsion, Power Generation
Maintenance Repair Overhaul and Logistics Support
Metal Processing, Parts & Components
Services (R&D, training, engineering, consultancy, …)
Textile, Individual Equipment, Clothing
BATTEX spol., is a dynamic and successfully developing company taking a significant position in the branch of hermetically sealed accumulators and batteries. The company offers a wide range of portable power supplies including single accumulators, accumulator batteries, chargers and accessories and primary cells.
Contact info #1
Business Director, Chief Executive
Politickych veznu 1337, 274 01 Slany, Czech Republic
SKILLED SERVICES
consultation and training in hermetically sealed accumulator and other portable supplies
consultation of the designs of accumulator power supplies and their charges
providing trade, service and information about portable power supply units
OTHER SERVICES
repairs, general repairs and adjusting of hermetically sealed cells and accu-packs, flashlights,UPS...
micro-spot welding work
testing of new types of accumulator power supplies for new electronic equipment
disposal of waste hermetically accumulators and providing Certificate of their ecological disposa
Power Supplies
Two way radio batteries and accessories
Power tool batteries
Notebook batteries and accessories
Camcorder batteries
Digital and analogue camera batteries
Cellular phone batteries
Cordless telephone batteries
Scanner and data terminal batteries
Medical batteries
Industrial batteries
Commercial rechargeable cells
VRLA
Commercial chargers
Chargers and testers
Primary batteries
Flashlights
Inverters DC/AC
Safety cases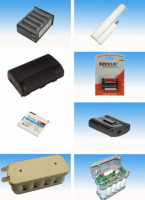 BATTEX spol. s r.o.
Politickych veznu 1337,  274 01, Slany, Czechia
+420 312 510 011
+420 312 510 010
battex@battex.cz