Last Update
August 24, 2018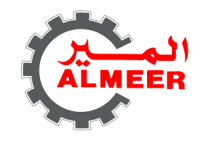 Categories
Since its establishment in 1997, Almeer industries has been in the business, offering wide range of services such as:
Manufactring of panels,

Street light poles,

Junction boxes,

Cable trays & accessories,

Unistrut channels,

Profiled sheets etc.
For Oil & Gas:
Petrochemical,

Power and other major industries in Kuwait.
Almeer industries has established, implementing and maintained its Quality and Management System in accordance with ISO 9001, ISO 14001 and OHSAS 18001 respectivily. Almeer's manufacturing facility is located in Amghara industrial area equiped with modern machineries and equipment. The workshop is located on 10,000 sq.mtrs of area which is employed for operational functions and 6,000 sq.mtrs is to be utilized for storage purposes. Furthermore, the facility consists of additionally fabrication, machine shop, CNC machine section, lighting poles machinery, power coating plant, hot-dip galvanization plant, electroplating & chemically etched engraving facility.
Almeer Industries
Amghara Industrial Area, Block 3, Plot 54/54/58, Kuwait, Kuwait
+965 2 457 1395
+965 2 457 1396