Last Update
August 24, 2018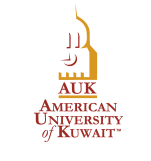 Categories
The American University of Kuwait (AUK), is an independent, private, equal opportunity, and co-educational liberal arts institution of higher education. The educational, cultural, and administrative structure, methods and standards of AUK are based on the American model of higher learning. Established by Amiri Decree 139 in 2003, AUK was accredited in 2006 and re-accredited in 2008, by the Council for Private Universities, Ministry of Higher Education - State of Kuwait.
AUK offers students a quality education based on an American college model. The faculty, administration, and staff work hard to create a caring environment where every aspect of student's development gets attention and support. The course of study is designed to prepare students for the contemporary world where critical thinking, communication skills, and life-long learning have become imperative. The Liberal Arts education fulfills student's educational goals and requires rigorous effort in the Major discipline (field of study); it also brings the rewards of a broad general education useful in their future career, whatever field they choose.
The AUK faculty is a highly qualified group of international academics with first-hand experience of the U.S.-style of higher education. There are over eighty faculty members, including over 50 undergraduate faculty with Ph.D.s. With a class size from 10 to a maximum of 32 students, it is easy for students to get to know their professors and classmates.
AUK currently offers twelve degree programs. In addition, students receive instruction in academic skills, time management, and stress reduction. At AUK students will find opportunities for internships, creative talent development, health and fitness maintenance, and community involvement. Advising is very important in the American-college Liberal Arts model, so students should be sure to seek guidance from the Student Success Center academic advisors and counselors and their professors.
Mission
The American University of Kuwait is a liberal arts institution, based on the American model of higher education. It is dedicated to providing students with knowledge, self-awareness, and personal growth experiences that can enhance critical thinking, effective communication, and respect for diversity. AUK seeks to create leaders and life-long learners who aspire to the highest standards of moral and ethical responsibility in their societies.
The values that guide AUK:
AUK values freedom of thought and expression and emphasizes the need for students to learn to think critically, to develop the art of questioning, to understand cause and effect, to communicate effectively, to write expressively, to learn about the world and to become life-long learners.

AUK values self-awareness with a moral and ethical responsibility throughout its learning community.

AUK values the importance of a strong and diverse educational experience and knowledge in varied fields.

AUK values a multi-cultural and diverse environment and an active campus life.

AUK values staff commitment to service.

AUK values the role of faculty in teaching, scholarship, creative expression and service.
American University of Kuwait (AUK) - الجامعة الامريكية – الكوي
P.O. Box 3323, Safat 13034, Kuwait, Kuwait
(+965) 2224-8399
(+965) 2224-8376
info@auk.edu.kw