Last Update
August 26, 2019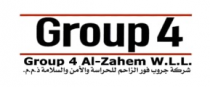 Categories
Group 4 Al Zahem W.L.L., is the world's leading international security solutions group. From risk assessment to delivery, the company works in partnership with governments, businesses and other organisations to provide integrated solutions to security challenges.
The company is a part of Group 4 Securicor, and is the leading Security System Company in Kuwait. Group 4 Al Zahem W.L.L provides Engineered Systems to meet the client's requirements using State-of-Art Technology and reputed manufacturers of Quality Products.
Activities
Supply & Installation of:
Integrated Security Systems,

CCTV Systems,

Alarm Monitoring,

Access Control System,

Fire Alarm,

Fire Fighting,

Time & Attendance System,

Public Address System,

Voice Evacuation System,

Perimeter Protection,

Audio Visual Systems and,

Sales of Security Products.
Group 4 Al Zahem W.L.L., not only offers a comprehensive range of security systems, but also provides full guarding services. The company provides highly trained guards who are fully responsible for the control of the security and safety of individual premises.
Group 4 Al Zahem W.L.L. - شركة جروب فور الزاحم للحراسة والأمن والسلامة ذ.م.م
Al Ardiya, Al Senaeya, Kuwait, Kuwait
+965 2 246 2890/1/2, +965 180 3636
+965 2 242 8076
info@g4kuwait.com